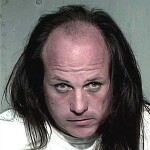 This year they came out with a Clive Barker movie called MIDNIGHT MEAT TRAIN. Didn't play anywhere near here so I haven't seen it yet, but I did see the trailer and when they said the title at the end everybody laughed. Real mature, fellas, real mature. Well, this is an older Clive Barker picture and luckily nobody would ever be able to imagine a dirty interpretation of this particular title. I mean how would you even have a gay porno called that, unless you had a guy in it named Rex. But how many guys are named Rex in this day and age, I doubt something like that would happen.
Anyway this is your basic monster rampage picture but also with some of your typical Clive Barker themes. An American family is investigating their Irish homeland because dad's writing some book. While checking out an old church, lightning strikes an ancient stone statue, resurrecting an 8′ tall monster-faced berserker bastard who we assume is named Rawhead Rex, although I don't think anybody ever calls him that and he definitely doesn't introduce himself. He is not so much a talker as a doer, he goes around mangling people, throwing people through walls, biting off people's heads and those sorts of activities. Let's say you're a woman standing indoors, he might bust through the window and grab you by the neck and tear your clothes off and carry you out the door. That's just who Rawhead Rex is, that's what he does. You can make your own judgments on his lifestyle, and if you're against it like I am don't worry, he eventually gets defeated by that glowing magic they had in the '80s that looked suspiciously like it was drawn on frame by frame.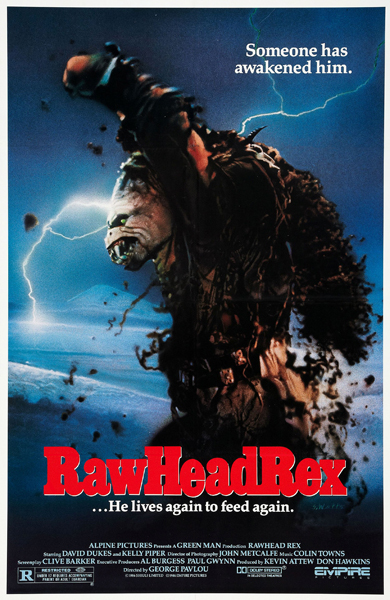 The Clive Barker feel comes in with the priest who, after seeing Rawhead Rex, decides to change denominations. I think Clive has it in for priests and reverends, he always suspects they're phonies just talking Jesus until their first opportunity to worship an ancient monster god. Same thing happens in NIGHTBREED, I believe. We learn that Rawhead was a god who lived here long before JEsus. And he wants us off his lawn. With that in mind he's kind of lovable. Rawhead is one of those movie monsters like the yetisquatch in ABOMINABLE – so simultaneously cool and stupid looking that I laugh happily whenever they show him. His head looks like shiny plastic (because it's so raw, maybe) and his expression barely changes, but something about those crossed red eyes is very endearing.
In one scene the parents have to pull over and send their little girl out onto a field to pee. Suddenly the girl screams, the parents come running and… it's a bunny. She was frightened of a god damn bunny. Meanwhile, Rawhead goes over to the car and eats big brother. Let that be a lesson to you, girl: don't be a fuckin cry baby. And learn to hold it.
I don't want to start preaching or anything, but in my view the priest's actions put his credibility as a religious leader into question. I guess the idea is that he sees Rawhead Rex and knows FOR SURE he exits, and that seeing-with-your-own-eyes trumps mere faith in God. Plus he's giving Rawhead points for seniority, he's old school. But I'd like to think any priest would have a couple more things he liked about God that could compete with Rawhead Rex's existence. I mean even if they believe in a vengeful God, at least he's avenging sins or whatever. Okay, so maybe He's being kind of a dick going after people for eating lobsters or combining two kinds of fabric or being gay, but at least He's not running around willy nilly eating kids, pulling ladies through windows, carrying around a severed head like it's a designer handbag or a little Paris Hilton dog. If a priest chooses this beast over the Lord then in my opinion that priest was a poser in the first place. And good riddance. Give that old church to an Irishman who deserves it more.
And anyway what would this guy have done if a sasquatch ran past the church? Would he start worshipping bigfoot just for existing too? The bigfoot would probaly deserve it more than Rawhead, he probaly wouldn't be such an asshole. They're supposed to smell bad but I never heard of them eating anybody. Plus I bet Rawhead Rex doesn't exactly smell like a homemade apple pie in the oven himself.
Anyway I'm not trying to start any religious bigotry here, I just don't think this guy is thinking things through with his worshipping of Rawhead Rex. It wouldn't be a bad idea to hold our Gods to higher standards. And while we're at it, this movie is not all that hot either. But it treats things seriously, doesn't insult your intelligence too much, and has that funny monster in it so I'll give it a pass.
I mean, look at this mug: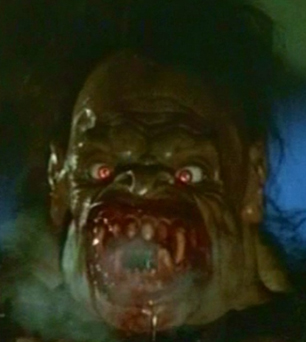 I'd feel like an asshole completely writing off a movie with a star of this caliber. And really this is an origin story, it would've gotten much better if there were sequels. Imagine all the hilarious things that would happen in RAWHEAD REX LOST IN NEW YORK. I mean, the cab ride? All kinds of shit. I'm sure they still have that plastic head in a warehouse somewhere, they should bring this guy back.