As much as I like Marko Zaror, I thought DEFENDOR was a much better take on the "regular person becomes super hero" genre than MIRAGEMAN. To be fair, Woody Harrelson is not as good of a martial artist as Zaror, and is not as Chilean either. But he is good in this movie.
You know, it seems kind of stupid to call Woody Harrelson "underappreciated" when he just got nominated for an Oscar last year. But I think he kind of is, and partly because he doesn't get too many starring roles these days. In this one he did, but the movie hardly played theaters, and some of you probly never heard of it until now.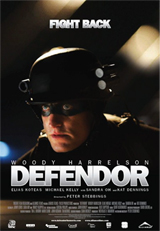 Woody stars as a troubled construction worker individual who secretly lives in a workshop where he prepares to go out at night as "Defendor" or, as the community knows him, "That retard I was telling you about." He wears a helmet and bulky protective gear like a riot cop, plus a painted on Mr. Incredibles eyemask and duct tape letter D on his chest, which stands for Defendor in my opinion. He tries to get fancy, throwing marbles on the ground and different tricks like that but he's best at just beating the hell out of people with his grandfather's World War II trench club. Still, he gets beat up alot.
MIRAGEMAN'S strength was the fight scenes. This one isn't about action. It's not so much a super hero movie, it's more of a dramedy about an extreme character, like BIG FAN or something. Harrelson is perfectly cast as a stunted vigilante. He can be dumb and childlike, but likable, and sometimes a little scary underneath that. And enough of a bruiser that the fights are at least semi-plausible.
DEFENDOR's other secret weapon is a strong supporting cast who make this world seem real. Sure, it's still a Movie World where one guy can track down the biggest criminals in the city, and where his funny little tricks actually work as planned ("What's that?" "A jar." "What's it supposed to do?" "Very little. Except contain a swarm of angry wasps." [crash!]) But the characters around him react more believably than in most stories like this, and the actors seem to treat it like a serious drama and not some throwaway.
Kat Dennings is a teenage prostitute who first uses Defendor (he pays her for information because he saw it on The Rockford Files) then becomes his friend. Michaely Kelly is great as a caring but exasperated co-worker who looks out for him, Sandra Oh is all wide-eyed empathy as a pscyhiatrist trying to figure him out, Elias Koteas is in DeNiro mode as a sleazy drug cop. But my favorite character is the police captain, played by the great Clark Johnson of HOMICIDE: LIFE ON THE STREET and probly other shows, who knows which ones, there's no way to really know. He doesn't fit any of the molds for standard police characters. You want to get to know him. He seems like a genuinely nice guy trying to understand what's going on in Defendor's brain.
It does use that cliche that's in every vigilante movie where they have Regular Joes saying what they think of Defendor – this one uses the talk radio call-in show approach like THE BRAVE. It's funny, the talk radio call-in show is always used in movies as if it's a scientific study of the diversity of opinions in the city, but in reality it's a very self-selecting group. Most shows are on a certain topic (sports, gardening) or about politics with a right or left stance. The more broad ones you might need a similar sense of humor to the host. Most people I think listen to those shows when driving to work, which eliminates those who take public transportation or a short commute or are unemployed, or who don't enjoy talk radio. And then of those people we're only hearing from people who feel the need to call in. Have you ever called into one of those shows? Do you know many people who have?
So, I would like to see more data before trying to understand the public's views on Defendor. Anyway, that part of the movie works fine because it's over a fast moving montage and it's done fast. Another cliche of this type of story that they thankfully get rid of quick: the bit where the fake super hero has a comic book that he got the idea from. Why do you always gotta show that, movies? Can't we assume everybody knows what a super hero is, you don't gotta explain that he got the ideas from comic books.
The filmatism is real solid, nice shadowy look to the city and an effective score that seems to support his super hero fantasies instead of make fun of them. Now let's team up Defendor with Blade and see what happens.
This entry was posted on Wednesday, April 7th, 2010 at 2:06 am and is filed under
Comic strips/Super heroes
,
Reviews
. You can follow any responses to this entry through the
RSS 2.0
feed. You can skip to the end and leave a response. Pinging is currently not allowed.