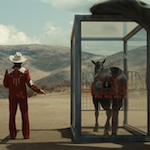 I think the first time I noticed Jordan Peele was in the 2012 movie WANDERLUST. I thought he was really funny in that and then his Comedy Central show Key & Peele started and there were those Liam Neesons sketches and all that. Somehow 10 years later we mainly think of him as one of the most exciting working horror directors – he was even name dropped in the most recent SCREAM movie. Strange world we're living in.
For me Jordan Peele film #3, NOPE, was one of the most anticipated movies of the summer, and not just because it would put an end to its trailer playing on every god damn movie I went to for several months. It's pretty impressive that I was able to go see it and be surprised to find out what the overall story was and that some of the shots I had seen seemingly hundreds of time were not what I thought they were. To preserve that for you if you haven't seen it I'll talk about my general feelings about the movie and then I'll warn you when I'm gonna get into it in more detail.
I love the first two Jordan Peele movies. Here's my theory on them. Both have really original concepts and worlds, great acting performances, characters that are entertaining to watch, well executed ratcheting of tension and release, and elements of allegory that are fun to think about while watching and even moreso afterwards.
Most people seem to prefer GET OUT, which was obviously the bigger cultural phenomenon. Huge crossover to non-horror fans, great audience experiences, started some discussions, introduced the commonly referenced concepts of the "sunken place" and the white person who says they wish they could've voted for Obama a third time, also won the best screenplay Oscar and was nominated for best picture, director and actor despite being a Blumhouse horror movie directed by one of the guys known for getting too excited about Liam Neeson and exploding.
Though US was a big hit, it didn't set the world on fire in the same way. But for my tastes it's an even better horror movie. It's just so stylishly designed and directed, it has such a knockout dual performance from Lupita Nyong'o, and it delivers more on such important horror elements as monsters and gore. And most of all I just think it's a pitch perfect balance of genre and subtext. I would compare it to something like THEY LIVE – what it's saying is a big part of what makes it so cool, but even if you were somehow blind to that it would be a kickass genre movie. The idea of monstrous doppelgangers of each of us living under the earth is a weird, creepy nightmare whether or not you extrapolate further meaning from it. On the other hand, GET OUT's concept of mad scientists implanting old people's consciousness into young people's bodies requires you to appreciate what it's saying to work at all, because otherwise that would be a laughable subject for a horror movie.
US has some overlap with Wes Craven's THE PEOPLE UNDER THE STAIRS in both horror concepts and underlying meanings. As much as I love Craven, I prefer US – "the tethered" are just cooler than the people under the stairs, and Peele's treatment of class is much more nuanced and convincing than Craven's (as well meaning as it was). And like GET OUT, PEOPLE sort of requires you to dig the subtext to think it's cool. Taken literally, the idea of a society of feral people living miserably inside the slumlords' walls is a little iffy.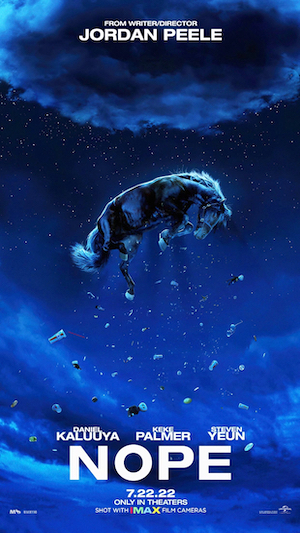 So with NOPE did Peele continue developing that balance I loved so much in US?
Um… I'm not gonna say it. The answer is, you know, the title of the movie. But that's because he's evolving his approach and changing his goals. As he told the Big Picture podcast, "I think when people think of movies like JAWS and ALIEN they think of these big, fun movies. And that's what I love. And those movies pack a message, but I just don't think people want a director who's trying to scream a message at them. I think people want to have a good time, not know what the fuck is happening, have an immersive, teleportative experience… I think people like movies more than messages."
He notes that "that doesn't mean a movie can't say something or start a conversation," and this movie has definitely started some conversations about what people think the message is, but it's definitely not something he's screaming at us, at least in any language I understand. I think it accomplishes his goal of being an entertaining movie that doesn't make you feel preached to or like you're being asked to eat your vegetables.
But… to me there's a small problem with the way that works here. Not a debilitating one, just one that makes this very enjoyable movie my least favorite of his three so far, at least on first viewing. The problem is that Peele maintains his interest in layering in detailed motifs, symbols, parallels, movie references both real and fictional, weaving a world and a tale that take their time getting to where they're going. So even though it's completely compelling the whole time, when it gets to the conclusion it feels a little light. Like it didn't amount to quite enough.
But maybe it did. Some people seem to think there's a whole lot in there. There are definitely many cryptic elements to decipher, and Peele is a very detail-oriented director who surely has thought through all this stuff. We'll discuss some of that later in this review.
Daniel Kaluuya (JOHNNY ENGLISH REBORN) and Keke Palmer (HUSTLERS) star as Otis Jr. (O.J.) and Emerald (Em) Haywood, brother and sister whose father Otis Sr. (Keith David, DISCO GODFATHER) ran Haywood's Hollywood Horses, providing and training horses for Hollywood productions. After Otis Sr. dies in a bizarre incident of debris falling from the sky, O.J. struggles to keep the business going without much help from Em.
The opposite personalities of the siblings really come out when they bring a horse to a commercial shoot. O.J. has trouble communicating with the Hollywood people (including a director played by Osgood Perkins – "Young Norman," PSYCHO II), while Em can't stop showing off and plugging her Etsy business and stuff. Then she's schmoozing and not paying attention when he needs her help, leading to an incident.
There's tension between them. Em doesn't seem to have been around lately, she's just visiting, and pissing him off. She seems to think he should sell the ranch, but at least isn't pressuring him about it. To get by he's been selling some of the horses to a neighboring western theme park called Jupiter's Claim, run by former child star Ricky "Jupe" Park (Steven Yeun, OKJA). But he's hoping to eventually have the money to buy them back.
For me the most effective thing about NOPE is the way it sucked me into the lives and world of these characters without worrying about when or how the genre elements would come in. As you know from the trailer, the Haywood family proudly claim to descend from the guy who rode the horse in the very first motion picture, photographed by Eadward Muybridge in 1878. But since then their biggest job was training horses that ultimately weren't used in THE SCORPION KING. (O.J. still wears his crew hoodie from that job.)
Their neighbor Jupe's claim to fame is a combination of nostalgia and morbid fascination. Coming along with O.J. to see Jupe and looking at the memorabilia in his office, Em suddenly clocks Jupe as "the Asian kid from KID SHERIFF," some cheesy '90s movie that's the basis of his theme park. But when the subject comes up he jumps at the chance to talk about Gordy's Home, a sitcom he was on that was cancelled after an infamous tragedy. In fact, he has a secret door into his mini-museum of mementos and collectables. The one thing that makes him more excited than recounting his most traumatic childhood experience is to gush about the Saturday Night Live sketch it inspired. The awe in Jupe's voice as he speaks reverently about "Kattan" made me laugh because I couldn't be sure it was meant as the cold hearted sketch-comedy-performer-on-sketch-comedy-performer dig I took it as. Plausible deniability.
Eventually this is gonna be about a UFO. Some but not all of the odd things going on around here are tied together by some hovering disc thing that has been prowling the area. One night one of the horses freaks out, all the electricity goes down, and O.J. sees something flying around in the clouds. Then brother and sister settle on a project they can work on together: going to Fry's (the time period here is slightly ambiguous) and buying a security camera system, believing (reasonably or not) that proof of this flying saucer could get them money to save the ranch. Luckily Angel (Brandon Perea, DANCE CAMP), the Fry's employee who drives out to help them set it up, gets excited about the project and even (unethically) monitors their feed from work, so he notices something odd.
(okay, I'm gonna get into the BIG SPOILERS now)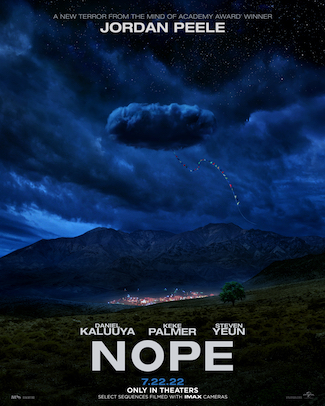 There are some good surreal horror concepts in here, whether or not they're as weird as the ones in previous Peele movies. One is that Angel notices a cloud above the ranch that never moves. What the fuck. Another is the MAIN GIMMICK OF THE MOVIE SPOILER reveal that it's not a spaceship hiding in that cloud, but in fact a monster, some sort of rare creature that floats in the sky, can suck people and animals like a tractor beam, can do some sort of eel-like electricity thing, and (best of all) spread into a bizarre but beautiful sort of… sail? I don't know how to describe it. But it would freak you out if you saw it over your ranch, I bet.
Em comes up with this idea of putting a (stolen) decoy horse in the field to attract it without killing one of their real horses. The string of pennant flags wrapped around it seems to get caught in the creature's throat, so they see it hanging out of the cloud. That made for a perfectly enigmatic teaser image, but it also sets up a clever rule going forward: wrapping themselves or their horses in flags or ribbons can protect them since the creature learns not to eat things that look like that. I love that.
Many reviews seem to see this as a big Spielberg homage, but if they mean something beyond having an alien and/or people look toward the sky with awe I'm not sure what it is. I guess there's a parallel to JAWS, with a couple people banding together to defeat this one large animal that's been eating people, but that's not exactly a Spielberg trademark. I've also seen many describing it as an example of and/or deconstruction of big summer blockbusters. I don't really get that, though, because it's been so many years since big summer blockbusters could be this small and intimate, about a couple of people fighting one thing on their property, not trying to save the whole city/world/universe/multi-verse. To me it seems more like a nice little break from summer blockbusters.
I think most of you will agree with me that the movie it seems most patterned after is in fact the 1990 January release TREMORS (which had about one seventh the budget, unadjusted). So after all that build up you realize oh, it's kinda like TREMORS, but nothing can quite be TREMORS. So you enjoy it for what it is – an interesting version of a movie that's kinda like TREMORS. But part of what makes it interesting is all these details it leaves me puzzling over, not sure of their significance. I don't know the meaning of O.J. naming the monster "Jean Jacket" after the horse that was supposed to go to Em but got trained for THE SCORPION KING instead. I don't know exactly what it says that Jupe's co-star (Sophia Coto) who was badly disfigured by the chimp attends his alien show clad in a t-shirt of her smiling childhood face. I figure there's something symbolic in it being a balloon of Jupe as Kid Sheriff that ultimately kills Jean Jacket – and/or being a balloon at all since a balloon popping was what set off the killer chimp – but I can't quite make sense of it. And I definitely don't understand the shoe standing upright during the chimp attack. I don't mind not knowing, I like having to think about it, it's just that giving you this much code to crack on the surface feels a little lofty compared to the "it's just a simple monster movie" center. Luckily for me that's the sort of misgiving that usually melts away on a second viewing after I know what I'm getting into.
One thing about it that is not like TREMORS, and that I would not have guessed during the unbearably high number of times I saw the trailer, is that the movie opens very disturbingly with that chimp attack on the set of a cheesy sitcom. When that event is revisited later in a flashback it's a genuinely scary and disturbing scene, much more than anything with the monster. It's also the most enigmatic part, since it only seems to connect thematically with the main story, not directly. You can only pretend a dangerous animal is a funny member of an astronaut family for so long before he gets frightened, reverts to his true nature and eats somebody's face. Jupe survives the incident physically unscathed, becomes obsessed with it, and cluelessly destined to strike out in his second go 'round, when he tries to make Jean Jacket put on a show.
He may believe he has some unique bond with dangerous animals, because after the chimp playing Gordy mauled his co-star it did not attack him, but gave him a fist bump (their trademark on the show). But we have no idea what "Gordy" really meant by this or what he would've done next had his brains not been splattered on the soundstage moments later. By contrast, O.J. really does have a bond with horses – he knows how to respect them, how to keep them calm, and the limits of his control over them. He witnesses the worst event of the movie because he's worried about the horse he sold to Jupe and going to get him. He names the monster after a horse, and he survives encounters with it by extrapolating from what he knows about horse behavior.
So it's a movie about nature, it's obviously also about the movie business and/or art. The great Michael Wincott, if-you-know-you-know legend of THE CROW, STRANGE DAYS and ALIEN: RESURRECTION and brother of b-action icon Jeff Wincott, makes his triumphant return to the big screen as Antlers Holst, respected Hollywood cinematographer who brings his artistic eye and a non-electrical, hand-cranked camera to the ranch for Em and O.J.'s "documentary." And Peele has him use that gorgeously gravelly voice to solemnly intone the lyrics to Sheb Wooley's "Purple People Eater" as if they're deep. I mean, why not? If Keith David's character was still around he would've been good for it too, but that's not how things panned out.
Antlers cares about much more than just getting coverage, so I guess if NOPE is about summer blockbusters then he must represent those who really believe in their art and take their craft seriously. So (another spoiler) I don't approve of what happens to him. We need more Antlers.
The cinematographer of NOPE was probly chosen for being kind of an Antlers. Hoyte Van Hoytema (LET THE RIGHT ONE IN, THE FIGHTER, TINKER TAILOR SOLDIER SPY, HER, INTERSTELLAR, SPECTRE, DUNKIRK, AD ASTRA, TENET) shot much of it with Imax cameras, one of his specialties. Apparently it's the first ever horror film shot on 65mm Imax. Many reviews rave about the impressive scope of the imagery, about it just being gigantic. I did not see it Imax and I have to admit that, while there are some nice wide open spaces on the ranch, the size was not something that particularly caught my attention. So I'll have to take their word for it.
I've seen many raving about that size and Peele's stated theme of "our addiction to spectacle." I admit I'm not totally sure what they're seeing there either. I don't think we're worried about the proliferation of UFO videos or sitcoms with chimps or wild west shows. I guess "the Gordy's Home incident" can stand in for any tragedy people are fascinated with, inspiring Netflix documentaries and shit. Is this supposed be like the '90s when we were worried about shows like A Current Affair and media obsession with murder trials, so we got MAN BITES DOG, NATURAL BORN KILLERS, SERIAL MOM, TO DIE FOR, BENNY'S VIDEO, etc.? If so, didn't NIGHTCRAWLER do a better modern version of that? With its live animal/monster show, this seems more related to JURASSIC PARK, or JAWS 3-D, or of course going back 90 years to KING KONG.
I guess I'm just not convinced there's much to say about "spectacle" that hasn't been blindingly obvious our whole lives, so it's perfectly fine thematic content, but as soon as you start talking about it like it's an important message it makes the movie sound pretty flimsy. So I will stop talking about it after I mention one odd little detour that ties into that theme: the scene where a strange man (Devon Graye, I DON'T FEEL AT HOME IN THIS WORLD ANYMORE) on an electric motorcycle wearing a mirrored helmet with a built-in camera (that he never takes off) drives up right when they're trying to lure the monster in. He turns out to be from TMZ, trying to get footage of the thing before they do. I enjoy the irony that we resent TMZ for exploiting people's misery and therefore this information makes it much easier for us to laugh that this guy is about to get munched (and as the electrical interference comically hurls him from his vehicle). Still, O.J. does the right thing and attempts to save him (until he realizes the guy is too obsessed with getting the shot to be saved). I really like that this quiet, humble animal trainer gets to turn into kind of a western hero.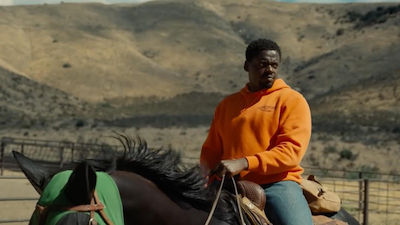 When all is said and done, I think my favorite thing about NOPE is Daniel Kaluuya, and I realize now how severely I undervalued him in GET OUT. There was that crying scene, and he was more memorable than in SICARIO or whatever else I knew him from, but I didn't come away feeling like his performance was at the top of the list of reasons why the movie was great.
Then I saw him in WIDOWS (where he was terrifying) and JUDAS AND THE BLACK MESSIAH (where he was Fred Hampton) and it's striking when an actor can make that much of an impression with three characters that are that different from each other. And now NOPE threatens to become my favorite performance by him so far, because this time he's an entirely different person again but the character is mostly interior, mostly a lack of energy, the opposite of most movie-stealing performances. Also the opposite of Palmer – the two performances balance each other out just as the two sibling characters do. Or do not, I guess. Their differences cause lots of friction. But eventually they get on the same page, and any movie that has a brother and sister getting over some problems and having a good time together is gonna be pretty nice, especially if they do it by battling a weird man-and-horse-eating sky monster.
UPDATED POST-SCRIPT, 8/5/22: Another interpretation occurred to me while jogging today. What if Peele is wrestling with some of the issues that came to him while/after writing and producing CANDYMAN? That movie, along with some other horror movies and TV that have dealt with racial violence, have been criticized in some circles for exploiting Black trauma as entertainment. Of course Peele isn't trying to make a "spectacle" of hate crimes, he's trying to approach the subject with artistry – more Antlers Horst, less TMZ helmet-cam. And he's reclaiming the character and meaning of Candyman for Black culture and a growing movement of Black filmmakers, just as O.J. and Em think filming Jean Jacket will save their historic Black-owned Hollywood horse training business. But maybe he still questions how strong the line is between art and exploitation.
Just a thought. Peele may not have thought of those parallels at all, but I wouldn't rule it out. Seemed worth sharing. So I did. 
This entry was posted on Wednesday, August 3rd, 2022 at 1:52 pm and is filed under
Horror
,
Monster
,
Reviews
,
Science Fiction and Space Shit
. You can follow any responses to this entry through the
RSS 2.0
feed. You can skip to the end and leave a response. Pinging is currently not allowed.