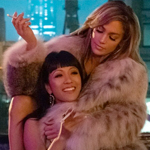 HUSTLERS is a true crime movie with some grit and some emotion and some style. It stars Constance Wu (ALL THE CREATURES WERE STIRRING) and Jennifer Lopez (ANACONDA) as the center of a ring of dancers (they don't call themselves strippers, according to the source material) who started hanging out with rich guys so they could drug them and run up their credit cards. Wu's character Destiny tells the story from seven years later, when she seems to have settled down, and is cautiously, suspiciously answering questions for a magazine writer (Julie Stiles, SAVE THE LAST DANCE).
When Destiny starts working at Moves she's green, rubbing up on guys all day and going home with less money than that's worth. There's a great introduction to the place where the camera follows her and the other new girls from the back, out onto the stage to be introduced and down a ramp onto the floor where some asshole gets her attention by calling her Lucy Liu. Reminded me of one of my favorite shots in CREED, when it follows him to the ring and makes you feel like you're there in his entourage, practically giving you stage fright. This has a similar feeling. You feel like you're her, as much as a movie can do something like that.
Then she sees Ramona Vega (Lopez) entering the room like a pharaoh, dropping every jaw in the room, leaving the stage looking like it snowed one dollar bills. The Michael Jordan of the pole. Later, Destiny takes a rooftop smoke break at the same time as Ramona, who's up there laid out like she's doing a calendar shoot, and introduces herself. Destiny is in lingerie and it's cold, so Ramona has her come curl up inside her big fur coat. I felt this was maybe a love story, but if so it always stays at or below this level of unacknowledged sexual chemistry. So they might just be friends who cuddle.
Ramona agrees to take Destiny as her padawan learner, so we get sort of a Scorsese-ish narrated romp through the tricks of the trade. Also the club has that SHOWGIRLS type bawdy half-naked-ladies-looking-in-makeup-mirrors-together family vibe, with Mercedes Ruehl (WIDOWS [2002]) as their mother figure Mama – no Robert Davi required. Pop stars Cardi B and Lizzo play two of their co-workers.
So far they're not committing crimes, but we get the traditional crime movie boom year sequences, the celebration of capitalistic excess. They keep getting bigger, more amazing apartments with huge windows overlooking the city. Ramona hosts Christmas at her place and everybody squeals over new cheetah-skin Louboutin boots and chinchilla coats and shit. I like that this is a movie by and about women and the things they spend their money on are different from what men in crime movies would. But kind of the same, come to think of it – clothes, cars, food, drugs, women.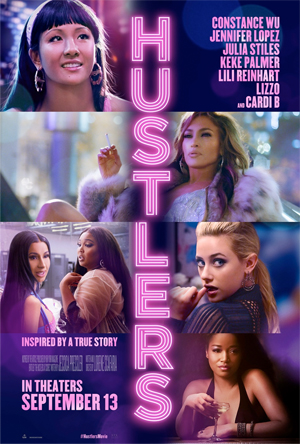 Then we get our dramatic silent black screen with a date on it. The stock market crash. The ladies have been living off of tips from slick-hair Wall Street bros with money to burn. What happens when the Champagne Room is unoccupied and there aren't enough laps to go around? Destiny doesn't know that Ramona's job "in fashion" means folding clothes at Old Navy. She'd already tried to move on, but her straight life isn't panning out either. After giving birth and dumping her douchey boyfriend (G-Eazy, a People's Choice Awards winning rapper, apparently?) she needs a way to support her daughter, and Ramona's drugging-rich-dudes plan sounds a whole lot more appealing than the prostitution one the other Moves girls are trying.
It's always about a daughter or a son, huh? I know what they say, I've heard it many times that becoming a parent rewires you, changes your whole perspective. I get the concept, but I guess I'll never feel it, not being a parent. So sometimes I get sick of every other movie treating it as the deepest shit ever, especially when it's like this, and we barely see the parent spending time with the kid who is supposedly her whole world. You see it so many times it starts feeling like THEY LIVE propaganda – mate spawn and die. But viewed in a vacuum it's handled pretty well here. It leads to some good climactic melodrama.
So Ramona, Destiny and their younger friends Mercedes (Keke Palmer, THE LONGSHOTS) and Annabelle (Lili Reinhart, THE KINGS OF SUMMER) get real good at finding guys in bars to hang out with their "sisters" and laugh and flirt and have a good time. And then say "what are you talking about, you were having such a good time, don't you remember?" when they call later about their bank accounts. As our surrogate, Destiny shows some guilt about it. But she has fun too.
Victims include stock brokers and CEOs and shit played by Frank Whaley (BROKEN ARROW), Steven Boyer (BRIDGE OF SPIES) and Jon Glaser (TRAINWRECK). Devin Ratray (HOME ALONE, BLUE RUIN) plays a rich software dude who sort of befriends Destiny at the club after seeing her studying for school. There's a squirmy scene where she calls him years later looking for a sugar daddy and he walks down many stairs of his giant house to get to a private place to quietly tell her he's married now. I'm glad she hangs up.
HUSTLERS writer/director Lorene Scafaria is a playwright, actress and singer who wrote NICK & NORAH'S INFINITE PLAYLIST and wrote and directed SEEKING A FRIEND FOR THE END OF THE WORLD. 2015's THE MEDDLER was her first film with a title of normal length. She's friends with Diablo Cody and has an executive producer credit on RICKI AND THE FLASH, a movie I love. According to Wikipedia, "She first became interested in writing when she would write up a report on a completely fake book once a month to win Pizza Hut gift certificates from her school."
She based HUSTLERS on the National Magazine Award nominated New York Magazine article from 2015 The Hustlers at Scores: The Ex-Strippers Who Stole From (Mostly) Rich Men and Gave to, Well, Themselves by Jessica Pressler. Will Ferrell and Adam McKay's production company Gloria Sanchez offered the script to Martin Scorsese and other directors before letting Scafaria direct it, like she fuckin said in the first place.
It's a good mix of familiar and fresh. It feels like a type of story and storytelling we've seen before, but not exactly like this. Its protagonists are morally compromised, but strippers/dancers in general are portrayed with sympathy, even admiration. It glorifies female bodies in the presence of gross horny dudes without feeling like sleazy objectification. It involves major, serious crime, but not a bunch of guns and violence.
I think Wu is very compelling, but the hype has correctly centered on Lopez. If she's been better than this in anything besides OUT OF SIGHT, I must not have seen it. Here she does tough, loving, angry, petty, sadistic, funny, and of course a whole bunch of sexiness. It's a thoroughly impressive performance even before taking into account the acrobatic pole dance reportedly done without a double. Jesus. She must've trained for that like she was doing a MATRIX sequel.
The movie is much more closely based on its source material than magazine-article-inspired movies like A BEAUTIFUL DAY IN THE NEIGHBORHOOD, PAIN & GAIN or THE FAST AND THE FURIOUS, except for, strangely, its central theme. The article doesn't imply much of a friendship between Rosie and Sam, as they were really called, but the movie is most successful in depicting the arc of their fictional friendship, from meeting to dissolution to bittersweet recollection.
There are at least 2 (two) shit tons of crime sagas that are all about masculinity and machismo, so it's nice to see the occasional one about female friendship. I guess WIDOWS and SET IT OFF could count, and I liked those better, but they're partly about taking on supposedly male roles, executing crimes that women wouldn't be expected to do. This one is specifically about women performing a prescribed "female" role to take advantage of the men who are into that kind of thing.
These are layered characters, and depiction is not endorsement. But I'm glad women can have their own movies with bad role models. Honestly, that's progress.