In the summer of 1991 a 23-year-old director named John Singleton made a hell of a debut with BOYZ N THE HOOD. It was a preachy, of-the-moment anti-violence tale inspired by his (recent) youth in South Central Los Angeles, tempted by the machismo of gang life but smart enough to avoid getting tangled in its endless cycle of retaliation. The movie had breakthrough roles for Cuba Gooding Jr. before "Show me the money," and for Larry Fishburne before Ike Turner or Morpheus. He was so memorable as Furious Styles that he turned into a Laurence 2 years later.
It was the debut film for Morris Chestnut, who would of course go on to co-star in UNDER SIEGE 2: DARK TERRITORY and HALF PAST DEAD. It was also a very impressive movie debut for Ice Cube, at a time when it was unusual for rappers to become actors. It was a movie named after an N.W.A. song in an era when even Tone Loc could be used on the cover of Newsweek for paranoid stories about the Rap Menace that threatens our children and our women.
And it went over so well that Singleton was nominated for an Oscar for best director, competing against Jonathan Demme, Oliver Stone, Barry Levinson and Ridley Scott. He was the first African-American to receive that honor (Spike Lee still hasn't – only Lee Daniels for PRECIOUS) and to this day the youngest (next youngest is still 26 year old Orson Welles for CITIZEN KANE).
Anyway, long story short, it's 20 years later and Singleton's a for-hire hack phoning in this half-assed kiddy version of BOURNE IDENTITY designed only to package the uglier of the two TWILIGHT dudes as a teen Jason Statham. There is no happy way to spin this. Life is a bastard.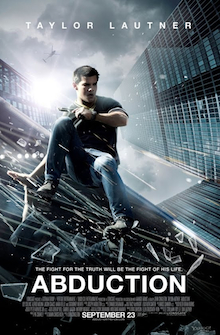 In the extras everybody talks like it's a given that this Taylor Lautner is a superstar who will go on to make many great movies. I don't know who's been talking to these people, must be the same guy that convinces all the directors that postconverted 3D is as good as actual 3D. I mean who knows, maybe it's just over my head, but I don't even see a vague glimmer of screen presence in this chunk of wood. He does some pretty good kicks, and from the looks of it does alot of pushups. So maybe they could do a movie about a pushup contest where you're not allowed to talk and have to wear a bag over your head. He might be good for that role.
But I mean, alot of guys have muscles. I don't see how this guy's shoulders override his weird caveman brow, soul-less eyes, squeaky nerd voice and Butthead-esque about-to-start-drooling facial expression. You can put him on a motorcycle and make him squint all you want, he's not gonna suddenly turn into James Dean, I don't think.
The trailer for the movie shows an enjoyably stupid gimmick: Lautner plays a high school kid who stumbles across a websight about missing children, and an age progression of a missing kid looks just like him. He figures out that his parents are not really his parents, and then people start shooting at him. It looked like it was kind of a HANNA type deal where he's a young super soldier. Let me SPOIL what actually happens so you can see how not-exciting it is: his only special training is that his fake dad taught him to kickbox, and it turns out the missing kid websight wasn't even real, he was just put under protection because his real dad is a superspy and everybody would want to kill his kid. Yippee. You know how the trailer has him running around at a baseball stadium? That's not the middle of the movie. That's the climax. It's not trying real hard.
They did bother to hire an overqualified supporting cast. You got Jason Isaacs and Maria Bello as his adopted parents, Sigourney Weaver as his psychiatrist/protector, Alfred Molina as a CIA guy out to get him, and poor Michael "Swedish Daniel Craig" Nyqvist as the Serbian terrorist villain. I mean, at least he got to be in GHOST PROTOCOL, and that was a good movie. But in Sweden he was a leading man. It doesn't seem fair that this guy comes to Hollywood just to be Scary Dead-Eyed Foreign Bad Guy. His only memorable moment in this is when he threatens in all seriousness to kill all of the kid's real friends and Facebook friends.
But of course I didn't rent this thinking it was actually gonna be good. I rented it because I thought it looked hilarious. I'm afraid it's mostly boring, but I'm happy to report that there are a few funny angles to it.
I don't want to be mean, but you gotta admit it's true: this is not an actor who radiates intelligence. He looks like a meathead and talks like a nerd, but not the kind that are good at math and science. Maybe more of a dork than a nerd. So it's funny when he reads stuff out loud. It's probly just to give information to the audience, but I imagine that's how he would always read anyway, or at least with his lips moving. And when he's not fighting he's kind of a clutz, he doesn't move around gracefully. He's not very cool. The sunglasses aren't fooling me, pal.
Some of the dialogue is humorously straight forward: "A few days ago we were just a couple of high school kids. Already it feels like a lifetime ago." A speech pointing out the irony that he never knew his real parents or his fake ones, since his fake ones were lying to him about who they were, begins with the question "You wanna know what's messed up?"
He has a nerdy friend played by Denzel Whitaker (one of Joel Edgerton's students in WARRIOR) who makes fake IDs for the other kids, so he takes the place of the spy movie passport forger. He has a hard time helping though because the CIA put him under surveillance. "I had to sneak out back" he complains. (Come on CIA, get a guy on the back door.)
Come to think of it, I'm not surprised that kid was able to evade CIA surveillance as if sneaking out to a party, because these guys are not very good. Even the top guy, Molina, is sitting at a table talking to the kid about the valuable information he's trying to get, and doesn't notice that the fucking kid realizes that he's talking about his cell phone, takes it out and looks at it under the table to confirm it. And it makes a computery beeping noise! I feel like Mr. Top CIA Guy should've noticed that and grabbed it from him. Would've saved him the trouble of going to the Pirates game.
My personal favorite stupid aspect of the movie is how it deals with Lautner's emotional reaction to his parents being murdered in front of him and his whole life being a lie. He doesn't really react much when it happens and then Weaver tells him there will be time later to be emotional about it. That time comes off screen: he wakes up with tears on his cheeks, and the girlfriend tells him he was crying in his sleep.
I honestly believe this is how it went down: somebody noticed that the script didn't ever acknowledge that it would be sad to have your parents killed like that. But they didn't want to rewrite the whole thing so they added the line where Sigourney schedules the emotional reaction for later. Then when they considered or maybe even wrote a scene where he breaks down about it somebody else said Are you kidding me? This is Taylor Lautner. You think we're gonna get this kid to cry? Ah, shit. Just say it happened off screen or something. He goes around the corner and we could dub somebody else crying and then he comes back. Or maybe a bus drives by in front of him right when it happens. Or it happens in his sleep, I don't know. Just find an excuse not to show it.
At the end of the movie Weaver asks, almost as an aside, "How are you doing with all this? Are you okay?"
"I'm fine," he says. Great job, everybody.
The opening of the movie has Lautner rolling around on the front of a moving car yelling "WOO HOO!" before he's dumped onto the lawn at a neighborhood kegger. Since no kids have died imitating this stunt, as they did with the laying-down-in-the-street scene in THE PROGRAM, I believe this movie has not entered the public conscious and therefore we won't be seeing this kid star in too many more movies. Sorry kid. But I think we're safe on that front.
As to whether we'll ever see Singleton directing good movies again – signs point to no. It's too bad. But there'll be time to be emotional about it later.