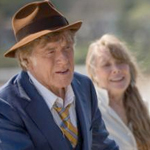 THE OLD MAN & THE GUN is a slight but pleasant lovable-bank-robber tale that Robert Redford (THE HOT ROCK) apparently chose as his one last job. He plays Forrest Tucker, a real life thief who from the age of 15 to 83 spent his time stealing and getting locked up and escaping and repeating. Based on a New Yorker article, this takes place in 1981, when he's 70 and at it again shortly after escaping San Quentin in a kayak he built and cheekily decorated with the county logo and a yacht club flag. I gotta admire attention to detail in a jailbreak, especially when it's only for artistic purposes.
The writer/director is David Lowery, known for the arty movies AIN'T THEM BODIES SAINTS and A GHOST STORY, but I've only seen his quite good PETE'S DRAGON remake (also with Redford). He set that one in the '80s too, I'd guess out of childhood nostalgia and a fetish for the aesthetics of the era. Here he mimics the era's films with a nice grainy look that I read comes from shooting on Super 16. It's an approach I'm both suspicious and appreciative of – you better have more tricks than that in your bag, but since our memories of a period tend to get mixed up with the available photographic evidence, this does help to conjure a palpable feeling of the time.
I'm not a fan of their font choice, though.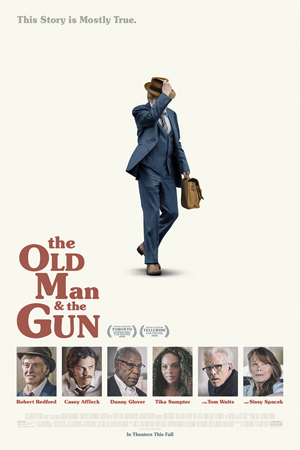 Being the titleistical old man, Forrest has a taste in fashion left over from a previous era, wearing blue suits, loose ties and fedoras, walking into the bank in a stiff-legged approximation of strutting. His backup consists of Danny Glover (PREDATOR 2) and Tom Waits (MYSTERY TRAIN, MYSTERY MEN), but it doesn't seem like he needs any help. He spends a day staking out a place, eventually approaching a manager or teller, showing his gun and keeping them calm with his Robert Redford charisma. That made me think of George Clooney in OUT OF SIGHT, though his age also brought to mind the more comedic TOUGH GUYS. The other two tough guys don't get much screen time, but each has a scene that takes advantage of the actors' sad, weathered likability, most notably Waits' drunken monologue summarizing his life of crime.
There are basically two major threads based on chance encounters. One, while fleeing police he stops to help a widow (Sissy Spacek, PRIME CUT) with engine trouble, ends up going to a diner with her and beginning a periodic relationship whenever he's in town. As tends to happen in these stories he does tell her he's a bank robber, but she seems to think he's joking. Secondly, he manages to rob a bank while off duty police detective John Hunt (Casey Affleck, TRIPLE 9) is waiting in line, and the humiliation of not noticing sends Hunt on a crusade to catch who he dubs "The Over the Hill Gang."
Though often cast as a villain now in real life, Affleck is very good at playing these kind of downbeat but likable guys. It's not that thing where he's a prick and you want to laugh at him blowing his top after the old man fools him again. I mean, he's right, you shouldn't rob banks. I really like the big moment when SPOILER SPOILER SPOILER Forrest spots Hunt walking into the diner and recognizes him from TV. It's an "oh shit" moment and then what happens is cooler than what I expected.
I mean, how do you handle a criminal who's so likable that the guys who chase him end up just having fun and talking about him like he's an old friend? I don't know if I can buy that happening in real life, but it seems believable when it's Robert Redford. Instead of "POLICE – GET DOWN ON THE GROUND!!" it's more like Forrest Tucker, you ol' rascal, get over here, put these cuffs on and give me a hug.
The opening scene has a great shot of Forrest driving away from a robbery. His vehicle goes behind a building and the camera follows some kids carrying buckets of paint over to a fence, and then the camera is there just in time to see Forrest burst out of the alley on the other side. I guess you could see this as a contrast, that it's this small town existence with this Mark Twain shit going on – or maybe more Norman Rockwell – and they have no idea that an armed robbery is going on right under their noses. But I think it feels more like these two things are of a piece, and that's how the rest of the movie treats it. Just some cute old time rural shenanigans going on between pals.
But to be fair there is some indication of Forrest's flawed life. When Spacek's character Jewel is getting to know him and asks if he has any kids he says, "I hope not." And she seems more okay with that line than she ought to. Be we learn that in fact he has a daughter he really doesn't know about (played by Elisabeth Moss, SUBURBAN COMMANDO). There's this wreckage he's left behind of women he's lied to and at least one family he's abandoned and he's too wrapped up in his own legend to even acknowledge it.
The article it's based on is by David Grann, who's having a good couple years because his articles have also been turned into DARK CRIMES (that one with Jim Carrey) and TRIAL BY FIRE (directed by Edward Zwick), his book THE LOST CITY OF Z became a movie and now Martin Scorsese is adapting his novel book Killers of the Flower Moon: The Osage Murders and the Birth of the FBI.
The movie I most want to compare this to is Clint Eastwood's recent THE MULE. Both are late career movies by decade-spanning movie icons turned directors (though Redford didn't direct this one). Both put their physically deteriorating but still charming stars in a true story based on an article about a criminal notable for success at an advanced age. And both kind of play off of their previous movie personas – Eastwood's abrasive fuckup with a heart of gold, Redford's dashing bad boy. I guess the "also" in the opening "This story is, also, mostly true" text refers to BUTCH CASSIDY & THE SUNDANCE KID. The poster references JEREMIAH JOHNSON. And there's a clip of Redford's prison escape in THE CHASE (1966) used in a flashback.
In my opinion THE MULE stumbles more (not a pun about mules – I have no idea if they tend to stumble more or less than an old man). It has some theme-underlying dialogue that made me groan in more than one scene. OLD MAN is smooth sailing all the way through. At the same time, I think THE MULE goes to higher heights, and leaves you with way more to chew on. It feels more like an old man true crime movie we've never seen before and with things to question and wonder about and analyze. And Clint's character is more interested in recognizing the ways he's fucked up in his long stubborn life and at least atoning for them a little bit. OLD MAN is more here is something you've seen before but it's nice and light and damn it's cool to see old Redford and Spacek doing their thing again, why don't we get more of that? And I'm okay with that.