also on May 22, 1998
I remember THE OPPOSITE OF SEX being a big deal indie movie at the time, but it seems mostly forgotten now, mentioned even less often than its widely hated box office competitor GODZILLA '98. Maybe more than LO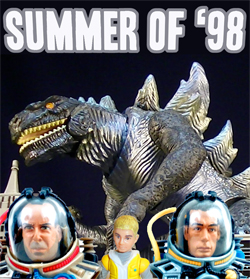 ST IN SPACE? I had kinda forgotten it too, at least what it was about, but I'm glad I decided to get a refresher on this really funny and kinda sweet dark comedy about a… well, kind of a wild thing, I guess.
Christina Ricci, in her second best movie released on this day, plays Dedee Truitt, a mean and grouchy sixteen year old who runs away from her home in Louisiana to find her grown up, gay half-brother Bill (Martin Donovan, SILENT HILL: REVELATION 3D) in suburban Indiana. She manages to seduce Bill's younger boyfriend Matt (Ivan Sergei, DANGEROUS MINDS, the tv show of John Woo's ONCE A THIEF) and uses pregnancy to convince him to steal ten thousand dollars from a safe deposit box and run off with her.
Like WILD THINGS it has betrayals, cheap motels, secret relationships, even a false rape accusation against Bill, who is a high school English teacher. But it's not really a thriller and it's not so much about the twists of the plot. It's about these odd characters, and one way their personality comes out is through the narration by Dedee, which we could say is DEADPOOL style. Like him she's cynical and likes to bluntly offend and has the ability to understand that she's in a movie. She's an unreliable narrator in that she'll narrate that something happened and then admit she was just fucking with you. She points out when she's foreshadowing something or using manipulative music choices, adds a split screen when she thinks a scene is boring, refuses to show inside the room when a character she hates is getting laid. She makes fun of movie tropes and gets embarrassed and defensive when she falls into them. She narrates that narration can be used to "cover up all the holes in the plot."(I actually noticed that being done with off screen dialogue obviously added in post – there's an occasional low budget scrappiness here.)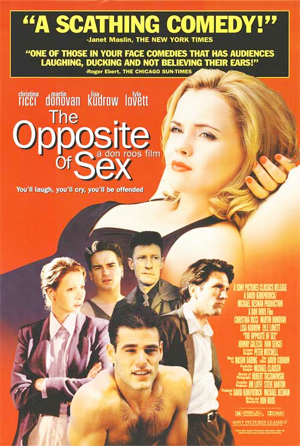 It gets serious at odd times. Dedee's dumbest boyfriend, Randy (William Lee Scott, THE MAGNIFICENT SEVEN) is treated as a joke until the scene where he beats up Dedee. It's mostly off screen, but Ricci plays it so real that it's really upsetting to hear her. And then she shoots him and it cuts to his autopsy and medical examiners discussing him having only one ball (a topic she'd already mentioned more than once).
I've noticed moments of casual homophobia in some of the other summer of '98 comedies I'm working on reviews for. That shows where we were at with those issues at this time of Don't Ask Don't Tell, when legal same sex marriage didn't seem like anything that would ever happen and the Ellen coming out episode was recent enough that there's a joke about it here (possibly added in ADR). Dedee is more flagrantly prejudiced than any of the characters in those movies, talking about Bill as a "homo" and "a gay" and "a fairy" and calling being straight being "normal" and espousing unusual stereotypes about gay men, mostly not-negative ones like that they're clean or that "gay houses usually sell real quickly because of the recessed lighting and good faucets." She worries about getting AIDS from drinking cups and first describes Bill as "An actual real life homo. And a teacher. Which is kind of gross, I mean, the combo?"
This is anti-anti-gay humor from gay writer-director Don Roos (his directorial debut after writing SINGLE WHITE FEMALE, LOVE FIELD, BOYS ON THE SIDE and DIABOLIQUE). He also has fun contrasting the younger, more flamboyant lifestyle of piercing enthusiast Jason (Johnny Galecki, I KNOW WHAT YOU DID LAST SUMMER) to more conservative Bill, who just wants to be left alone and doesn't really give a shit what anyone thinks, even when they think he committed a horrible crime that he didn't.
Bill is an outstanding character, so dryly funny with deadpan, low energy delivery by Donovan, but also very complex, as we see when dumb, well-meaning Matt calls him out on his bullshit. Everything in his life is a reaction to a character we only see in flashback, his boyfriend Tom (Colin Ferguson, LAKE PLACID 3), who died of AIDS. Tom is the reason Bill has money, which is why he doesn't have to worry if he loses his job, and why Dedee comes looking for him. He's the reason Bill found Matt, a boyfriend so different from Tom, so incapable of the same connection, that he doesn't have to feel like an attempted replacement.
He also has the best introduction, discovering a kid writing "Mr. Truitt Sucks it hard Every Tuesday after yearbook" on the bathroom wall and making suggestions to improve the sentence. Then there's a high quality punchline that I won't give away, but it's delivered by none other than Rodney "Joey from ELM STREET 3–4" Eastman (never seen in the movie again).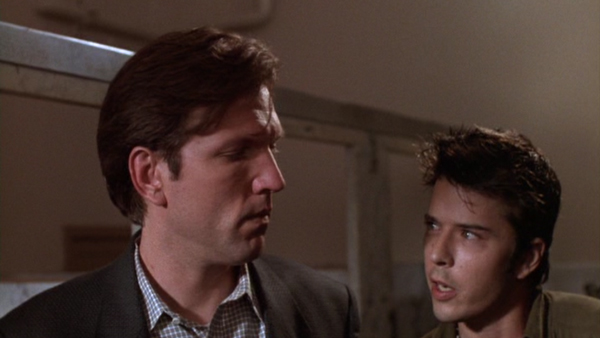 And maybe the most unusual character is Lucia (Lisa Kudrow, IN THE HEAT OF PASSION 1-2), "the sister of Tom the dead guy," who now lives with Bill and sort of fills the role of nagging wife in a bad marriage. She's the kind of person who has to be constantly talking, constantly instructing, like when Bill needs to kick a door in she's backseat door-kicking. "Do it again. Harder!" She doesn't like Matt or Dedee, is incapable of keeping her complaints to herself, and is very protective and/or possessive of her sweet angel Bill. She's also a virgin and believes she's asexual. But her whining is more funny than grating, she makes a good bickering foil to Bill's attempt to track down his missing boyfriend and half sister, and by the time she reveals her vulnerabilities I actually like her. Also she has one of the lines that made me laugh the hardest, when she storms out from an argument with Bill and Matt.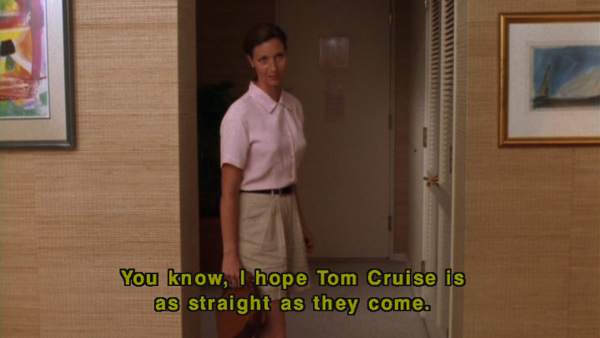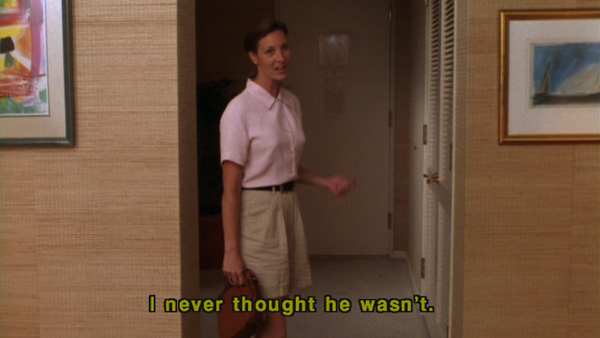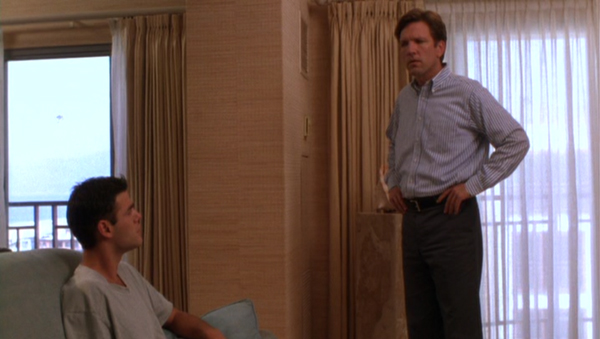 It's a cool trick that the story is told by Dedee, but she manages to disappear for a while to let us get invested in Bill and Lucia trying to find her.
Lyle Lovett (who, like Ricci, was in FEAR AND LOATHING IN LAS VEGAS, but only for a second) plays a sheriff named Carl who likes Bill but has to investigate him, and who Lucia holds a grudge against even though he seems very nice. There's a point where he smiles and he has those squinty eyes and straight chin and I was thinking how old-fashioned handsome he looked before remembering that the big pop culture joke about him at one time was "how the hell did this ugly guy marry Julia Roberts?" Man, people are assholes. But that's kind of what this is about. Despite all of Dedee's trickery, ignorance and bad attitude – okay, maybe because of her bad attitude – we end up caring about her. Sometimes people who have been through alot deserve a little slack. They might get better.
I have not determined what it was about summer of '98 that caused it to have two great, darkly funny movies about teenage girl masterminds seducing different adults and playing them against each other. I suppose that stories like that of Amy Fisher (who in 1992, when she was 17, shot the wife of her 35 year old lover Joey Buttafuoco) had been sensationalized so much in tabloids, on tabloid TV shows and in TV movies that this sort of story became shorthand for "man, America sure is crazy these days" and "can you believe that media? Sheesh!" Both movies do have scenes of zealous local news teams hounding the accused. And maybe by '98 it had come back around to where you could admit that trashiness is fun if you feel like you're just a little bit above it.
I took note of a few time-capsuley '90s things. In Dedee's bedroom in Louisiana there's an R.E.M. poster (New Adventures in Hi-Fi). Matt is said to work a night shift at Kinko's, the national chain of copy shops popular for people who made zines and flyers and stuff. It has since become FedEx Office. A student interviewed on the local news brags about working at Blockbuster Video and that they don't carry gay porn. (This is when video stores still existed and it was cool to make fun of the biggest, corporatest one that had a reputation for being conservative and censorial.) Dedee delivers a message on an audio cassette. But I think mostly it's ahead of its time, at the very least in the way it portrays committed gay relationships and a gay community that is not monolithic – it has culture clashes, generation gaps and people who can't relate to each other at all because they have very little in common.
Kudrow was a major comedy star at the time, in her fifth season of Friends. The year before she'd starred in the beloved (if only in a cult sort of way) ROMY AND MICHELE'S HIGH SCHOOL REUNION. '98 was the year she won an Emmy for outstanding supporting actress in a comedy series, and she also did a guest voice on The Simpsons. I think it gave her some cred to be in something kinda edgy like this at the same time.
Of course it was much bigger for Ricci, the child star best known for playing Wednesday in THE ADDAMS FAMILY. Here she is one year after remaking THAT DARN CAT and she's smoking and showing cleavage and causing a physical altercation at a funeral. This was when she started doing grown up indie movies, of which there will be one more this summer (and then John Waters' PECKER in the Fall).
THE OPPOSITE OF SEX was well reviewed, and Ricci got a Golden Globe nomination for best actress in a comedy (she lost to Gwyneth Paltrow in SHAKESPEARE IN LOVE). Roos definitely became a director to keep an eye on. So what happened? Maybe it was his sophomore directing job, BOUNCE (2000), starring Ben Affleck and Gwyneth Paltrow in a romantic drama with a queasy underlying premise about him not telling her that he gave his airline ticket to her husband when he died in a plane crash. It looks like it didn't lose money, but I seem to remember it being widely panned and seen as a flop. Since then, Roos has only directed HAPPY ENDINGS (2005) with Kudrow and THE OTHER WOMAN with Natalie Portman and Kudrow, which was completed in 2009 and not released until 2011, at which point it got bad reviews.
On the other hand he wrote MARLEY & ME (huge hit) and, like so many, has found more of a voice in TV, creating and writing Web Therapy starring Kudrow, which started as a web series and then went to Showtime for four seasons. I could go for another Don Roos movie, though, if he's ever up for it.
This entry was posted on Monday, June 11th, 2018 at 12:13 pm and is filed under
Comedy/Laffs
,
Reviews
. You can follow any responses to this entry through the
RSS 2.0
feed. You can skip to the end and leave a response. Pinging is currently not allowed.