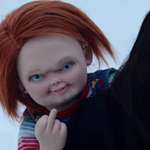 I kind of want the CHUCKY cinematic saga to go on forever, or at least as long as Don Mancini wants to keep making them. He's the guy who wrote the original script BLOOD BUDDY, that became CHILD'S PLAY, and then wrote all six sequels to date, and directed SEED OF CHUCKY (2004), CURSE OF CHUCKY (2013) and now CULT OF CHUCKY (aka CHUCKY NUMBER SLEVIN).
CURSE was the first one made for the DTV market, and CULT follows in its footsteps: lower budget, limited locations, filmed in Winnipeg, more serious tone than BRIDE or SEED except for some broad meta references and some nods to continuity. It also brings back the star, Fiona Dourif (yes, Brad's daughter) as Nica, innocent paraplegic woman now committed to an asylum, blamed for Chucky's murders and convinced she imagined him to ease her guilt. Of course, the dumbass doctor (Michael Therriault, The Girlfriend Experience) decides he should bring in a vintage Good Guy doll as part of her therapy, and, you know, shit may or may not happen.
For a minute there's an adult ELM STREET 3 vibe. We meet the handful of patients and orderlies and see their group sessions. One patient, Michael (Adam Hurtig, who also apparently played a cop in CURSE, but I don't think it's the same character) is charming, and she immediately bones him before finding out he's confused about who he even is. Others, especially Claire (Grace Lynn Kung, P2, CUBE 2: HYPERCUBE) don't trust her, but their bickering never turns into bonding. They become Chucky victims, but never get to fight back and be beautiful and bad like Dream Warriors. I guess the creepiest patient subplot is the one about Madeleine (Elisabeth Rosen, HOUSE OF THE DEAD) because she treats the Good Guy doll as her baby and breastfeeds it.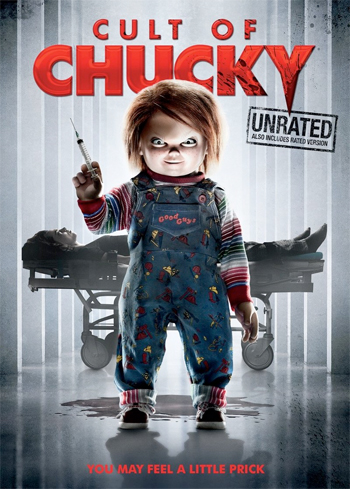 There is some suspense about what Chucky's up to, or how he's even there after a strong opening revealed seemingly contradictory information regarding Chucky's fate since CURSE. This becomes a compelling subplot in which CHILD'S PLAY's hero Andy (Alex Vincent, last seen as a 9 year old boy in part 2!) deals with being an adult forever tied to a killer doll. It's so cool to see him grown up. Kind of a PHANTASM situation.
There's a good amount of Chucky – sparing, but not stingy. Of course it's still Brad Dourif (SPONTANEOUS COMBUSTION)'s voice along with the excellent animatronic puppetry – they haven't gone CGI Yoda yet. He still has kind of a bad sense of humor. He complains about Hannibal being cancelled (Mancini worked on it) and there's some nod to ONE FLEW OVER THE CUCKOO'S NEST, obviously. I'm not really into those types of references, but something warmed my heart about Andy having a framed sweatshirt from the military academy that he attended in part 3 (when played by a different actor).
You know what, I still wonder what happened to Alex's big foster sister Kyle from part 2. She was cool.
I think my favorite moment in the movie is early on, during a queasy-uncomfortable scene where we learn that (SPOILER) Andy keeps Chucky captive and tortures him for fun. Having cancelled a dinner date Andy says something like "Well, looks like it's just you and me tonight, buddy." And what I like is that it doesn't sound like a taunt. It sounds like there's some truth to the idea of the Good Guys "friend to the end" corniness. Andy is stuck fighting this asshole doll his whole life, might as well share a moment of levity and a puff of a joint with him. A nice little Elmore Leonard or HEAT type moment.
The meaning of the title is not what I expected and takes most of the movie to get to, as does the reveal of Chucky's plans, which work as a suitably crazy outcome, but not as a setup for an exciting sequel. Nobody is gonna watch this and think "I can't wait to see them continue from there!" They're gonna think "I hope they don't stick with that for long!" Fortunately, things start picking up in this last act. The climax has 3 or 4 really effective gore sequences to moisten the mood.
Though this is not one of the top CHUCKY pictures, and maybe the second weakest chapter after part 3, it's still a fun time. It gets a big boost from the performance by the younger Dourif. She does have a small resemblance to her father, but clearly earned the role for herself. She treats the character with utmost respect and seriousness that makes her fight with a smartassed talking/killing doll somehow seem plausible.
All things considered I must conclude that this is worth watching to those of us who enjoy watching the Chucky pictures.
possible part 8s:
CIRCUS OF CHUCKY
ROAD OF CHUCKY
GYM OF CHUCKY
CHUCKY BOUGHT A ZOO
ISLAND OF THE CHUCKIES
CHUCKYLAND
LETHAL CHUCKY (Chris Sarandon returns for buddy cop movie with him and Chucky trailing a Charles Lee Ray copycat)
ALOHA CHUCKY
CHUCKLEBERRY FINN