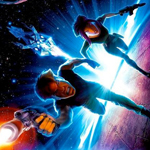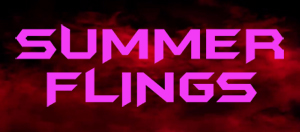 June 16, 2000
Just before a race of alien energy-beings called the Drej blow up the Earth, Errol Flynn looking scientist hero Sam Tucker tosses his towheaded son Cale on an evacuation shuttle with Tone Lōc and goes off to fly a ship called the Titan on a mission to save the human race. He gives the boy a ring and it's obvious to the audience that it will be the key to saving humanity but jesus christ dude make it clear to the kid! All he says is "Take this. As long as you wear it, there's hope." it's a god damn miracle that he still has it when we pick up 15 years later. What in the hell were you thinking you god damn idiot, don't be subtle about this shit.
So, grown up Cale (Matt Damon, THE DEPARTED) is some kind of space-iron-worker, a roughneck working class dude from Colorado, gettin it done on the outsides of ships and stuff, but he still has the same dumb '90s boy band haircut from childhood. Since most humans are dead he's a minority living among a bunch of creatures who eat food that he thinks is gross. So when a square-jawed Earthling captain and contemporary of his father named Korso (Bill Pullman, CASPER) comes to find him, you can see why he eventually agrees to join him on a mission to find the Titan.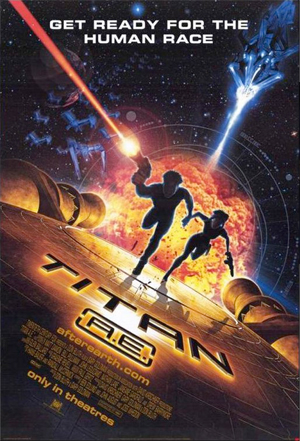 Korso shows him that the ring can be activated to light up a map under the skin in his hand. So he and a motley space crew try to translate the map and follow the clues, avoiding the Drej and other foes. The crew includes Akima (Drew Barrymore, FIRESTARTER), a human female pilot he instantly has a boner for; Gune (John Leguizamo, SPAWN), a scientist who looks like a turtle or Maz Kanata; Stith (Janeane Garofalo, MYSTERY MEN), a kangaroo-ish warrior with giant double-kneed legs that, frankly, are not enjoyable to look at; and Preed (Nathan Lane, NUTCRACKER: THE UNTOLD STORY), who when multiplied by Stith equals a Sebulba.
This is pretty bland sci-fi. Nothing seems very new or original about the story and characters. They could fit into any generic early '80s attempt to cash in on STAR WARS and SUPERMAN: THE MOTION PICTURE. Cale's father sending him away from Earth before it blows up – and later appearing to him in a holographic message – is kind of a reverse Jor-El move, though at the time this was developed it was probly more related to pre-millennium tension like DEEP IMPACT and those types of movies.
The one thing that makes it unique is that it's animated. Produced by Fox Animation Studios, a short-lived company that tried to compete with Disney it was directed by Don Bluth and Gary Goldman (who had also helmed the studios' only other films, ANASTASIA and its DTV sequel BARTOK THE MAGNIFICENT).
Bluth and Goldman had been Disney animators in the troubled ROBIN HOOD era. They left to form their own studio in '79 and made the hits THE SECRET OF NIMH, THE LAND BEFORE TIME and AN AMERICAN TALE. As a directing team the duo were responsible for ALL DOGS GO TO HEAVEN, ROCK-A-DOODLE, THUMBELINA, A TROLL IN CENTRAL PARK, THE PEBBLE AND THE PENGUIN and those other two Fox movies, and now here they are doing one in the future with space battles, and a PG rating "for action violence, mild sensuality and brief language."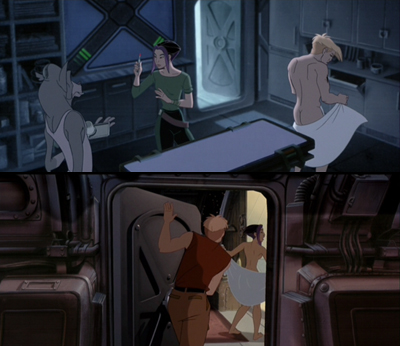 Translation: they show his butt in a medical context and then she touches his hand while he only has a towel on and he's worried he's gonna get a boner. Also he walks in on her after a shower and sees a smidgen of side boob. I almost fainted! But don't worry, prudes, at the end when they almost kiss they get interrupted.
(Seriously though, it had been less than a year since HEAVY METAL finally got released on video, so I guess animated sci-fi nudity was still a novelty, even in this teasing PG form.)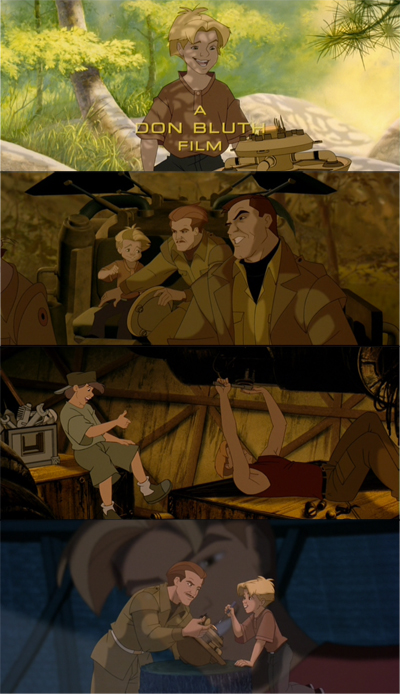 Bluth clearly captures some of the old school Disney spirit in his character designs, but I think he has a tendency to overplay the expressions and gestures so that they seem overly sentimental. He's pretty toned down on this one, but there are some drawings that make me cringe. There's a really elaborate sequence of the evacuation of Earth – show-offy camera moves that could only have been done in that era of animation as crowds flee carrying their belongings and Cale's dad rushes him to the escape vehicle. We're supposed to think it's cute that Cale is oblivious to the adults scrambling for their lives and is looking up at the swarms of helicopters over head, going "Awesome!"
I also hate that most of the aliens are drawn as basically cartoon bugs or animals. What a failure of imagination. The real Disney made the same mistake in their own space movie, TREASURE PLANET. The worst example here is a purposely obnoxious cook (Jim Breur) who is straight up just a cartoon cricket with a chef's hat. When Cale and Korso trash his kitchen during a chase we're supposed to laugh that he's upset about it, and since he attempts to sell them out to the Drej we're supposed to laugh again when he's shot and explodes into goo and a set of chattering teeth. No respect for cartoon bug life.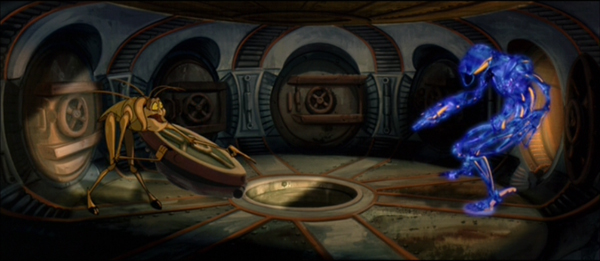 I guess Preed is supposed to be based on a bat, but I like his lanky frame and the way it makes him move. He's the best alien design by far, though the gruff characterization is somewhat undermined by Lane's voice.
I also really like the designs of the Earthlings Sam and Korso, old fashioned manly swashbuckler types that would be hard to cast in live action in the modern day. And also this was one of the last gasps of 2D animation in that time when the Disney Renaissance had been choked out by the rise of Woody and Buzz. So at least they're drawings. The character animation looks pretty slick, certainly much better than most of COOL WORLD. But they awkwardly integrate a ton of CG effects – first as a gimmick, then to deal with budget cuts. The Drej are 3D animations, and rarely share the frame with drawings. The ships and space backgrounds are usually computer generated, often looking jarringly different from the characters. Cale's space suit and many of the vehicles are 3D models outlined to look like drawings. That works pretty good.
The universe of TITAN A.E. is standard issue, but there are a few details and ideas here and there that are cool. I like the map inside his hand and the way it leads him to one place where he has to stand and hold it up to align with a star system to tell him to go to another place. I like the glowing "gas trees" that they establish are full of methane, so they glow and look cool and then blow up during an action scene. I like the part where they're being chased through an icy version of an asteroid field, and the reflections of their ship turn it into an ENTER THE DRAGON hall of mirrors type sequence. Although they project it a little too much, I really like that (SPOILER) the pure-energy bad guys obsess over finding this ship, only to be turned into the power source to activate its terraforming capabilities. Suckers!
And I really like the concept of the "wake angels," etherial beings that follow the heat of space ships, and pilots enjoying leading them around. And it makes sense to turn that into a song montage. But, uh, I don't agree with the song "It's My Time To Fly" by The Urge.
There's also your standard "everybody working together to fix up an old junker" montage set to a pop punk song.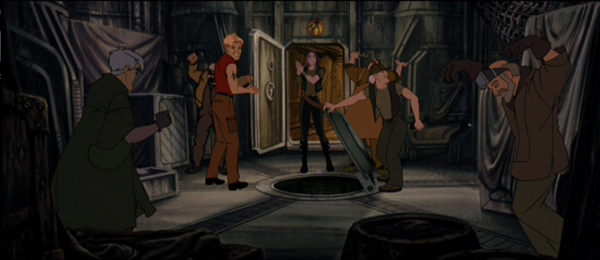 That's one thing I didn't mention. Like most movies in the Summer Flings series, TITAN A.E. has a compilation soundtrack. This is a future set to songs by Powerman 5000, Fun Lovin' Criminals, Jamiroquai and Luscious Jackson. On the DVD commentary track, Goldman describes it as having "a very trendy pop sound, or rock sound… since our target audience was teenagers, the music had to be tailored to fit them." Bluth admits that "it isn't necessarily cutting edge rock, it's pretty soft," but Goldman adds that going "too hard-edged" would lose some of the adult members of the audience. Both mention that using songs like that could date the movie. They were right, but I don't remember them being cool at the time either. (I'm sure some people like them.)
Fox originally developed the project for live action, but decided to pawn it off on the animation studio. They accepted it as the alternative to laying everybody off because they didn't have another project ready, but two other directors (I have not been able to ascertain which ones) developed it for a year and a half before Bluth and Goldman took over. The script is credited to Ben Edlund (The Tick) and Joss Whedon (SPEED) and John August (CHARLIE'S ANGELS), or as Goldman put it in an interview with Alternative Magazine, "about 14 top writers from the sci-fi genre, including Josh Whedon and John August." I haven't been able to determine who actually originated the idea, but August describes in a blog post coming in "to do a quick dialogue polish, which became a bigger rewrite as it went through several directors' hands." He says Whedon took over after him and that he "couldn't honestly tell you what he wrote versus what I wrote versus what Ben Edlund wrote."
I could be wrong, but it seems to me like Whedon took a crack at the dialogue. There's a smart-assy banter that's very reminiscent of his work, and though that approach is everywhere you look now it still feels pretty fuckin hip for a Don Bluth cartoon. I definitely pegged him as the writer of the scene where they try to get past a guard using the STAR WARS trick of one pretending to be the other's prisoner, but the guard points out all the reasons why their story doesn't make sense. Sure enough, Goldman says on the commentary during that scene, "This is Joss Whedon dialogue, it's always very saucy and very funny."
There's also alot of sentiment, little moments and talks between the characters that almost work, but are just a little too corny when expressed through these drawings and the voice actors in a recording booth speaking in hushed tones. Or maybe they're just too awkwardly jammed together. I was thrown off by the scene where Cale has rushed an injured Akima to some people in New Bangkok for first aid, then immediately turns to admire a kid playing with a soccer ball. And you can't just have a kid playing with a soccer ball, you gotta have his older sister who stops reading Robinson Crusoe to come over and explain how "that stupid ball" is "his favorite thing in the world" because "it was our dad's back on Earth" and show him a trading card of their dad and he has to give this fuckin Bluthian expression:
"I think it's very appealing to a worldwide audience because soccer is so popular around the world," explains Bluth.
Despite its many weaknesses, I'd say this is unique enough to be worth watching. It's kinda cool and different to see an animated sci-fi movie done in this Disney-derived American style, the action scenes (mostly chases) are well done and fast paced, and the characters' senses of humor make them go down easy.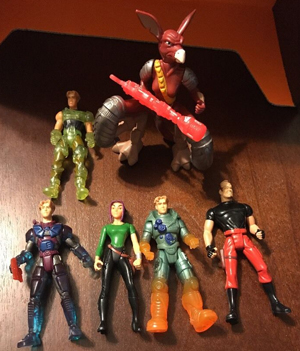 Though it could be argued that Fox didn't give the movie a big enough push, there were definitely signs of them trying to turn it into a thing. There were, of course, action figures. And there was that soundtrack album. And collector's cards. And there was a novelization by Steve and Dal Perry and also two prequel novels by Kevin J. Anderson (also wrote Star Wars, X-Files and Dune books) and Rebecca Moesta (Star Wars, Star Trek) – one about Cale, and about Akima. Dark Horse Comics published a three-part series about Sam and his crew.
A video game was developed, slated to be released some time after the movie, but they cancelled it in part because it did poorly at the box office. It opened in 5th place, crushed even by MISSION: IMPOSSIBLE 2 in its fourth week (#1 was John Singleton's SHAFT). It grossed less than a third of its $75 million budget.
Some used TITAN A.E. as evidence to declare 2D/hand-drawn animation was dead, overtaken by 3D computer animation. It was also a sign that American audiences had trouble accepting non-Disney cartoons. ANASTASIA had been a hit, but it mimicked Disney's entire formula. While there was definitely an audience hungry for different types of animation, nobody was able to translate that into a hit. In the previous summer, Brad Bird's THE IRON GIANT – now considered a classic – flopped in theaters.
Arguably Warner Brothers didn't promote that one enough, but even Disney was struggling to get people excited. Their 2000 release was the troubled THE EMPEROR'S NEW GROOVE, poorly received at the time. In the next four years only their lower budget LILO & STITCH seemed to connect with audiences, and after HOME ON THE RANGE they decided to abandon the 2D business their founder had built.
Damon didn't give up on animation. Two years later he was the lead voice in a more successful hand-drawn feature, SPIRIT: STALLION OF THE CIMARRON. Years later he played a character in George Miller's computer animated HAPPY FEET TWO.
Bluth and Goldman didn't give up on animation either, but animation kind of gave up on them. Before the movie was even finished, Fox started laying off animators and outsourcing their scenes to smaller companies. Studio head Bill Mechanic was fired and the animation studio was closed ten days after the movie came out. 17 years later, the duo still haven't directed another feature. They have done some work for video games and a Scissor Sisters video called "Mary" that doesn't seem to be on Youtube. They've been trying to develop a feature based on their '80s animated arcade game Dragon's Lair, but they don't have studio backing – just a Kickstarter to make a proof of concept.
I should say that although I think it's fair to categorize TITAN A.E. as a movie that didn't catch on, there are enough people fixated on it that I had to dig through their fan art when trying to find pictures for this piece. Fox has not rewarded them with a Blu-Ray release, but they can buy the DVD new on Amazon for $3.74.