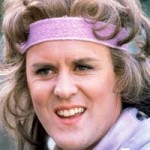 Like the character John Lithgow plays, this movie is fucking nuts. From the very beginning, you don't know where RAISING CAIN is going, or why, or how. Maybe it's headed in a straight path, maybe it's about to spin out on the side of the road, toss you out the window and back over you a couple times, then take off laughing. Or maybe it will go right to your house and drop you off just like you asked, but later you'll think you hear it jerking off outside your window. You'll take a deep breathe and you'll toss open the curtains but it will turn out RAISING CAIN is not there, instead there's some guy you've never seen before riding a unicycle, sporting a beard made of bees. Anything could happen. You don't really know.
Earlier in his career, Brian DePalma did a lot of "Hitchcockian thrillers." Yeah there were surprises and plot twists, and little tricks that he played on you, trying to get you to attach your sympathy to one character only to later find yourself lost and not knowing which one to follow. But it must not have been until RAISING CAIN that he decided to take that into overdrive. Take all the techniques and structures of your standard formulas, chop them all up and tape them back together William S. Burroughs style. Now there is no rhyme or reason to it and you get all confused and surprised and god damn if this isn't a great movie.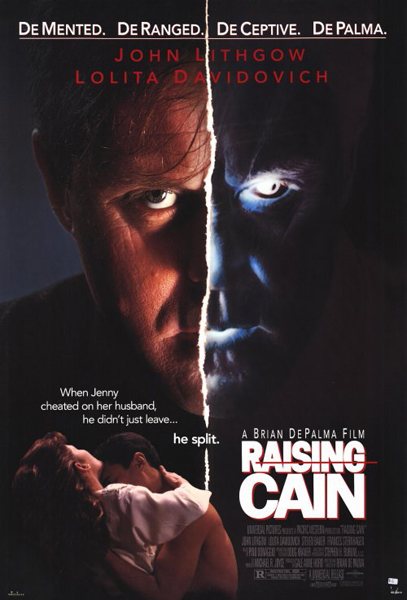 I mean this is a movie that really fucks with the audience. It's a kamikaze thriller. It is willing to be ludicrous just to get a reaction out of you. Just to see the look on your face. In the opening scene, John Lithgow is getting a ride somewhere from a lady friend, and there's two little kids asleep in the backseat. And Lithgow is saying how his father has this facility in Europe or somewhere and they are looking for gifted children to live there and be studied so that they can figure out how a child's personality is formed. The lady laughs in disbelief that this nut is trying to convince her to give up her child for scientific research, and Lithgow gets all upset trying to explain how important it is to science.
So you're thinking okay, this is one of these overeager scientist movies, the guy is a little too dedicated to his research, something is gonna push him over the edge and later in the movie he's gonna kidnap this kid and in his mind it will be justified but, you know, etc. etc.
What you're not thinking is that right now in the middle of this conversation Lithgow is gonna suddenly sneeze a big load of poison into the woman's face, chloroform her and then pretend to be making out with her to avoid the suspicion of joggers. And even if you did suspect that (you fuckin sicko pervert) you probaly didn't guess that another John Lithgow, one that smokes cigarettes and thinks he's a tough guy, would be the one to suddenly appear at the window to suggest the make-out maneuver, point out flaws in the other Lithgow's plan and offer to take care of the killing and disposal of the woman himself.
So it's like 2 minutes into the movie and you're already being tossed around but DePalma goes the extra mile, he has this Evil John Lithgow character, the Cain of the title, make some comment about them being twins. Just to fuck with you. Just to make you think wait a minute, does DePalma seriously expect me to believe that these are twins? Am I supposed to drop my drink later on when they reveal that they are actually split personalities? But a scene like that never comes. Of course you knew it. And he knew you knew it. But he didn't want you to know if he knew you knew it or not, just to make you squirm.
So the regular John Lithgow goes home, parks in the garage, leaves one kid in the backseat and brings the other one inside. His wife is laying in bed looking sexy and they have a conversation and you realize wait a minute, this nutball has a wife? And one of those was his kid? This guy passes for a regular family man but he has an imaginary evil twin brother and he has a dead woman in his trunk and a kidnapped kid locked in the backseat and he goes around sneezing in people's faces and shit. This is fucked up.
He gets turned on seeing his wife laying there and starts to get it on with her, but his daughter wakes up and starts crying. He says he'll take care of it so he pulls his pants up, then instead of doing what he said he would, he goes out to the car and drives off with the kidnapped kid.
Next day the family goes in town together and the wife happens to bump into her ex-lover. Next thing you know she's reviving her old affair and the movie shifts to being completely about her. How she sneaks out to her lover's hotel room. And bad things keep happening but then she keeps waking up and discovering its a dream. (Oh we're gonna go there are we DePalma? You tricky bastard.) The dreams start to blur the lines between reality and not reality so she's not really sure, did she really accidentally switch her husband and her lover's Valentine's Day gifts or was that a dream? And you really start to side with this gal because her husband is a fruitcake kidnapper and murderer so what's the big deal if she cheats on him. But then you find out that she was a nurse who was treating her lover's wife for terminal cancer and the poor gal died when she happened to wake up and see the nurse kissing her husband on New Year's Eve. Well, it's a long story I guess. And then all the sudden Lithgow smothers her with a pillow.
Before you know it he's apparently killed Gabrielle Carteris in a public restroom and a little boy comes out and tells him in an obviously dubbed adult voice, "I know what you're going to do and it's bad and I'm telling!" I couldn't fucking believe it. I haven't seen anything so freaky since that movie BURIAL GROUND where they have a grown man named Peter Bark playing a little kid and sucking on his mom's tit.
One thing I like about DePalma, he's willing to introduce you to a whole new set of characters when you're already halfway through the movie. It's a long story but soon after the pillow smothering, Lithgow has managed to frame his wife's lover for all his murders and kidnapping including the disappearance of his wife. So now we're in the police headquarters and all the sudden the main characters are the cops investigating the case, including Gregg Henry (Mal from PAYBACK) and his partner and some retired old guy that still hangs around and tells a crazy story about 20 years ago and Lithgow's father who looked EXACTLY like him. And that guy brings in an old lady psychiatrist who used to be Lithgow's father's partner and who we heard earlier had cancer and complains now about her wig and you have to just smile because you know that's gonna be important.
I won't give away anything else. Well, maybe one thing. Earlier in the movie, when the wife kept having dreams, one of them she was driving and talking on a cell phone about how she was going to lie to cover up that she spent the night with her lover. And all the sudden some bicyclists are in the road and she swerves and crashes into a statue of a knight, whose lance goes right through the windshield and impales her. Much later, during the classic DePalmian climax, where various factors are set up so that you can watch them slowly march toward each other until they inevitably intersect and cause horrible things to happen, there are these guys moving a pickup truck full of junk with part of a sundial pointing out the back. And one of the guy says, "You're gonna kill somebody with that sun dial!"
And what's so great is, they ALMOST kill somebody with the sundial, but ultimately they DON'T. Because DePalma was just fucking with you. He got you thinking about impalement in a meaningless dream sequence at least an hour earlier in the movie, just so you would expect somebody to get impaled on the sundial. And then nobody would get impaled on the sundial. And that's why it's so great.
Of course, DePalma is widely known for ripping off Hitchcock. Here there are obvious nods to Psycho but more than that to Peeping Tom (by Michael Powell, who is not Hitchcock). And the most obvious lift is actually a scene from Dressed to Kill, by Brian DePalma.
When I saw Femme Fatale I hadn't seen this one, so I had no idea that DePalma had already set a precedent for such a berserk thriller. I think that one's even better, and probaly a little more palatable to mainstream audiences. But this one's a keeper too. Good job DePalma. Way to fuck with us.