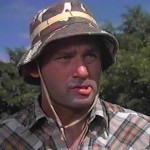 I don't know if this is true, but there's legends that Chevy Chase and Bill Murray are some kind of arch enemies. Ever since Chevy left Saturday Night Live and was replaced by Bill, there's been some kinda bad blood between these boys. I don't think it's ever come to a duel, or even a wrestling bout, but you know. Probaly gave each other dirty looks or something.
If that's true Chevy Chase must be having a shit fit these days cause Bill Murray is the only one of any of those guys that figured out how to still have a career with integrity. I guess there aren't too many guys left from that era of comedy, and I'm not sure if Chase even counts because I can't remember the last time he made a movie. But let's use Steve Martin as a symbol. That's what you're supposed to do now, you're supposed to make shitty studio comedies with no style or imagination that nobody will ever remember. You're supposed to be considered funny on the basis of distant memories. Not current reality.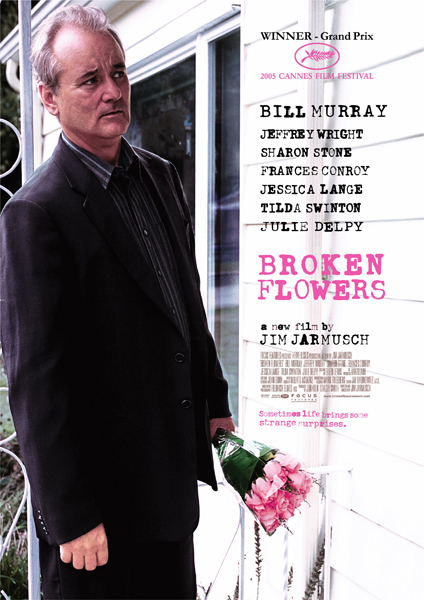 Well ever since that movie RUSHMORE you gotta figure Bill Murray doesn't need the studios anymore. Now he's the muse to all the best independent directors. Instead of playing a wacky old white guy doing hip hop slang or some silly shit like that, he makes movies that are mostly about the sad, tired look in his eyes. Jim Jarmusch (who I love because he directed GHOST DOG and looks like Lee Marvin) wrote BROKEN FLOWERS just for Bill Murray. I guess that means he wanted to make a movie about Bill Murray sitting around thinking about shit and being sad.
What I'm trying to say is, if you are one of those people who thought LOST IN TRANSLATION was boring and overrated, or if you even thought about watching BRINGING DOWN THE HOUSE, then don't ever watch this movie. But if you like Jim Jarmusch then quit fuckin around and go see it.
The premise almost could be a studio comedy. Bill plays Don Johnston, an aging ladies man whose young girlfriend walks out on him and on the same day he gets an anonymous note saying that he has a son who is coming looking for him. His Ethiopian neighbor Winston (Jeffrey Wright, one of those individuals who is always great) is kind of a wannabe detective, so he convinces Don to write him up a list of every former girlfriend who fits the clues given in the letter. Then he plans out a trip so Don can go visit each one of the girlfriends and figure out which one he has a son with. And dry, understated hilarity ensues.
This is a Jim Jarmusch movie all the way so don't expect obvious laughs or a straight answer. It's about the journey, man. There's three different scenes in this movie where the poor bastard has to knock on the door of a strange house, not knowing for sure who's gonna answer or how they're gonna react. What's he supposed to say, "Hi, I'm your wife's boyfriend from 20 years ago, do you happen to have a son that's not yours?" And then you experience his awkward moments with these old girlfriends, not really knowing what to say, maybe feeling like an asshole. It definitely makes you think about people you used to know, how things change, what kinds of things don't matter anymore years later, what kind of a bond you have just because you used to know each other, a long time ago. So yeah, teens should love it.
Like Ghost Dog, it feels very simple and minimalistic, but then at the same time there's alot of detail in there that somebody like me might end up obsessing over in future viewings. Like, every house he visits has a basketball hoop that a teenage son might enjoy, and something that's pink, the color of the anonymous letter. Every kid who could be Don's son wears clothes similar to his. Everywhere he goes, there's something going on with younger women who flirt with him or say something that would make him think about his old Don Juan days. Like the scene in the airport where he has every chance to flirt with a flight attendant sitting next to him, and you don't know if he doesn't because he's too old for that shit or if it's because of this trip he's on. And there's alot of detail to Winston's trip preparations, which were all done on the home computer. The itinerary is printed from his msn email account, the maps are from mapquest, he even made Don a mix CD with a personalized "Winston Records" cover.
There's a couple little scenes at the beginning where Don talks to Winston's little kids, and you think wow, Bill Murray really is great with kids. It wasn't until later in the day it occurred to me they didn't just put that in there to be cute, it was to emphasize how sad it is if this guy really had a son and missed out on 19 years of raising him. Because he would've been so good. So it's deliberate disguised as casual.
Also there's some kind of motif going on with the names: Don is compared to both Don Juan and Don Johnson, a young lolita is named Lolita, a dog has the same name as Jeffrey Wright's character. What does it all mean? I don't know yet. I don't know.
And I guess that's the best quality of this movie is that it lets you figure it all out for yourself. Get to work, you lazy fuck. It's surprising how rare it is that you see a movie like this, where the camera will sit on a character as they're thinking. And you got a pretty good idea based on the situation what he is probaly thinking about. But the movie's not gonna insult you by telling you for sure.