Usua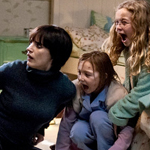 lly a director you like producing somebody else's movie doesn't mean much. See for example Sam Raimi. Love the guy's directorial works, but look at the stuff he and his company produced – not necessarily the seal of quality. I'm starting to see Guillermo del Toro is different, though. I still gotta see THE ORPHANAGE, but most people seem to speak highly of it. I loved DON'T BE AFRAID OF THE DARK and now this one is pretty good. These last two are movies where he found new filmatists who had done short films and helped them to make a feature.
In this case the director is Andres Muschietti, who wrote the script with Neil Cross and his sister Barbara Muschietti. (That's kinda cool, I don't know of another brother-sister filmmaking team other  than the Wachowskis. And I guess Joie Lee wrote CROOKLYN.) They're "adapting" it from their short film of MAMÁ, but I put adapted in quotes because there really isn't a story in the short version, it's basically just a cool shot (which is replicated in the feature version). I have no idea how del Toro figured out from that clip that this guy could direct a real movie that tells a story and has acting in it, but somehow he guessed right.
The movie begins with "once upon a time" scrawled in crayon, so we know it's a fairy tale. It's a PG-13 movie but opens with one of the most disturbing subject matters available: some Wall Street guy (Nikolaj Coster-Waldau) has snapped, killed his wife and somebody else at the office, and has now picked up his two young daughters and is driving erratically as the oldest keeps asking him what's going on and he doesn't answer. So those are the modern Grimm's fairy tale subjects: stock market crashes, workplace shootings and murder-suicides involving girls 5 and under.
The fairy in this tale comes in when a car crash leads them to a mysterious cabin in the woods where the crying dad is about to do the deed and a monstrous woman in the shadows comes up behind him, snaps his neck, and feeds the girls cherries. I mean, whatever this lady is, and whatever her faults may be, we at least must acknowledge that she's doing better parenting than the dad so far.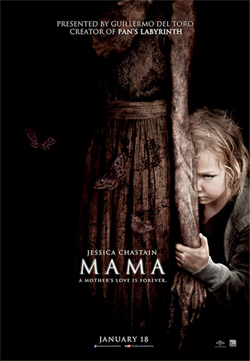 The story of the girls growing up in the woods with Mama is told through adorable crayon drawings, and we pick up 5 years later when a private detective working for the dad's brother Lucas (also Coster-Waldau) discovers the girls, Victoria (Megan Charpentier) and Lilly (Isabelle Nelisse), now feral and scurrying around like animals and wearing crowns made of leaves and shit. They're brought back to civilization, where Dr. Dreyfuss (Daniel Kash) studies them and Lucas takes custody of them along with his girlfriend Annabel (Jessica Chastain). I'm sure they tried to get Vera Farmiga, since she usually gets first dibs on the adoption horror movies, but she might've figured it wasn't her thing since these are the guy's nieces and not from an agency.
In the last couple weeks Chastain won a Golden Globe, was nominated for an Oscar and was #1 at the box office with ZERO DARK THIRTY, which moved to number two under MAMA, making her the year's top candidate for Actor Who Gets A Bunch of Acclaim, Then Cashes in By Playing a Comic Book Character. This is no Maya but it's a genuine lead role and not slumming. She does get to play an interesting character who's not the typical horror heroine and also different from other ones she's played.
Interestingly, she plays Annabel more as a tough girl than she did Maya in ZERO DARK THIRTY. She's playing a type we haven't seen much in pop culture lately, the Tough Rock Chick, like Joan Jett in LIGHT OF DAY or some of those all-woman rock bands they had back in the Lollapalooza days, L7 and whoever. She has short black hair, sleeve tattoos, plays bass, wears the standard issue t-shirts (Ramones, Misfits) and in case you don't get it there's a scene where her bandmate directly says "You're in a rock band." It feels a little corny to me but I accepted it because it's an interesting character trait for the story. She doesn't want to be a mother, doesn't feel ready to be a mother, doesn't want to give up her lifestyle, but also she (and we) resent it when others assume she can't or shouldn't be a mother because she looks like that and lives that lifestyle.
Later in the movie she wears a Fear and Loathing in Las Vegas t-shirt (the Ralph Steadman art from the book, not a picture of Johnny Depp) under a very comfortable looking button-up sweater. I thought this sort of symbolized her acceptance of the mother role without giving up her personality.
The girls are at different levels of feralness. Victoria is older, she had more time to be a normal kid before moving in with Mama, so she's able to speak and act mostly normal. But Lilly can barely talk and doesn't seem interested in learning human ways. She draws on the walls, eats bugs and paper towels and is often giggling and playing with some unseen Mama.
The horror of the movie is that they keep talking to the walls and Annabel keeps hearing and seeing weird things, and we know this is because Mama is somehow coming to visit them. Muschietti has some clever shots, like one where Lilly is in the door playing tug-of-war with an off camera person who towers over her and has a monstrous shadow.
There are some pretty standard jump scares, but I like that the creepiness of the kids is not your garden variety Evil Kid nonsense. They don't seem evil at all, they're just having fun running around giggling with their mostly unseen monster adoptive mother.
Not always unseen though. This being a del Toro joint there are of course some really cool and imaginative special effects. The story doesn't require anything PAN'S LABYRINTH fancy, but what they have is very well executed. We do eventually get a look at Mama, and to me she seems like a cross between a Deadite circa EVIL DEAD 2 and some jittery J-horror ghost. She's played by Javier Botet, an incredibly skinny man in elaborate makeup, with long spindly fingers like E.T. My favorite effect though is at the beginning when you see Lilly scurrying around on all fours. I'm pretty sure it's a CGI double, like the ninja acrobatics in BLADE II. However they did it's creepy.
Annabel and the doctor start to piece together the supernatural goings on and the backstory of who Mama is. In fact, Annabel (and by extension the audience) gets to experience Mama's traumatic past in the first person through a dream. The problem here is twofold: they gotta make sure everybody's safe from mama, but also they gotta make the girls choose Annabel and Lucas over Mama. It's hard, because they're not old enough to think Annabel's squid tattoo is cool, and they've had alot of time to play and have fun with Mama, and also Mama killed wolves for them according to the drawings.
I don't think this was made in response to GHOST DAD by the way. I think in GHOST DAD the ghost was their actual dad, here the ghost becomes their mom, she is not the biological ghost mother, so it's different. But similar. Almost the same. It's GHOST DAD for this generation, probly.
There's a gap between Victoria and Lilly and it's mainly because of age, but I like the implication that Victoria's glasses are a factor. She wore them as a little girl, lost them during the cabin years, gets a new pair when she comes back. It's not just a symbol of civilization that she wears on her face, it literally makes her see the world differently, the way she did pre-Mama.
In DON'T BE AFRAID OF THE DARK Katie Holmes's character becomes a reluctant mother figure when her older boyfriend's daughter unexpectedly comes to live with them. Here Annabel plays that role, not really wanting to become mom to these two messed up girls, but doing it out of love for her boyfriend. At times she seems like kind of a bitch, but mostly she's endearing in her refusal to pretend she's comfortable with this. Of course, as she does start to get good at it and develop relationships with the girls it's very touching.
That's one unique aspect is that it addresses grown adults who don't plan or want to have kids. You don't really see that in alot of movies. I think it shows this as a legitimate lifestyle choice. If not for the tragedy it would've been fine for them to stay in their apartment and just be artists. But it's both a horror movie and a fairy tale so it's gonna end up being about some kind of traditional value, and parenthood is one of the classics. Lucas feels a family obligation to the girls and this leads them to their adoptive parenting. Of course Annabel is good for it but she doesn't think she is. It's implied that there some reason in her past why she thinks she would screw up a kid, and jokingly (but correctly) says it's a blessing that she gets kids who are already screwed up. So even if it's pushing traditional morals it's at least doing it with sympathy for people like Annabel.
There's a suburban, non rock 'n roll playing Aunt Jean (Jane Moffat) who wants to take care of the girls. It's funny because she comes off as almost a villain, but she's totally right: she is more financially stable than an artist and a bassist, it does seem weird that girls whose mother was murdered would go to the brother of the murderer instead of the sister of the murdered, she should be concerned about the amount of bruises she sees on Lilly, also she should be concerned about them being all dirty and crawling around like animals. But we still find ourselves rooting against her. Sorry, Aunt Jean. You didn't deserve it.
Despite the kid friendly rating this has some definite del Toro ballsiness, not just in the ways it puts kids in peril but also in the crazy, fantastical way things end up. It makes perfect sense for the story but it's not something I ever thought would happen. It kind of sets up a nice logical horror movie ending and then pulls the rug out and shows you something more interesting.
Speaking of expectations, if you've managed to not see the trailer yet I recommend avoiding it. It's a good trailer because it keeps getting weirder as it goes along and it completely sold me on a movie that hadn't been on my radar before. But it shows you most of the story and although I really liked it I think it's held back a little by how often I knew where it was headed.
Do you guys know, is this the same Mama that said to knock you out? I think it probly is, but they're pretty subtle about it.