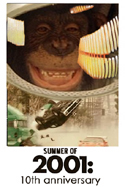 released June 29th, 2001
(ten years ago today!)
Today, as we celebrate the opening of the third Steven Spielberg produced Hasbro adaptation about overly detailed space robots with different accents wiggling around and smashing buildings, let's also take a moment to note the tenth anniversary of that one time when Spielberg tried to make a thoughtful robot movie.
I always liked A.I. Not perfect, but ambitious, and the stuff I really liked – which was most of it – I really liked alot. I always thought it got a bum rap. Now I'm watching it ten years later, the parts I had a problem with don't seem as bad, the parts I loved seem as good or better than ever. And watching all these movies from the time right in a row… CROCODILE DUNDEE IN LOS ANGELES, DRIVEN, THE MUMMY RETURNS, PEARL HARBOR, EVOLUTION, LARA CROFT: TOMB RAIDER… it really makes me wonder what the fuck is wrong with people? In the middle of that all-you-can-eat-dog-shit-buffet this is the one people complained about! Too much mood and think. Me need more bang and joke!
Rotten Tomatoes audience ratings: A.I.: 58%. Tomb Raider: 60%. Mummy Returns: 69%. Pearl Harbor: 73%. It boggles the fuckin mind.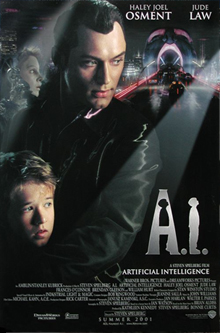 Director Steveley Spielbrick tells us the heartbreaking tale of David (an eerily dead-on Haley Joel Osment), a robot designed to seem like a little boy and programmed to love his mommy. A couple grieving over their terminally ill son brings him into their family, at first with hesitation, then being horribly creeped out by him, then becoming emotionally attached, then considering him a "toy."  When their real son is miraculously healed, David's shortcomings become more obvious, and he becomes increasingly scary when the other kid turns out to be a total bastard who gets off on tricking and tormenting him into acting out and making mistakes.
One of this little futuristic prick's schemes is to get mommy to read them the story of Pinocchio, so that David will realize he's not a "real boy" and feel bad about himself. The plan works out so well that David is still on a quest to find the Blue Fairy 2,000 years later, long after the extinction of all human life. Great job, kid. You did it. You win.
Like some of the other Kubrick pictures (I'm thinking 2001: A SPACE ODYSSEY and FULL METAL JACKET: A 'NAM ODYSSEY) A.I. is divided into very distinct sections, in this case basically three (at home with the family, out in the world with Gigolo Joe, in frozen Manhattan with the futuristic super-robots). I really dig that about it, it's three stories within one story and I especially like that it spans more than two millenniums.
My least favorite was always the "Flesh Fair" part in the middle, after David leaves the house but before he makes it to the city. He gets rounded up with a bunch of broken down robots and brought to this sort of out door carnival where humans who morally oppose the use of robotics listen to Ministry and watch stuff get shot at the robots. It's this bloodthirsty audience but even they get upset when they see David out there and it looks like a little boy getting tormented. And people in the audience stand up and speak out on his behalf. I think Kubrberg was trying to give anti-robot bigots a fair portrayal, but it seems forced. The modern day Tea Party movement aside I don't buy it, either that Flesh Fairs would be a thing or that if they were a thing that there would be normal, reasonable people in the audience who would turn on the ringleaders and try to appeal to their sense of decency.
I remember it always bothered me that there was a robot that looked like Chris Rock and had his voice. I was surprised to see how brief that part of the movie actually he is – he only has one line. I still don't think it works but this time I decided he was supposed to be a comedy robot, that's why he makes a joke before having his head crushed. It's like having a robot of Groucho Marx or Charlie Chaplin, they sell Chris Rock robots in the future.
But there are aspects of the Flesh Fair that do ring true to me. They have a sign that says "Celebration of Life" – it strikes me kind of like groups who say they're "protecting marriage" by being against other people getting married. They think they're celebrating humans by helping them to get off on the pain and mutilation of robots. But you keep seeing examples of why this is bullshit. Even the life-celebraters have a hard time knowing what's "life" and what's not. A little girl sees David locked up and convinces everybody that a human boy got in there by mistake. And in fact it seems there was a time in the past where somebody confused a real guy for a robot."You're sure he's not a man?" one of the workers asks. "I wouldn't want a repeat of the Trenton incident."
One part I loved this time, not sure if I forgot about it or just never properly appreciated it, is the nanny robot that David meets at the Flesh Fair (she's the disembodied-face lady on the poster). She starts saying kind things to David and trying to make him feel safe as soon as she sees him, but it's not entirely comforting. It's partly creepy because it's obvious that she's programmed to respond that way to kids just like David is programmed to love his mommy. It seems kind of desperate, even. While being dragged off to be publicly executed she gives David a warm, reassuring "Goodbye." Then she smiles at him as acid is dumped on her head and her face melts away. Following her programming to the bitter end.
That part is heartbreaking, but not half as much as the earlier scene when mommy Monica ditches David in the woods. She's actually supposed to return him to the manufacturer to be dismantled, but she can't stand the thought of it. It's kind of like a woman leaving her baby in front of a church or at least abandoning a dog. She can't bring herself to have him deactivated so it's actually somewhat an act of compassion to dump him like this with Teddy to guide him and maybe he can survive. But of course he doesn't understand that and he freaks out, trying to figure out what he can do to stop mommy from leaving him there. "Please mommy! Please mommy!" It's rough.
And Monica's crying too and she says "I'm sorry for not telling you about the world." And if this is the first time you see it you think Oh shit, what did he need to know about the world? What's out there, anyway?
What kind of world is it? One where there's guys dressed like a combination of TRON and the Leathermen from BARBARELLA driving around on motorcycles with metal dog's heads on the front. You sort of see it from the naive boy robot's perspective. It's dark and you don't know where you are and there's crazy shit going on all around you. A fuckin nightmare.
My favorite character is still Teddy, the "supertoy" teddy bear that becomes Jiminy Cricket to David's Pinocchio. He sounds and moves like a weary old man. He's long since outgrown his novelty status and is resigned to accept the cruelty of his life, or whatever it is he lives. Just like all the more advanced robots he has a programming, it is to be loyal, so when David gets snatched for the Flesh Fair he holds onto the net and comes along even though he could get away. I don't know, maybe I'm reading this wrong but I think this is somewhat of a choice for Teddy, because there's a scene where the dickhead brother tries to make Teddy choose between him and David. He should still be programmed to be loyal to his original owner, shouldn't he?
When David and Teddy make it to Rouge City they meet Gigolo Joe (Whaddaya know?), played by Jude Law. You kind of expect Joe to be a little wiser about the world. He's an adult, after all. He works in the big city. He's experienced alot more. But he's kind of like a little boy too. He only knows what he knows. He follows along on David's quest just as naively. David's gonna find the Blue Fairy to "make me a real live boy" and Joe's gonna "make a real woman out of her." He's programmed to give women pleasure, so that's what he's always looking for.
The last section of the movie seems to be the least popular, and I never got that. Judging from the comments I've heard I think some of that is because people misunderstood what was going on. The shape of the robots made them think they were supposed to be aliens, even though they explain who they are. And even though they have TVs in their heads.
I love that section because it's an imaginative portrayal of a future we can't understand. It's a future past humans, so civilization isn't entirely based on human concepts. Vehicles are strange, shifting geometric puzzles. The ruling robots have a technology far beyond our understanding, but tragically the best they can do is use it to give David one night of what humans programmed him to want two thousand years ago.
Or is that all? I suppose the last shot could mean many things. William Hurt, as David's creator, believes he is special and human-like because he has the ability to chase down dreams. Maybe he's done that. Shit, I'm still trying to do some of that. I hope it doesn't take me that long.
I love A.I. because it's a summer event type movie full of great sci-fi concepts and special effects, but it leans much more heavily into somberness and making me ponder my own life than you're really supposed to do in a movie like this. It hits me in the emotional balls because I feel like we're just like these fuckin machines. The first mecha we see in the movie is shown putting on makeup, and then it cuts to human Monica doing the same damn thing. Both of them need to be loved.
At the Flesh Fair people are surprised to see David, because "No one builds children. No one ever has. What would be the point?" Well, the point is that somebody like Monica needs to be loved by a child, and needs a child to love. The doctor built David to look like his own son, because he lost his son too, and he needed to fill that hole. We all have these holes, the machines are an imprecise way to fill those holes. It kinda works for a while but then it leaves mommy and son both tragically unfulfilled.
How much of us is in our programming? How much of it is just us? How much of it can we overcome, or do we even want to?
A.I. is not just thought-provoking for a movie that came out in fucking Summer of 2001, it's thought-provoking for a Summer Popcorn Movie in general. It does lean heavier into the cerebral and emotional side than the thrills and excitement side, so I can see how that might violate the rules for some people. But it's exactly the awkward but amazing offspring I want out of a Spielberg-Kubrick marriage.
* * *
datedness: the World Trade Center is shown in the post-apocalyptic future. I don't know about Ministry being in the Flesh Fair scene, or Chris Rock. But the opening section has a perfect late '70s/early '80s Kubrick look that makes it feel timeless.
would they make a movie like this today? No, this is pretty much a one-time-only type of movie
Summer of '01-'11 connections: Spielberg has his name on a pretty different type of robot movie this summer
This entry was posted on Wednesday, June 29th, 2011 at 2:03 pm and is filed under
Reviews
,
Science Fiction and Space Shit
. You can follow any responses to this entry through the
RSS 2.0
feed. You can skip to the end and leave a response. Pinging is currently not allowed.