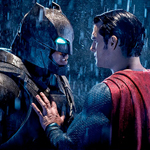 (HEAVY SPOILER REVIEW)
Here's a weird thing about gigantic blockbuster movies based on popular licensed characters: you can end up making a sequel aimed less at the fans of the first movie than at the people who saw it once and have still not stopped complaining about it. At least that's the fool's errand that director Zack Snyder and writer David S. Goyer (this time rewritten by Academy Award winner Chris Terrio) chose for themselves on BATMAN von SUPERMAN: DAWN OF JUSTICE, which selects as its primary theme the criticisms that people had of part 1.
To this day I don't feel like I understand the widespread outrage at MAN OF STEEL for having a comic book style battle between super beings where buildings were destroyed in the process. I still haven't noticed this standard applied to any other movie or comic book (including the cover of the very first issue of Superman!) and I stand by everything I said in this essay about how wild misinterpretations of MAN OF STEEL have become conventional wisdom. Still, I gotta thank all of you for doing that because I suspect it inspired the most intense and cinematic section of BATMAN vehemently opposed to SUPERMAN, in which we see the Superman v Zod battle from an even more human perspective than before. Specifically, from Bruce Wayne's point-of-view as he runs fearlessly into the destruction and tries to help.
We only see the Kryptonians in tiny glimpses, far away, high in the sky. Mostly we see raining glass and brick and glowing energy beams in their wake. They truly are gods. And now we specifically see that rubble landed on one guy and are told that a woman is missing. And Bruce Wayne doesn't like it.
(SPOILER: Bruce Wayne is Batman.) (read the rest of this shit…)