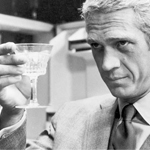 Well, it's been a year again. 365 days of 2015ness have passed, that much I know for sure. I did not manage to become a successful or highly paid individual yet. I lost some family. The world lost Darren Shahlavi, Roddy Piper and Wes Craven. A bunch of less celebrated people got shot and blown up all around the world. I'm against it. Stop doing that.
I'm gonna focus on the positive though. My life is mostly good, and I make it through the bad days in part because of you guys and what we do here. I think I had a year of writing that I can be proud of. Let's go over some highlights.
As is my tradition now, I started the year with Clint, revisiting THE OUTLAW JOSEY WALES. Later in the month I saw his AMERICAN SNIPER, which I still think is more complex than it got credit for. And if you think that makes me a war apologist, fuck you. I didn't see you seeking out actual Iraqi films about the war like AHLAAM to write about too. That was me that did that.
Speaking of Bradley Cooper movies, I finally reviewed THE MIDNIGHT MEAT TRAIN, so I can include a link whenever I mention Cooper for any reason. In that sense I really made alot of progress this year.

I got really into the art of the themed review series this year. I decided to counter all the racism I was seeing in the headlines with a run of black history movies, including SELMA and some more obscure ones like PANTHER. In March I did a fun series called The Rookies, first features of badass directors, starting with Michael Mann's THE JERICHO MILE. I also did a spin-ff called The Rookies: Indie Division, which started with Spike Lee's SHE'S GOTTA HAVE IT and ended with Vin Diesel's STRAYS, which led right into a pre-FURIOUS 7 run with the Han prequel BETTER LUCK TOMORROW and the Paul Walker movies JOY RIDE and BOBBY Z.
You know I've always loved doing those summer movie retrospectives, so I decided to honor the anniversaries of all the major movies of summer 1995, starting with BRAVEHEART, which I'd somehow never seen. This also reminded me to finally write a worthwhile piece on DIE HARD WITH A VENGEANCE. (In July I also found a good way to honor the 20th anniversary of UNDER SIEGE 2: DARK TERRITORY.)
I loved doing a build-up to the release of STRAIGHT OUTTA COMPTON, starting with Battle of the N.W.A Parodies, part 1: CB4. I don't know if anybody else was treating that as an event movie, but I do things differently around here. For example, I decided to see how many reviews of part twos I could do in a row. No particular reason. From August 31st – September 24th I reviewed fifteen part twos in a row, starting with DELTA FORCE 2: THE COLOMBIAN CONNECTION. I got weak and interrupted the flow to review THE GREEN INFERNO, otherwise it would've been twenty part twos in a row.
For October I did some of my traditional Slasher Searching, but also managed to review all nine HELLRAISER movies, something I'd been meaning to do for some time. (This must've been the year of Clive Barker for me, because over at oneperfectshot.com I did a piece I'm very proud of about the racial themes in CANDYMAN.) And of course I wrote about all seven ROCKY movies, which was honestly one of the best parts of my year.
I had alot of reviews of movies I'd seen a few times before but never loved as much until now, like THE FOG and PURPLE RAIN. And ones I can't believe I hadn't reviewed before, like THE RETURN OF THE LIVING DEAD and WHEN WE WERE KINGS.
Many have called this a great year for movies. Not having seen many of the end-of-the-year-award-contenders yet it doesn't really seem to me like an abundance of greatness. And yet yes, I know it's one of the best years ever, because we had MAD MAX: FURY ROAD. This has got to be the most obviously special movie that has come along since I've been writing about 'em. It revved me up enough to write a sequel to my own review, pretentiously (but sincerely) titled Righteous Fury: In Praise of Peaceful Notions In Violent Movies.
I have to say I don't think we'll have anything as good as FURY ROAD next year, or for many years. But we'll have a good time. I'm still excited about this Lucas Minus Star Wars series, which started back on December 2nd when I did THX 1138 and will continue into the next year. It's been a good excuse to watch a really wide variety of interesting movies, and I think it's serving my goal of showing Lucas' impact outside of his biggest creation and why he deserves more respect. I'm loving this series and I'm gonna ride it 'til the wheels fall off. By which I mean I'm gonna have to make myself watch STRANGE MAGIC. But it will be worth it.
In Twenty Sweet Sixteen I vow to continue on my path toward full excellence. I will finish my horror-action novel and try to figure out how to actually promote it this time. (anybody got a good podcast?) But I think I'm on a roll with these reviews and I want to keep that momentum. I really want to re-dedicate myself to the broadening of horizons for me and all my readers. I still believe a well-rounded individual should give an earnest shot at enjoying everything from a Van Damme to a von Trier. I want to continue bringing serious consideration to lowbrow action movies but I also want to encourage my fellow Val Verdens to dabble in arty and respectable shit sometimes too, to see what's out there that they might be missing. I've got at least one idea for a review series that will promote that crucial tenet of outlawvern.com and be laughably stupid at the same time. I think you'll enjoy it.
And yes, I know about the new Florentine/Adkins movie. It comes out on the 5th and I got it on pre-order. If you watched a torrent then thanks alot, that's why it's gonna take forever for the next one too. Maybe you should buy a copy as a penance. But let me know what other kind of stuff you would like to see analyzed here in 2016.
Thanks everybody for taking the time to read my stuff, for all the great comments, the overall lack of assholishness, the donations, the kind words of support when I got more personal, everything. I really preciate it guys. Happy new year to everybody. I don't know man, I got a feeling this is gonna be The One. Let's do this.
This entry was posted on Thursday, December 31st, 2015 at 3:32 pm and is filed under
Blog Post (short for weblog)
. You can follow any responses to this entry through the
RSS 2.0
feed. You can skip to the end and leave a response. Pinging is currently not allowed.