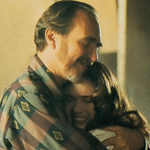 Damn, I never see these things coming. I sat down tonight to work on some writing and stumbled across the news that a favorite director has passed away today.
Before he directed the dirty, disgusting LAST HOUSE ON THE LEFT, Wes Craven was a college professor, and I've alway thought that made sense. To listen to him in interviews and commentaries he always seemed like the most thoughtful and literary-minded of the horror directors. He was interested in primal fears and ancient myths and where those intersect with modern lives. By directing SCREAM (from the screenplay by Kevin Williamson) he accidentally kicked off the meta era of horror, but I always felt he'd gotten there earlier in his own WES CRAVEN'S NEW NIGHTMARE, where he made the played-out no-longer-scary-ness of his own creation, Freddy Krueger, part of the mythology. In that one the ELM STREET movies were just that – movies – but they were also an important tool of humanity because they could keep at bay the primordial force that inspired the character. The real Freddy.
Think about this. In 1972 Craven directed LAST HOUSE ON THE LEFT, which helped kick off the slasher cycle of horror. In 1984 he directed A NIGHTMARE ON ELM STREET, which started the supernatural slasher movies, and the '80s era of slasher movie icons. Basically, Freddy became the Hulk Hogan of horror. (Even down to the racism, 'cause he said something pretty foul in FREDDY VS. JASON.) And think of what the Elm Street series meant for special effects makeup, with all those gooey, one-upping dream sequences they came up with each time. That's why I was always a Freddy guy. I was into all that latex and crazy transformations and shit.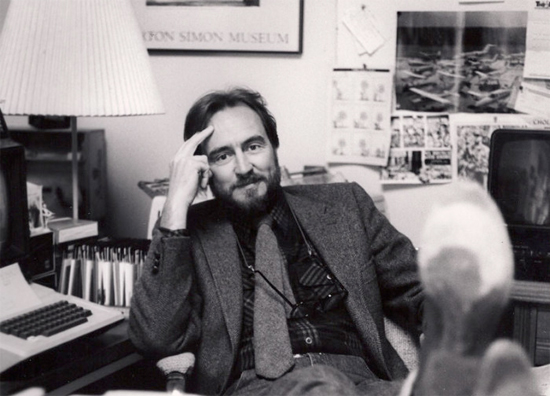 And then SCREAM. You all remember what happened with SCREAM. Horror movies had virtually disappeared from the mainstream for a few years. Then everybody loves SCREAM and suddenly it's horror, slashers, thrillers, most of them cast to be like SCREAM, shot to look like SCREAM, soundtracked to sound like SCREAM, with dialogue trying to be like SCREAM, and toned to appeal to the audience of SCREAM. I revived interest in slasher whodunits and then slasher wealreadyknowwhodunits. It had bad influences and good. But, like the other ones I've mentioned so far, it survives all the hype and the copycats and holds up as a great horror movie.
There is not another horror director who was able to have so many massively impactful films during (or in some cases starting) so many different horror cycles.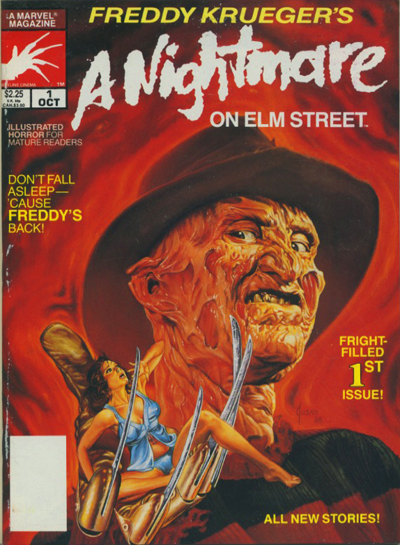 And in between he had so many other fun ones. I don't even have to list them all here and it will be impressive. I love both the original THE HILLS HAVE EYES and its remake, which he produced and seemed very hands on about. He also produced the very good LAST HOUSE ON THE LEFT remake and hand-picked its director, based on having seen his Greek language, non-horror movie HARDCORE. Good eye, Craven.
I've always had a soft spot for THE PEOPLE UNDER THE STAIRS too. It's got that THEY LIVE thing going of the crazy genre movie that's subtextually about Reagan's America. I always thought the figurative part worked better than the literal part, but it's been a while, I'll have to see it again. Anyway, it's an example of Craven having more on his mind than some of the other horrorists.
And he took a couple good left turns: the supposedly reality based voodoo horror of SERPENT AND THE RAINBOW, the suspense thriller RED EYE, the absolutely insane MY SOUL TO TAKE (his last movie besides SCREAM 4, it seems). I really can't understand what he was trying to do with that one, but it doesn't matter, it's bizarre and hilarious and kind of impressive in how it combines several different high concepts into one and keeps you wondering what the hell is up. Also he got to work his love for birdwatching into that one. I learned by following him on Twitter that he was seriously into that.
You can't really underestimate Freddy the icon. A scary child killer turned monster of nightmares who became so popular they made talking dolls out of him – which then got pulled from the shelves, because what were they thinking? He was kinda cuddly, but you take his hat off and part of his skull is broken open to reveal his brain.
Now it's normal, but back then it freaked people out because dolls and action figures were for, you know, kids. So they had to replace the Freddy doll with a Ken looking guy named Maxx FX (not Robert Englund) who dresses up as Freddy. So the kids know it's just movie magic.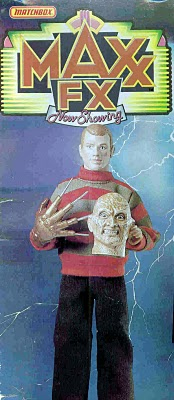 Also, there is the Freddy Fright Squirter: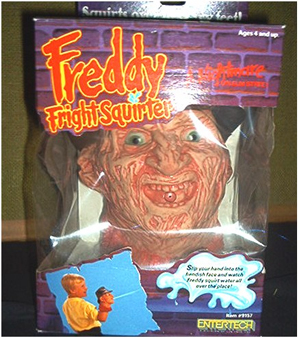 For squirting fright. And of course the official A Nightmare On Elm Street Freddy Krueger Yo-Yo: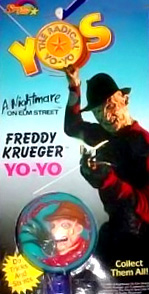 And what's remarkable about all this is that Freddy could take it all like a Final Girl and survive it. I don't know about you, but when I watch the original A NIGHTMARE ON ELM STREET it still gets me. It brings me back to that cruder, deeper voiced, dirty man whose arms might inexplicably stretch out to scrape along the sides of walls, or who tear the front of his face off and laugh about it. You don't see him that much and when you do you feel like you're getting too close. Sometimes you feel safe and you don't notice that there shouldn't be farm animals in the school hallway and you might just be headed into his realm. Or you try to run up the stairs and they turn into goo and your feet get stuck.
That's a masterful movie of atmosphere, paranoia and an absolutely vicious death scene when Tina dies. No matter how many years pass and how much more movies can get away with, you can't really top the way invisible Freddy wipes her across that ceiling. Shee-it.
Thank you Wes Craven. I know you'll always be skulking around in the shadows somewhere, but you'll still be missed.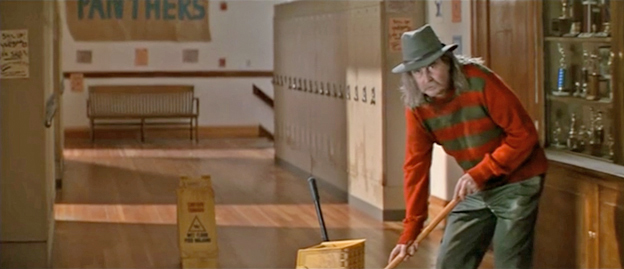 This entry was posted on Sunday, August 30th, 2015 at 11:04 pm and is filed under
Blog Post (short for weblog)
. You can follow any responses to this entry through the
RSS 2.0
feed. You can skip to the end and leave a response. Pinging is currently not allowed.