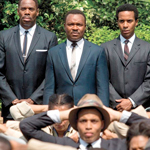 SELMA is a story about the influential social justice warrior Dr. Martin Luther King Jr. Not a biopic, but a movie focused on one specific campaign, a march through Alabama to demand a law to protect voting rights. The importance of this legislation is illustrated by an old black woman who, though clearly exhausted from her shift at a nursing home, and intimidated by the experience of her previous attempts, tries to register to vote. The white clerk says she's "stirring up trouble," threatens to tell her boss about it, and gives her an impossible local government pop quiz before gleefully rejecting her. That the lady is played by Oprah Winfrey, who more than a few people wish would run for president, adds a little meta-weight.
At one point SELMA was gonna be directed by Oprah's friend Lee Daniels, whose combination of talent and insane tastelessness could've been a problem for this story. But I think he was responsible for the brilliant stroke of casting David Oyelowo (the snobby reporter Yardley in THE PAPERBOY, the militant son in LEE DANIELS' THE BUTLER) as King. Daniels was also gonna have Robert De Niro, Hugh Jackman, Cedric the Entertainer, Lenny Kravitz and Liam Neeson in the cast. I imagine Neeson would've been the voice on the phone harassing Coretta Scott King (played in the actual movie by Carmen Ejogo, who also played King in BOYCOTT, and other characters in ALEX CROSS and THE PURGE: ANARCHY).
Oyelowo (who had also worked with director Ava DuVernay in MIDDLE OF NOWHERE) somehow fattened his face to create a surprisingly good likeness. I'm told he just gained weight, it's not makeup, but how the fuck do they do that? It's not like his body is real fat, how did they know he'd gain the weight there? Do they have physical trainers that can focus your diet and workout that specifically? Do they use computers?
Anyway he looks great and he gets the voice and cadence down real good. I've enjoyed him in other movies but this is the most impressive I've seen him. We see King not just at work but also at home, trying to deal with a cooling in the marriage brought on by a combination of separation and by the FBI calling Coretta and playing recordings of him allegedly having sex with other women.
But in my opinion this is not so much a movie like CAPOTE that seeks to give a reflection of a man's life through the microcosm of a major event. This is more about the event itself. It's a protest procedural showing a group of people coming together, what their strategy is, what they disagree on, what they risk. It's a team effort, coordinating various groups toward one goal, and in fact the aforementioned marital troubles prevent King from even attending one of the major events.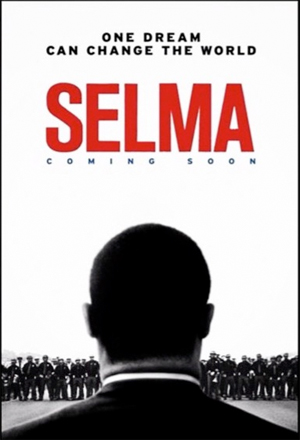 What's upsetting about this movie is not just the tragedies it depicts, but how much it reminds us of America today. As much as things have changed, things have not fucking changed. It feels like almost every little outrage that happens in the movie has a modern equivalent. Our worst officials are still bending over backwards to prevent black people from being able to vote, they just do it in the name of partisan politics instead of only racism (and they are no longer encumbered by the Civil Rights Act this movie is all about, since part of it was recently struck down by the Supreme Court on a stupefying "Nah, racism isn't really a thing anymore" basis). White people still sometimes kill black people and are let off by mostly white juries, but more commonly they are police so they aren't even facing a jury or being charged with a crime, they just get a paid vacation until things cool down. When this is protested, police are still gassing and beating protesters, still blaming them for the violence, still charging into places like maniacs, terrorizing people for maybe being a part of a peaceful protest. Racist white garbage are still on the sidelines cheering, but more often they do it on the internet instead of in person, and they usually call them "thugs" instead of "niggers," although sometimes that too.
A friend of mine pointed out that the idea of publishing the names and addresses of black voters in the newspapers  was like what the internet calls "doxxing." Menacing people just by letting them know if somebody wants to harm them they'll know where to find them.
I guess the main difference is that white people who follow their conscience and travel across the country to join in the protests just get ridiculed as whiny career protesters or loonies, not beaten to death in retaliation. So that's progress.
It's a period piece but it still, partly by skill and partly by coincidence, feels so very of the moment. The music of course is period appropriate (including a scene where the singer Ledisi performs as Mahalia Jackson), but Common (who also plays Rev. James Bevel, a King adviser who started the idea of the march) has an impassioned rap song on the end credits. In talking about acts of defiance he says "that's why we're walking through Ferguson with our hands up" and I was actually startled. I'm pretty sure this movie screened before that even went down. But it's in the movie.
(On a lighter note, thinking of Common's acting career reminds me of the Ain't It Cool talkback where I defended his role in the never-made George Miller JUSTICE LEAGUE by calling him "a noted rapper and hat collector." I can't find it but I seem to remember some guy going after me for that.)
(And as long as I completely derailed myself here, let me assure you in case you were wondering that yes, Cuba Gooding Jr. does in fact show up briefly, as he does in all historic movies.)
There's so much more about the story of SELMA that's so true today, and probly always, I'm afraid. From what I've read it's true that the student group, the SNCC, resented King and his group coming in to protest. According to this New Yorker article, "They felt that they had done the hard work, and then King had shown up and got all the attention. And they didn't believe in leaders." Man, that's every left wing political cause ever. So much infighting. So much letting the perfect be the enemy of the whatever the saying is. SNCC doesn't want to join the march and then when they do they get mad at King for backing down in one police skirmish that they think they wouldn't have. It's so hard to unite for the common good. There's always gonna be some fuckin drama.
In fact, even Dr. King is shown to not be able to put aside differences for the cause. Malcolm X (Nigel Thatch) comes into town and wants to sort of be the bad cop to King's good cop to help him out, but King's still mad that X talked shit about him before.
It also shows that even great men are flawed and that this will always be used against the cause. So many leaders seem to not be able to keep it in their pants, I don't know what it is. That's always been the rumor about Dr. King, and this movie just lays it down on the table. And if you want an extreme example to be depressed by you can look up what became of Bevel after King's death. Not pretty. People fighting for important causes are probly not gonna be perfect, and maybe extremely flawed, so the enemies of progress will surely zero in on that and try to ruin them. Make them the story. "Well, Dr. King cheated on his lady, so much for his points about justice."
I think SELMA also explains the strategy of non-violent protest in an interesting way, explaining things about Dr. King's methods that I think most people don't understand. According to the movie, part of the goal is to make the police do something stupid and get that mess on the front page. Expose what the system is really about, put it out in the open, see how long the people in charge can stomach it. It's very dramatic on a human level, because you can see the weight that puts on his decision making, like a military leader sending his soldiers into battle, taking every death personally. He clearly struggles with bringing people into harm's way, knowing that being harmed is part of what will change the world. It's true. It has worked.
That's why now they always change the story to looting. Zero in on a couple yahoos stealing shit or burning down a store instead of the whole world seeing, as in this movie, a cop slamming defenseless old Oprah on the pavement. That way we can all focus on protecting our property from roving bandits instead of creating a society that respects human dignity. The status quo is safe.
Speaking of which, they're doing the same fucking thing with this movie. The controversy that has become the big story is that people in the Johnson administration have objected to the portrayal of LBJ as having dragged his feet on voting rights, that he was all about getting it done. The implication I guess is that those silly negroes and lefty white Christians got killed for nothing, they shoulda just been patient. One op-ed also claimed the march was Johnson's idea. I don't buy it, but it's a distraction anyway. While not shown in a glorious light, the President (played by Tom Wilkinson) is not the bad guy either. He's clearly trying to do good things and he has his strategy, he even attempts to talk sense into segregationist governor George Wallace (Tim Roth), who we last discussed in relation to THE OUTLAW JOSEY WALES, strangely. But of course the president's priorities are not the same as King's.
I noticed that this movie had the most over-the-top disclaimer I've ever seen about it being a dramatization of history, not a fucking security camera video of the events as they happened. I wish I had the exact language, but it definitely said something about wanting to "emphatically" stress that it was "not a documentary." DuVernay knew that somebody would argue about this or that being not 100% what really happened and that would become the story, and she tried to get out ahead of it. But she should know not everybody stays for the credits. I mean, you got a rap song on the credits, of course a guy from the Johnson administration is not gonna stick around.
Another thing not entirely accurate: King's speeches. In a weird fucking turn of events the estate sold the movie rights to Dreamworks, so DuVernay had to write fake ones. She did a great job though, I don't think most of us would notice.
I mentioned BOYCOTT before. That's a really good made-for-cable movie with an excellent Jeffrey Wright portrayal of Dr. King, directed by Meldrick Lewis from Homicide. It focuses on the famous Montgomery bus boycott, which brought attention to racial segregation on buses in Alabama and led to it being declared unconstitutional. But because forced segregation in the U.S. is one thing that really is long behind us, it's easy for some to think of that as a historic document, a thing of the past. And that was how Dr. King made everything okay forever, don't worry about it guys.
That SELMA focuses on voting rights I think makes it feel more vital today. The end of the movie gives one example of its immediate effect: the sheriff getting his dumb ass tossed the fuck out the second he had to be re-elected by his actual constituents/victims. As many reasons as we have to be cynical about politics and voting, SELMA is a reminder that it's the building block of everything else we achieve in a democracy. It's the closest thing we have to accountability for the people we count on for justice in our country. Forget whether or not your vote for president makes a difference, what if you were in St. Louis County and had to vote on whether or not to re-elect the prosecutor who did the Darren Wilson grand jury and later admitted he put a woman on the stand who he knew was just a crazy person who wasn't even there? That is the power of voting rights, and that's why we still have people all over the place trying to get away with voter ID laws, creating unbearably long lines at the polls, etc. You know what, why don't I go ahead and hold onto the bullets and the ballots.
These people followed their conscience, they put themselves on the line, they were threatened and beaten, some of them were killed, but not to get to the Promised Land. Just to get to square one. Just to get to the part where you try to figure out how to vote the right way to make the country better. And some people even want to take that away.
I hope I'm not making SELMA sound like a lesson or a sermon. It's a powerful emotional experience, it makes you think, it works you up, but it inspires you. It's a great movie.