In Act I, Scene III of Richard III, Shakespeare wrote that there are places up so high that only eagles got the balls to go up there (exact quote). Schloβ Adler up in the Alps is not one of those places. It's all Nazis and undercover MI-6 operatives in this joint. No birds at all as far as I noticed.
Loosely based on Disneyland's Skyway and Matterhorn rides, WHERE EAGLES DARE is the story of a team of British commandos (Richard Burton, others) and one American (Clint) sent on a mission to infiltrate the Nazi-infested castle and rescue a captured general before he's enhanced-interrogationed into giving up the Allied war plans or something. So they have to skydive, go on a snow trek, mountain climb, sneak in wearing Nazi uniforms, fit in, drink German beer (which Clint was against in THE ROOKIE, saying it has no aftertaste), and all kinds of dangerous shit.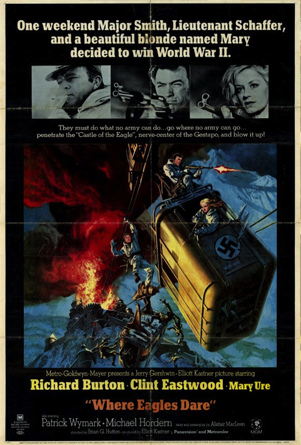 Burton is the man with the plan. He does most of the talking and instructing. He also has two (2) hot mamas he meets up with, one (Mary Ure) already a bar maid in the castle, the other (Ingrid Pitt) pretending to be the fake bar maid's cousin. He's sneaking around behind the others' back and could be a traitor himself, you never know. Or just a lady's man.
There's a whole lot of intrigue in this thing: An Aryan douchebag who seems dangerously close to discovering the plot. Word of a mole somewhere in MI-6. A long, convoluted monologue explaining who's really who and what they're up to. But there's also a ton of action: ski lift stunts, shootouts, bombings, truck crashes, a bus with a snow shovel on the front. While it takes its sweet British time getting there it eventually gets to an epic series of uninterrupted action sequences. What makes it so awesome is the quiet, confident professionalism of these characters. When Burton blurts out an instruction they know exactly how to do it, they don't gotta ask questions. More often than that he doesn't even have to say anything. They know exactly what to do without having to tell each other with more than a glance or a nod. When it comes time to quit ducking bullets in the bus, stand up and shoot back they do it without hesitation, without flinching, without showing much emotion. And this includes the women. Equality, man.
(The irony of movies using women to do more than stand around looking hot is that it makes them way hotter. I mean, look at this: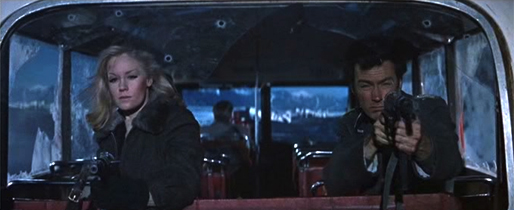 Don't you think?)
During the truck chase they just get out, set up bombs, keep going, blow up the bridge behind them. Like clockwork. It reminds me of a heist movie, a carefully rehearsed plan. They know exactly what to do.
Watching this now you definitely gotta notice the influence on INGLOURIOUS BASTERDS. Not just the drinking and trying not to seem phony in their shitbag uniforms, not just the unflinching assassination of any S.S. fucker that gets in their way, but even the expository mission briefing scene that seems awfully similar to the Mike Meyers one in BASTERDS. Of course, Tarantino cites this movie as what he was trying not to do by having all his characters speak their own languages. EAGLES uses the more common and less Mel-Gibson-approved method of just having everybody speak English, and doesn't even bother with the commonly accepted rule German-accented-English = German. This is the movie's one big weakness.
I don't care about the lack of realism. This is imagination and fun. But I have to admit I got a little lost during the crucial scene where Burton lays out his scheme to a table full of guys in Nazi uniforms. Since the movie doesn't really spend much time developing the other team members besides Burton and Eastwood and since they're all wearing Nazi uniforms and since they all talk the same I had a hard time remembering who was real Nazis and who was fake ones. Especially since one of them is now claiming to be a fake fake Nazi. So that was a problem, but I got past it.
Clint's part is pretty different from usual because he's kind of the sidekick or supporting badass. But he's one of those supporting characters who seems very present in the scenes even though somebody else is talking. You always wonder what he's thinking, except when you can clearly tell what he's thinking. You see him skeptical of Burton, but playing along, or waiting patiently to see where this is going. He's kind of an American ideal (stoic, cynical, bomb expert) teamed with Burton as more of a British ideal (articulate mastermind) as a tribute to all the great things the British and Americans have done together over the years such as Monty Python, the Jimi Hendrix Experience, and the publication of Seagalogy.
The script is by the novelist Alistair MacLean (THE GUNS OF NAVARONE), not as an adaptation of a novel but as a movie-book-combo in the tradition of such cinemaliteratical works as 2001: A SPACE ODYSSEY and MR. MAJESTYK. The whole thing is a really well put together production, a real epic feel with a great Indiana-Jones-exciting score by Ron Goodwin and snowy locations nicely shot by Arthur Ibbetson. The director was Brian G. Hutton, whose KELLY'S HEROES is also coming up on my list of Clint movies to review. But it sounds like alot of the credit for this one has to go to an individual by the excellent handle of Yakima Canutt, who was a stuntman and occasional director going back to the silent film days. Here he was second unit director so he shot most of the action scenes (something he also did for BEN-HUR and SPARTACUS.)
As a Clint-centric viewer I gotta admit I don't place this as high on the list as most of you guys seem to. It's much more of a European thriller sensibility than the American grittiness I appreciate him for. But it's a real enjoyable movie of its type that uses him well for extra flavor. It has some satisfying twists, is well structured to keep getting more exciting as it goes along and definitely has some of the best action sequences of its era. But again, there are not any birds in it, so the title doesn't make any sense.
Oh wait, that's a metaphor I bet. Good job, brave eagles. May your wings fly and then you kill other more hateful birds with courageous talons of justice, or whatever.