TEARS OF THE SUN is a Bruce Willis picture I missed until now. It's about Nigerian refugees fleeing for Cameroon after anti-democratic military guys assassinate the president and his family and go around "ethnic cleansing" innocent people. I know, sounds kind of racist, but the secret is Bruce doesn't play a Nigerian, he is not in blackface. He plays the lieutenant of an elite Navy SEALS unit sent in by Tom Skerritt (playing the twin brother of his character from TOP GUN, in my opinion) to rescue a Christian aid worker played by Monica Belluci.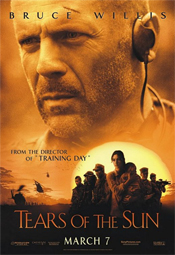 The director is Antoine Fuqua (REPLACEMENT KILLERS and TRAINING DAY), trying for the admirable goal of an action movie that's Important. He means well, but I don't think he quite pulls it off. For his part, on the other hand, Bruce does pull it off. He's a grim, no nonsense professional, not trying to be an asshole, but doesn't waste time being friendly. At first this seems like a waste of Bruce because he never gets to use his wiseass powers. He shows a sense of humor exactly 1 (one) time in the movie when he wakes up in the jungle and asks, "Are we there yet?"
(SPOILER: they are not there yet. That's why it's funny.)
He's mostly the lieutenant party pooper. No, we can't rescue everybody. No, you can't bring all your stuff. I know you just sat down but we gotta keep moving. You gotta shut that baby up or we will all be executed by rebels, etc. Just generally heroically bumming everybody out all the time.
But it's okay because Brooding Bruce gives a real good performance that elevates the movie a couple notches and somewhat won me over as the tension started to mount in the last section.
For a while it diddles around, though. Bruce and his team are only assigned to rescue the doctor lady, and they tell her they cannot and will not rescue anyone else. But when she refuses to go without her people Bruce says fine and brings everybody along.
When they get to the rendezvous point with the choppers it's obvious that there's not room for everybody. Sorry lady, you been Punk'd, they drag her onto the copter and leave everybody behind.
But then, like a minute later, they fly over the burning, body-strewn mission (like Luke Skywalker returning to his aunt and uncle's in Star Wars Part 1: Star Wars Episode 4), and Bruce makes the decision to turn it back around, put children and elderly on the copters and lead everybody else to safety on foot. It's a major character turning point, but it doesn't have that much wallop because I thought he already made that change back at the beginning when he pretended to agree to save everyone. See, I think they shortchanged the drama there because there's only a brief period where it's "just kidding, I didn't change the mission, actually I'm sticking with the original mission" before a quick turnaround to "okay, I will change the mission after all, this time for serious guys trust me."
Then, after they've turned the copters around, flown back, put some refugees on board and started marching the others toward Cameroon, only then does one of his guys ask him what he's doing. Like he couldn't have put context clues together to solve that mystery. Or asked him back on the helicopter.
I like his team, though. They have minimal development even though they got Cole PITCH BLACK Hauser, Nick CHRONICLES OF RIDDICK Chinlund, Johnny SPARTAN Messner and Eamonn BLOOD AND BONE Walker among them. But they look very credible and Predator-ready. In the best and most tense action sequence they demonstrate their elite-teamwork when they come across a rebel massacre of civilians from a distance. At first it seems like they're just gonna watch, it's not their fight. But they decide to engage, the snipers start taking out the rebels and Bruce and others move in close to finish the rest of them.
The most enjoyable thing about the movie is the team's sense of loyalty to Bruce. There's no whining or arguing to force dramatic conflict. If they disagree with him they still do what he says, not just out of a soldier's duty I think, but out of respect for him. My favorite scene is when Bruce decides he's gonna violate Tom Skerritt's order and try to save the people. He goes around and has each soldier say what he thinks. A real nice bonding moment where everybody's on the same page and willing to risk their lives and then instead of being all macho about it Bruce quietly says, "Thanks fellas."
Unfortunately, most of the 90 minutes before that don't have the same kind of momentum. I suspect a huge part of that is the score by Hans Zimmer, an uncharacteristically mellow lament that pretty much stays at the same pitch no matter what's happening, occasionally exotic-ing shit up with African vocals, like that style they made fun of a little in TROPIC THUNDER. I'm not saying bang us over the head, but this movie never acts like there's any suspense to be had, it's just like "hey everybody, isn't this sad? donate now." I mean in retrospect maybe Fuqua isn't trying to make an action movie that's Important, maybe he's just going for straight Important, no action. I honestly think a bombastic score like INVASION USA would make the movie work alot better. But maybe it would give away that this ain't Oscar bait.
Here's how to prove that it's actually some unholy combination of action movie and Oscar bait. If it was the first one, it would take place in some fictional African country called like Togeria or Ghanobo or Zambibwe. If it was the second it would be a fictionalized story based on an actual historical incident, a massacre or at least a coup d'etat that really happened. Instead it takes place in the actual country of Nigeria but with a made up civil war.
Apparently some critics were bothered by the unhistoricalness of it, but one complaint they probly let slide was the traditional "this is racist because it's about Africans but focuses almost entirely on the handful of white people who are also there." That's a pretty common and frustrating Hollywood approach, but the one reason this is different is because Fuqua is black. I think that's kind of interesting actually because it says that maybe these types of stories are not so much a racial tendency as a cultural one. He's African American but that doesn't mean he relates to the Africans as much as the Americans, even though he tries. I guess it's kind of like Walker in the movie – some of the Africans try to talk to him about his ancestry, and he has no idea. It's just not a part of most people's lives.
I'm not sure what the title means, if anything. I don't think it's the same as Tears of a Clown. I believe it was originally the title of some jungle action movie that John Woo was gonna direct. Then that script I think got re-written into what they then thought was gonna be DIE HARD 4. But they couldn't figure out how McClane would get through the jungle barefooted so they scrapped that and Bruce said, "Hey, do you mind if I take a few things that were left over, such as the title?" and they were like "Yeah sure, it's just gonna sit in storage collecting dust anyway, and also who knows what the fuck it means, I would never use that title" and he said "It probly means diamonds or something, I don't know" and they said "I don't care, just take the fuckin thing."
The movie ends with the famous quote "The only thing necessary for the triumph of evil is for good men to do nothing". So you know it's supposed to be a plea for American military intervention in these types of conflicts. I don't know, man. In a situation like this made up Hollywood one, where a small team of elite soldiers can save the lives of a whole bunch of innocents, of course I would be for it. Unfortunately, even Bruce's fictional team are not able to stop the made up civil war, they can only help maintain hope for democracy and freedom and what not in the future. Which actually means the dictator will keep fighting the prince and more people will die.
I wish there was as easy of an answer as "We have to do something!" but unfortunately nobody really knows what the something is that's gonna definitely make shit better and not make it worse.
But I guess if you take it in more general terms and not just as a story about the military, then it's a little easier to take. It just says that you should follow your conscience, even if your training and your occupation tells you to do otherwise. You should have sympathy for people and if there's something you can do to help them, even if it's at a sacrifice to yourself, you should think about doing it. That's what Bruce would do.