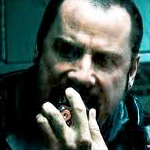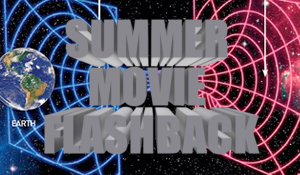 After their disagreement over DOMINO, my eyeballs and Tony Scott's movies weren't speaking to each other for years. But UNSTOPPABLE was okay and then the poor guy died and my eyeballs started to feel kinda bad and got nostalgic for all the good times of TRUE ROMANCE and CRIMSON TIDE and all that, and they finally saw REVENGE and they liked that quite a bit. You know, maybe if they had known what was coming they could've patched things up like N.W.A. did when Eazy E was dying. But that just wasn't the way it worked out. It's too bad.
Anyway I got caught in the middle of that beef and that's why I skipped PELHAM 123 until now. Plus I really like the original and thought (well, knew) it could only suffer from updating.
John Travolta (FACE/OFF) takes the Robert Shaw role as the leader of a group of hijackers who take a New York City subway and its passengers hostage, Denzel Washington (RICOCHET) takes Walter Matthau's ordinary transit employee who ends up in communication with him from headquarters, trying to resolve the situation. Denzel plays subtly weaker than the usual Denzel Alpha Male. That doesn't just mean he wears glasses and his clothes don't fit that well, but also sometimes someone says something harsh to him and he doesn't say anything back or stare them down or anything. He just let's it go.
Travolta, as an ex-con former Wall Street guy now sporting a neck tattoo and calling himself "Ryder," is amped up to almost Castor Troy levels, very sarcastic and excitable, and I see that as a good thing. It's an entertaining performance. I wouldn't call it mega-acting, his eyes don't bug out or anything, but he's clearly having fun. He even talks about Denzel's "sexy voice" and wanting to make him his bitch. This is kinda what I was worried he'd be like in THE PUNISHER, but in this one I like it.
Ryder's experience as some kind of stock trader or whatever gives him the skills to pull off this scam, getting ransom money and investing it at just the right time to multiply it. But also he rants about zeitgeisty shit about the, you know, the corruption of the– the Wall Street or whatever. The bankers. The economy. All that. He's one of these bad guys who is supposed to make us uncomfortable by being sort of right about current events, like Gary Oldman in AIR FORCE ONE. He's mad as hell and not gonna etc. etc.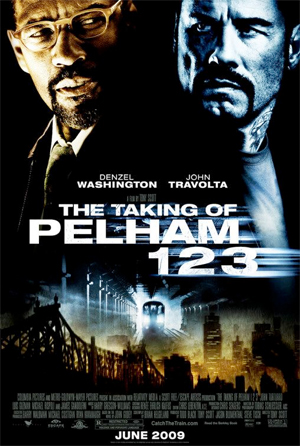 What makes the movie somewhat work is the simplicity of the situation, this relationship of two guys talking, sort of trying to relate to each other, also trying to manipulate each other to get what they want. I don't really believe that a random MTA employee would automatically turn into Sherlock Holmes and start trying to get clues out of the guy, take notes and work out some theories to present to the cops. Or that the hostage negotiator they call in (John Turturro) would be the one to boss everybody around and send cops to different locations and stuff. It's fine though because this type of puzzle solving story is fun to watch and play along with at home.
But predictably Scott succumbs to the temptation to Action Movie this shit up. As the police convoy rushes to bring the ransom money to the dropoff point there's cheesy DTV style "this is exciting" guitars, Avid farts and 3 separate vehicle collision incidents, including one spectacular police car crash and flip. Why are these cops so incompetent? Wouldn't NYPD officers be driving through traffic at high speeds multiple times every day they work? It seems like they should actually be pretty good at hauling ass down a road without crashing.
There's also some just plain dumb moments. A police sniper has a clear shot at Ryder but just as he's asking for permission to shoot a fucking rat crawls up his pant leg, causing him to slip and shoot the wrong guy! Even worse, the wrong guy is Luis Guzman, who had barely even done anything in the movie yet. It doesn't play out like a DEEP BLUE SEA type trick on the audience, just a disappointing decision to waste a good actor.
In the original Matthau runs down into the tunnel to catch the guy himself. Scott and screenwriter Brian PAYBACK Helgeland understandably decided to add more necessity to it, having Ryder demand that Denzel personally deliver the money. Yet they have him escape and then, even knowing that all the hostages have been saved, run after Ryder himself (and commandeer a vehicle!) to try to catch him and make sure he doesn't get the city's money. It always kinda bothered me that John McClane did this in DIE HARD WITH A VENGEANCE, but at least he was a cop. This is more like 911 operator Halle Berry in THE CALL going after the kidnapper on her own. Except this guy has a wife at home begging him to stay out of trouble. What the hell is he doing?
Oh yeah, redeeming himself. There's a whole thing about how he's in trouble for taking a bribe. He claims he didn't do it, but you know he fucking did it. At the end there's a nice moment where the mayor (the late James Gandolfini) pretty much tells him he's proved himself and promises to get him out of trouble. The mayor gets alot of shit because he had an affair, so he understands being basically a good guy trying to get past a big mistake he made one time. I don't think the mayor character quite works, though. Instead of coming off as multi-layered it just seems like a cheat where they paint him as a sleazy coward always worried about his image with the voters, then suddenly switch him to cool understanding guy who has Denzel's back.
I don't think the movie works because all the traditional stuff that's supposed to be exciting seems so phony, it's obvious that it doesn't belong. To make this better than it is maybe they would've needed to strip it down even more than the original so it's almost like a stage play. It's those actor performances and the intimacy of the thing that is cool. Adding a bunch of car and motorcycle crashes doesn't add anything in this case, it  just detracts.
But also it's not terrible. There are worse ways to waste a couple hours. I just hope its okayness doesn't deter anybody from seeing the original. It's a more effective thriller, it's funnier, it has a way, way, WAY better theme song by David Shire. If you haven't bothered to see THE TAKING OF PELHAM ONE TWO THREE yet then I have no choice but to bring out the big guns. Here are the opening credits:
For the new one they didn't bother to compose a badass theme song. They just, uh, remixed "99 Problems," apparently in honor of how many things are wrong with the movie.
This ended up being Scott's next to last movie. It's too bad he didn't go out on a couple masterpieces, but I guess it's better than poor Bob Clark, whose last two were KARATE DOG and BABY GENIUSES 2: SUPER BABIES. I'm sure we'll never understand why Scott decided to take his own life, and it's hard not to look for answers in the movies, since those are how we know him. I find myself wondering if he saw himself as a speeding train with no brakes, since one of those was featured in each of his last two movies. But that's gotta be reading too much into it.
* * *