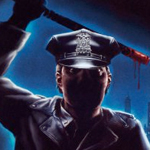 Well, MAD MAX: FURY ROAD had a good decade-plus run as my most anticipated movie. And that worked out well. I doubt I'll ever see another one pay off like that in my life, but it's always good to have things to look forward to, to keep you going.
Right now there are plenty of lower key projects to be excited about, from the finally-happening BOYKA: UNDISPUTED IV to the new STAR WARS picture. But right now the one that pushes my buttons the most is actually a remake of MANIAC COP.
This has been in development for a while, to be produced by Nicolas Winding Refn and (last I heard) scripted by Ed Brubaker, writer of acclaimed crime comics (and Seattleite I believe). Sounds fantastic. But what takes this news to the next level is the director: John Hyams, the genius behind UNIVERSAL SOLDIER: REGENERATION, UNIVERSAL SOLDIER: DAY OF RECKONING, DRAGON EYES, THE SMASHING MACHINE and RANK. I have spent the last five years wondering why the hell some studio hasn't given this guy a budget to deal with, since his straight-to-video works easily out-thrill, out-style and out-smart most big screen action movies, including $200 million dollar duds like, I'm sorry to say, the recent TERMINATOR picture. (read the rest of this shit…)
VERN has a new action-horror novel out called WORM ON A HOOK! He has been reviewing movies since 1999 and is the author of the film criticism books Seagalogy: A Study of the Ass-Kicking Films of Steven Seagal and Yippee Ki-Yay Moviegoer!: Writings on Bruce Willis, Badass Cinema and Other Important Topics as well as the crime novel Niketown.