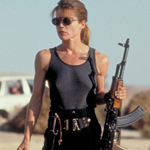 In the part of my brain dedicated to Favorite Movies, James Cameron's TERMINATOR 2: JUDGMENT DAY sits on the top shelf with all the best and strongest. It was the definition of knock-you-through-the-back-of-the-theater summer blockbuster when it arrived in 1991, and my love for it has only deepened in the intervening quarter century.
Some big budget FX movies arguably get by on technological gimmicks that lose power as years pass, but not this one. It matters nothing that the groundbreaking, reality melting digital effects of the liquid metal T-1000 (Robert Patrick, THE MARINE) no longer cause jaws to drop, because in fact T2 is more impressive as a document of the time before computer imagery largely replaced old school stunts and sets and locations. No matter how many times and ways people and vehicles and buildings and cities and countries and planets have been elaborately destroyed by computers in the summers since, the thrill of T2 is not gone. For example the semi vs. motorcycles, helicopter vs. truck and other attempts to quash the relentless pursuit of the T-1000 are still exhilarating.
Rewatching every few years doesn't wear out T2's spectacle. Instead it amplifies the themes that animate the movie's soul. (read the rest of this shit…)
VERN has a new action-horror novel out called WORM ON A HOOK! He has been reviewing movies since 1999 and is the author of the film criticism books Seagalogy: A Study of the Ass-Kicking Films of Steven Seagal and Yippee Ki-Yay Moviegoer!: Writings on Bruce Willis, Badass Cinema and Other Important Topics as well as the crime novel Niketown.