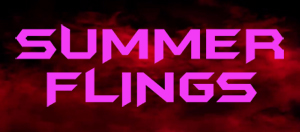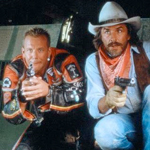 August 23, 1991
Dump all the macho pop culture of the '80s – movies, TV shows, music videos, beer and cigarette ads, wrestling – into a strainer, shake it around, and the chunks you got left are HARLEY DAVIDSON AND THE MARLBORO MAN, a buddy-action movie that plays at first like a satire of, but then maybe a tribute to, our basest ideals of masculinity.
It starts with a disclaimer that no, this is not affiliated with the two products it's named after. The title characters are not supposed to be advertising mascots come to life, some weird meta thing like FOODFIGHT!. It's tempting to think so, though, when you see them sitting on billboards, Harley (Mickey Rourke, DOUBLE TEAM) always wearing his patch-covered motorcycle jacket, Marlboro (Don Johnson, DEAD BANG) his cowboy gear, cigarette dangling from his lip (though he supposedly quit).
It's more like it takes place in a pure world of action movie tropes. In the first 10 minutes there's both an interrupted convenience store robbery and a bar brawl. (Marlboro, being a cowboy, has a disagreement with some Native Americans at the pool table.) They drive motorcycles and leave women naked in hotel beds without saying goodbye. They start in Amarillo and Colorado is mentioned but for the most part their whole world seems to be Las Vegas, L.A. and the dusty desert roads (and train tracks) between them.
Well, home base is technically Burbank. Their favorite bar (which is airplane and John Wayne themed) is getting gouged on their lease due to the brand new Burbank International Airport. That thing is tiny, but the movie treats it like the highways being built over Toon Town. Harley decides that he and the boys who hang out there need to rob an armored car to get the money to save the bar. Marlboro is a little hesitant, but gives in to the peer pressure I guess.
So they do it, but the money they thought they were stealing turns out to be bricks of one of those fictional super-drugs that movies like this have, and they spend the rest of the movie being hunted by bank employees with slicked back hair and extremely unflattering bullet-proof black leather trenchcoats that look like garbage bags.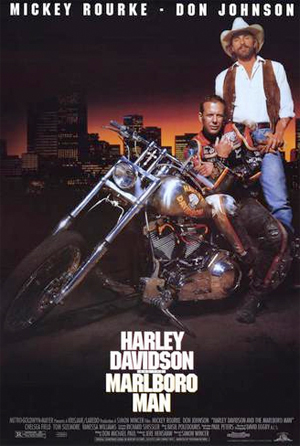 It's almost the Mount Rushmore of a certain type of sleazy macho actor of the era. I think Johnson is a little too handsome to count for this, but you got Rourke in the co-lead and Tom Sizemore as the head of the bank and Daniel Baldwin as the head of his goon squad. And as a bonus you got Robert Ginty flying a helicopter. The basic vibe of this movie is "guys who would write cowboy poetry about a particular strip club they like" or "guys who Sylvester Stallone's line of limited edition pens would be marketed to." One can assume that every actor in this movie has met members of Motley Crue. Fittingly, the opening credits are set to Bon Jovi's "Wanted Dead or Alive," and the motorcycles are so literally "steel horses" that Marlboro shoots his to put it out of its misery.
(As a side note, the tune is integrated well enough that I thought "Actually I kinda get why people liked this song now." But I had recently discovered an unknown penchant for singing along to the "wanted" part from the dueling piano players at O'Sullivan's on Beale Street.)
If that's not enough celebration of lowbrow culture, they have a WWF wrestler in the cast (Big John Studd) and his wife Lulu is played by a singer who was fired from Miss America for being in Playboy (Vanessa Williams). Studd's character has a grudge against Harley for trying to steal his wife, so they have a good fight (complete with body slams and other wrestling moves integrated into a bar/urban environment – shades of THEY LIVE) and then make up and he's a big lovable teddy bear for the rest of the movie. He's my favorite character. Wish he was in it more.
Williams doesn't get to do much more than sing in the bar, but at least she's not fought over after that. We can accept that she is happily married to Big John Studd and doesn't have any interest in switching to Mickey Rourke.
Harley is a sober man who still loves this bar, and his biggest mistakes are made out of loyalty to the family that owns it (Julius Harris [MANIAC COP 3] plays "The Old Man," Giancarlo Esposito [DO THE RIGHT THING] is his son Jimmy Jiles), so I forgive his ugly jacket and iron cross earring, which I know he wears because he thinks it makes him a biker, not because it's a Nazi symbol. And as always Johnson's ruggedly handsome cynical sweetheart schtick gives you someone to care about.
I know that pre-George Clooney there was a weird wall between TV and movie stardom (for example David Caruso was not allowed to leave NYPD Blue and become a movie star, no matter how good KISS OF DEATH was), but it's still weird to me that someone as magnetic as Johnson wasn't able to find purchase on the big screen. People just didn't want to see him playing a character who shaves or wears socks, I guess. Maybe it's for the best, because if he'd been a giant movie star he'd be playing generals in SyFy movies. Instead he can be a character actor in high quality roles like COLD IN JULY.
Anyway, they go on the run, they have shootouts, hide in an airplane luggage compartment, jump off a tall building into a swimming pool (do not ever do this). It's too routine to live up to the heightened world we started out in (note: Studd's character is named Jack Daniels, Marlboro has a girlfriend named Virginia Slim and another character is Jose Cuervo) so we mostly just have their charisma to keep us going. But that's just enough.
Australian director Simon Wincer, who would follow this with his big hit FREE WILLY and would re-appear in this review series if I hadn't already reviewed THE PHANTOM or CROCODILE DUNDEE IN LOS ANGELES. This is the first screenwriting credit for Don Michael Paul, the actor from DANGEROUSLY CLOSE and ROLLING VENGEANCE who later directed HALF PAST DEAD and KINDERGARTEN COP 2. I suspect he was going for a Shane Black/Joel Silver heightened action movie type of vibe, but it didn't catch on like LETHAL WEAPON. It got terrible reviews and made back less than half its budget at the box office. Wikipedia claims "it became a cult classic following its release to video," which seems a little overstated to me, but it's a modestly enjoyable formula with some extra flare. I liked it.