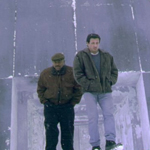 aka D-TOX
Here's a movie that brings a new angle to my Badass Auteur Theory. If this starred Ben Affleck or Ewan McGregor or somebody it would just be a mediocre stalker thriller from the director of I KNOW WHAT YOU DID LAST SUMMER. But since it stars Sylvester Stallone we can only see it in the context of his body of work. It forces us to look at it as a Sylvester Stallone vehicle and compare it to CLIFFHANGER and stuff. So it has the advantage of being an interesting tangent in his filmography.
Stallone plays Jake Malloy, former city cop turned FBI agent. The wikipedia entry makes me think he was supposed to be a Seattle cop, but I didn't pick up on that from the movie and it wasn't filmed here. Anyway, he's on the trail of a serial killer who targets cops. He's been chasing this guy for 6 months but he's not in so deep he doesn't have a personal life. He buys an expensive ring so he can propose to his girl (Dina Meyer), so I think you know what that means. He better own a black suit.
Also in trouble: the fellas, because he goes out for beers with them. I like the scene where his old partner drunkenly calls him out, saying that if it was feds getting killed instead of cops they would've found this killer in a weekend. It's tense and hurtful and then they smooth it over, but it leaves that question hanging in the air. Is he really doing enough?
So the guy kills the girl and the ex-partner. In most Stallone movies he would then disobey his superiors or even quit the force so that he could plunge himself into an obsessive quest to find the identity of the killer and participate in a cat-and-mouse game until he blows him up or fist fights him and then shoots his head off and throws him off something onto something else. In this Stallone movie he doesn't do any of that. He just drinks himself into oblivion and goes into his garage and slits his wrists.
Luckily Malloy has a good friend in Charles S. Dutton, who plays a Charles S. Dutton type of character. He's worried about Malloy even before the suicide attempt and afterwards finally gets him to enroll in a unique rehab program run by a former cop.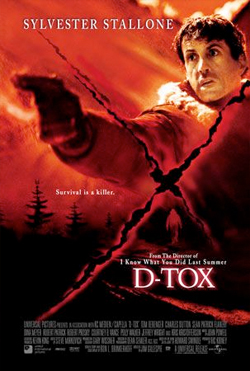 The rehab is in a former military facility out in an inaccessible icy area. I think they're going for a THE THING type of snowy isolation. I guess that way you know nobody's gonna sneak out and get a fix. Unless their dealer's into ice fishing.
The other patients are also messed up cops, and just like the ones back in Seattle (?) they resent Malloy for being a fed and are weirdly cruel to him about his past. This is not a supportive group at all, and do almost no therapy before they have to give up and just try to stop a killer. It would be cool if this experience turned out to really help all the survivors with their addictions so then there would be a DTV part 2 starring Cuba Gooding Jr. where they pretend to have a killer loose in order to provide a unique therapy but then one time there's a real killer again.
Anyway, this has a good cast: Kris Kristofferson is the head of the place, Tom Berenger is the maintenance man, patients include Robert Patrick (still slim but more muscular than in T2), Stephen Lang, Sean Patrick Flanery, Courtney B. Vance and Jeffrey Wright.
I always like seeing Jeffrey Wright. Here he's a twitchy junkie with a big ugly scar on his cheek from trying to blow his brains out and, I guess, holding the gun crooked. I wish they let him chew as much scenery as in SHAFT 2000, but at least he gets a couple bites.
As you might guess, this isn't a serious drama about recovery. People start turning into bodies, and it seems like it's the same killer that Malloy failed to catch on the outside. How the fuck did he get in here? It's an Agatha Christie which-one-is-the-killer type deal, but unfortunately most of the characters aren't really compelling enough to get you real involved in the mystery and care which one dun it. And although it's Jim Gillespie directing he doesn't really have a slasher movie approach, doesn't give the shadowy-faced killer an iconic look or do any clever kills. You mostly see the gruesome aftermath – more SEVEN than FRIDAY THE 13TH, but not quality-wise.
At the same time he doesn't let it turn into a full-on Stallone style action movie. One welcome exception (SPOILER): Malloy overhead presses the killer and body slams him onto some spikes.
By the way: slasher movie that takes place partly at a gym, the characters are all body builders, title is DEADLIFT. Go ahead and take it, but I get an executive producer and "story by" credit.
The stalker thriller that takes place inside the rehab is what makes this stand out from other Stallone vehicles, but the part before that is what makes the movie almost work for me. I like the emotion Stallone puts into his performances when he's serious about them, and this one's unique because he's playing such a moper. He's seriously damaged and depressed, and not hiding it. He hangs back and stays quiet most of the time in the rehab, he doesn't play alpha-male and try to be the center of attention… for a while. But when he realizes that this might be the guy who killed his wife he goes through a transformation, or he wakes up, and he goes into FBI agent mode, investigating and giving commands and getting asked the ol' "who put you in charge?" and all that.
I also like his friendship with Dutton. Malloy doesn't reciprocate, but Dutton is such a positive guy he goes way out of his way to look out for his buddy. Not just in bringing him to rehab, but then he hangs around in the area and travels on foot through a dangerous snow storm when he thinks his friend might be in trouble. I was touched by his dedication to Malloy's well-being, and also in suspense to find out if he was gonna end up getting Scatman Crothered. It's too bad that the stalking stuff going on inside the facility isn't as successful as that subplot.
A word about the title. It's EYE SEE YOU because the guy is spying on him and leaves him messages that say "I C U" and stuff. But also he drills people in the eyes. So it's 'Eye' instead of 'I', you know? Yeah. Shitty title.
Well, it wasn't the original title. Most of you in other countries probly know it as D-TOX. I don't get that either. Why not DETOX? Does the 'D' stand for something? Is the 'D' for 'Dangerous'? What do you people have against the letter 'E'?
The book it's based on is called Jitter Joint. That's probly explained in the book.
The name change was part of the movie's unenthusiastic release in the U.S. It was filmed in 1999 and wasn't released until 2002, and on only 788 screens, where it made about $80,000. It would've been Stallone's next movie after COP LAND, but it was delayed so long that GET CARTER and DRIVEN came out first. There was alot of hype about COP LAND reinvigorating his career, but instead he just went into this period of not very well-received, not very widely seen movies. But I'm happy to see that this is not a terrible movie, it does have some interesting things to it. It just didn't work out.
That could be a tagline for DEADLIFT maybe. "He just didn't work out," and it shows a guy with a barbell stuffed in his mouth, real gory, like the HAPPY BIRTHDAY TO ME poster. Or "He could've used a spotter." Something like that. Think about it. Coming soon.