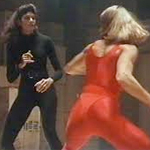 BALLISTIC (no relation to ECKS VS. SEVER) is a 1995 DTV joint that I bought after seeing it on Michael Jai White's filmography, right before his breakout role in TYSON, and after the Don "The Dragon" Wilson movie RING OF FIRE 3: LION STRIKE. He's thirteenth-billed on its IMDb page so I figured he'd just be standing with his arms folded behind the bad guy in one scene, but I was intrigued enough by the rest of the cast to order a copy on VHS.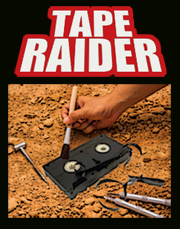 The star is Marjean Holden (SILENT NIGHT, DEADLY NIGHT 4: INITIATION, Sheeva in MORTAL KOMBAT: ANNIHILATION) as Jesse Gavin, who seems to be a prostitute in the opening scene, until it's revealed that she's undercover. She's trying to bust some limousine-riding creep after selling him a bag of coke, and has to break off her heels to chase him down an alley.
During the pursuit she accidentally pulls her firearm on an old timey stereotype of a bag lady (Rosie Taravella, flight attendant on a three-parter of Who's the Boss?), allowing the bad guy to sneak up on her and knock the gun out of her hand. When she's done beating him up, the homeless lady is holding the gun, covering her, and helps carry the unconscious suspect in her shopping cart, before declaring "You know what you are, sweetie? You're ballistic!"
Unfortunately we already saw the title fired onto the screen earlier, we don't get it there, but the awkwardly titular dialogue is still appreciated. (read the rest of this shit…)
VERN has a new action-horror novel out called WORM ON A HOOK! He has been reviewing movies since 1999 and is the author of the film criticism books Seagalogy: A Study of the Ass-Kicking Films of Steven Seagal and Yippee Ki-Yay Moviegoer!: Writings on Bruce Willis, Badass Cinema and Other Important Topics as well as the crime novel Niketown.