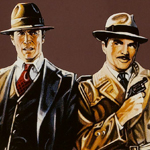 CITY HEAT is a light-hearted gangster movie from 1984 that attempts to combine the powers of two of its era's biggest icons of manliness: grimacing Clint and wisecracking Burt. They also have Richard Roundtree in there, but he's playing kind of a weasel, so he's not able to perform as a representative of blaxploitation swagger.
Burt is a behind-on-his-payments gumshoe, Clint is the Lieutenant who used to be his partner before he quit the force. Now they act like they hate each other, but of course they team up and work pretty well together. Their first scene together is a good one: Clint sits at the counter in a diner, drinking his coffee, staying out of it while two mafia thugs beat the shit out of Burt. He wants nothing to do with it until he gets bumped and spills some of his coffee, then he gets pissed.
The plot is something about Roundtree trying to scam somebody and getting thrown out a window, gangsters taking Burt's girl for ransom, stuff like that. You got your fedoras, tommyguns, big old cars, cigars, secret bottles of gin, jazz clubs, racial segregation and all that. Irene Cara sings a couple songs, gets hit by a car. It's no THE COTTON CLUB. There's pretty broad slapstick humor in the fights, Burt sliding down a counter, saying a funny line to Clint, then getting thrown across the room. It's way more of a Burt Reynolds movie than a Clint Eastwood one, but the soundtrack features some of Clint's beloved piano blues, and he gets to sit down at the keys in the end, so it's not entirely missing his touch.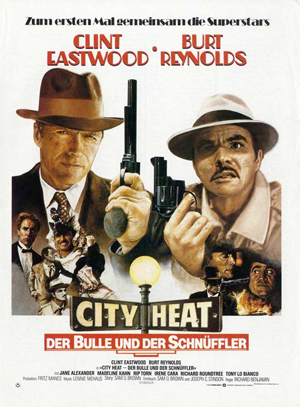 Since they're up against gangsters there's a pretty good who's-who of character actors and henchmen: Rip Torn as the kingpin, he's got Robert Davi, Gene LeBell, Tony Lo Bianco, William Sanderson, Jack Nance as a bookkeeper. Also Nicholas Worth, the bald guy from DARKMAN that was also in BEST OF THE BEST PART 2. He still had a little bit of hair in 1984.
I like both of these guys, of course, but I'm not sure their styles could've gone well together. Their humor is pretty different, and also different from Blake Edwards, who wrote this under the pseudonym Sam O. Brown (he was fired as director). Most of the jokes that seem like his style come off pretty clunky and forced. One exception is a weird touch where a truck catches fire during a shootout, then a car runs over a fire hydrant and the water happens to spray right onto the fire and put it out. Those are two separate things that often happen in car chases and shootouts, but I don't think I've ever seen them combined like that before. (If only they could've gotten a burning fruit stand in there.)
There's also a pretty good whorehouse fetish gag. Burt busts in a window on his quest to rescue the kidnapped girl and interrupts a Congressman role-playing a Little Red Riding Hood fantasy. Burt ends up punching out a bunch of dudes while wearing a paper mache wolf mask, night gown and bonnet. Gumshoe disguised as a john disguised as a wolf disguised as Grandma. It's goofy even for this movie, more upfront about being a joke than the bear suit part in THE WICKER MAN remake. But I liked it. (I was less willing to go along with the joke where he's opening different doors and he hears a horse inside one of the rooms.)
This is not a Clint directorial work, obviously. The director is Richard Benjamin, who did like THE MONEY PIT, MERMAIDS, MARCI X, not really anything great I don't think. Joseph Stinson is credited as co-writer, he'd done SUDDEN IMPACT, so I bet Clint brought him in to Clint-up a comedy script a little bit. He later did STICK with Burt, so it worked out for him at least.
Not one of the better Clint movies, but it does have Clint in it, which automatically gives it an advantage over most movies.