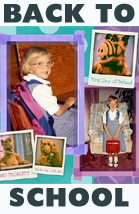 YOUNG WARRIORS is a crazy fuckin movie released by Cannon in 1983. The description on the back of the VHS box begins like this:
"What do you get if you cross 'Animal House' with 'Death Wish'? Young Warriors– a unique combination of fraternity hijinks, high-speed action, wildly imaginative animation, and hard-drivin' rock!"
Obviously that's what got me to watch the movie. I couldn't really imagine a movie that fit that description – can you? Put the tape in and it's even more confounding because it starts with this dedication:
THIS FILM IS DEDICATED TO
KING VIDOR
WITH DEEPEST APPRECIATION
FOR HIS INVALUABLE
CREATIVE ASSISTANCE.
King Vidor started directing with THE GRAND MILITARY PARADE in 1913. He has 77 directing credits on IMDb. He did the black and white parts of THE WIZARD OF OZ. He did DUEL IN THE SUN and WAR AND PEACE. He died in 1982, so this might've been the last movie he gave his invaluable creative assistance to. So he gets this dedication.
Then, the opening scene. Closeups on the bodies of a man and a woman on a beach who have just come from skinny dipping, now taking part in a RAMBO-suiting-up-style sequence of putting on their graduation gowns. The man puts on some giant headphones with a built-in radio, they get on a motorcycle and drive to their graduation ceremony where they show up just in time to drive up (scaring the shit out of everybody) and grab the guy's diploma. He pulls up to his friends and yells "We are free! WHOOO HOOOO!!!" A slow motion overhead shot shows them throwing their hats (and headphones) in the air. It freezes on their smiles, happy music playing, and says:
THESE ARE
THE GRADUATES OF MALIBU HIGH
AND THIS IS THEIR STORY…
then some ominous keyboards and militaristic drums begin as the splattery YOUNG WARRIORS logo splashes across them.
It's kinda too bad the cover gives it away, because the weirdest thing about this movie is the slide from wacky fraternity hijinks to violence and nihilism. The first part is about some dudes who live in an attic together at Pacific Coast College drinking beer, hazing new pledges, setting a herd of hogs loose at a party, etc. Then one character's sister gets gang raped to death, they steal a bunch of weapons from the military and go around shooting criminals. At the end they all die. (SPOILER)
The main kid is Kevin (James Van Patten), who's shown animating shirtless one morning in the frat house, which is decorated with bikini posters, a dart board, and a skeleton. There is a dispute involving a baseball bat and a clock radio. A dude says "Everyone, I'd like you to meet Ginger" and produces a naked woman in his bed. One of the other dudes is a medical student so he puts his stethoscope on her tits, says "she's a 34 C", chases her away naked, and they all laugh.
"How the hell is anybody supposed to get any work around this madhouse?" Kevin complains. One guy throws a beer to other guy, both of them wearing nothing but towels. So that's the sort of vibe we got here, a bunch of dudes who get drunk and smarmily joke about getting laid and share women like they're joints. But Kevin is emotionally troubled. As he explains to his animation professor who hates his trippy experimental piece, "Well, I guess the only thing I can really say is that I got alot of things going on inside me, and uh, it seems that the only way I can really express my true feelings is through my animation."
"But Kevin," the teacher says, "art is a creative endeavor, and that also has restrictions and end points and a reason to be. It's just like life. If you haven't got a direction you're just playing with yourself. You have to make up your mind and take a stand."
"But sir, I don't know where I stand."
The director and co-writer of the movie is Lawrence D. Foldes (DON'T GO NEAR THE PARK), and I think it's fair to assume he was trying to take some kind of a stand with this movie. And he might not have known where to stand either. What's interesting about the movie, even if I don't know what it means, is the way it draws parallels between PORKY'S type horny-dude hijinks and straight up gang rape.
The first section is all about aggressive sex:  A guy goes to the library, says he's looking for "The Joy of Sex," ends up fucking a young librarian in the stacks while a nerd nearby says "Oh, good heavens!" The guys hit each other in the crotch, talk about "nympho nurses" and cowgirls for their party, joke about each other's sex lives.
At home Kevin wants to come into the bathroom while his sister Tiffany (April Dawn) is naked in there. She comes out wrapped in a towel and he pins her up against the wall to joke around with her, then acts protective of her about the guy she's going to the prom with.
While she's out they have their frat party. A guy gets pantsed. There are shots of shaking butts on the dance floor. The guys force a pledge to drop his pants, cut a hole in his boxers, shave his butthole, make him sit on an olive and drop it into a martini, then drink it. They tie bricks to two guy's dicks and make them throw them out the window. You know, just boys being boys, fun kind of Abu Ghraib type stuff.
But while that's going on Tiffany and her prom date get run off the road and attacked. Her terrifying car crash is intercut with a wacky drunken car crash on the frathouse lawn. Shots of the laughing rapists cut to party-goers cheering on the JACKASS antics.
Tiffany's ordeal is so traumatic she reverts to a little girl, screaming "Mommy! Mommy!" over and over again. Later, when Kevin finds out his sister is dead, he reacts differently to feeling helpless. He rages at his police officer dad (Ernest Borgnine) and partner (Richard Roundtree), thinking they're too cowardly to solve the case or something. He rages at his professor (comedian Dick Shawn in a serious role), who's one of those '80s movie smarmy heartless upper class liberal prick professors: "Are you implying that things like rape and murder are no longer immoral?" And before long it's "Oh, you think I'm crazy? I'll show you what crazy is!" and he throws a chair out the window. He even rages at his buddies, who try to be supportive about his animation project ("Well, it's still good. It's just… a little unusual") and cheer him up by talking about dicks and drinking beer. But Kevin yells "Screw the whole bunch of you!" and storms off.
That goes right into one of those romantic sex scenes with tons of candles but after that he's in a really dark place and it's time to go track down the rapists and get revenge. They investigate the crime scene and, let me just say, movie criminals need to learn not to always carry around matchbooks with the logos of the places that they spend most of their time, or at least not to drop those matchbooks at the scenes of their crimes. That would be one way for them to get away with alot more, in my opinion. Anyway, they go to this bar and start asking around trying to find some guys driving a black van (that really narrows it down).
The investigation is going slow (no shit, the professionals haven't found the killers yet either) so they decide they should also just go after criminals in general, and they get a bunch of guns and hand grenades. You know how it is in a movie when somebody wants to be either a vigilante or a super hero, they just go around at night and spot people openly committing crimes all over the place. So our boys find some black guys stealing the wheels off a car, etc. They get more into it, they go too far, they kill some big time drug guys in a rickety van. They dump out their huge stash of coke but steal their arsenal of guns and grenades. (This is weird because they already explained that a frat brother who's in the military stole their weapons from a base. It seems like they could use the military base excuse or the found-in-drug-dealer's-van excuse, but they don't really need both in one movie.)
The characters are kind of hard to tell apart because they're all handsome jock dudes with similar early '80s hair. The one character that stands out is Butch, because he's a dog that's always wearing sunglasses, a hat and a handkerchief. It will just randomly cut to him all the time to be, you know, funny. Even after the movie has turned serious it cuts from a dramatic scene where he breaks up with his girlfriend directly to the sunglasses-dog holding a beer in his mouth.
The weirdest part tonally is when the boys go out on patrol and bring Butch with them. In context it just does not seem possible that they're trying to make a joke out of this scene. His sister has been raped and killed, he's lost faith in his father and the system, he's acting out in school and broken off his relationship with his girlfriend, he's gotten one friend killed and dragged his others into a dangerous and illegal activity, he's zeroing in on the rapists, the keyboard music is very dark and serious, they're in a Jeep wearing camo and holding guns… and there's a fuckin dog wearing sunglasses in the car with them. And (SPOILER) the dog gets killed in a shootout with drug dealers, and then shit gets even more personal.
During all this Kevin still has time for animation. They don't show him working on it but he keeps debuting new pieces in his class. It's weird spacescapes and killer snakes and shit. Simple but it would take a while to do, especially in those days. So I hope he got a good grade in that class, he must've been working his ass off.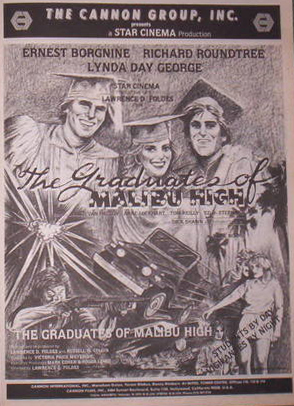 How the fuck did this movie happen? Well, apparently it's kind of a sequel to one from 1979 called MALIBU HIGH about a high school girl who becomes a prostitute. Foldes wrote that one and got his UCLA Low Budget Film Production teacher Irwin Berwick to direct it. When he made YOUNG WARRIORS it was originally released as THE GRADUATES OF MALIBU HIGH. There aren't any connecting characters or anything but that high school graduation opening doesn't seem to serve much purpose except to say "and then after Malibu High this is what those type of kids got up to."
I went ahead and watched MALIBU HIGH to see how it compared. It's kind of like a '70s porn movie with the good parts cut out. This teenage girl gets dumped by her boyfriend and doesn't get along with her mom, so she decides to ask her drug connection to pimp her out. From there she moves up to a higher class prostitute and then to a hit woman. When she leaves her first pimp she calls him and says "Hey Tony, this is Kim. Yeah, I got a message for you, pal. GET FUCKED."
Of course, she's not putting as much effort into her courses as she ought to so she tries to seduce her teachers.
My favorite aspect of the movie is the funky library music. There's alot of music that comes on with hilarious timing, like the upbeat tune that that plays right after the line "And maybe daddy wouldn't have had to kill himself because he couldn't get it up anymore!" and the "dun dun DUHHHHN" type dramatic cue that follows her giving her ex-boyfriend a double flip-off at his locker. It also uses what we now know as The People's Court theme during the climactic slow foot chase down some stairs to a beach.
Unfortunately MALIBU HIGH isn't nearly as interesting or weird as YOUNG WARRIORS. But if you insist on seeing it it's on one of those "Welcome to the Grindhouse" drive-in double feature DVDs along with one called TRIP WITH THE TEACHER.

further reading:
Janet Maslin's forgiving New York Times review of YOUNG WARRIORS