also May 1, 1998
I remember thinking of HE GOT GAME as a slightly under-the-radar Spike Lee joint, but I think it's become pretty well known over the years. It's just that it's in that middle period where he still seemed to have clout but the cultural excitement around him was on a slow, inevitable decline after touching the sun in 1992 with MALCOLM X.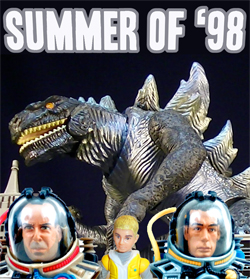 With CLOCKERS and GET ON THE BUS he got increasingly experimental with his style, switching between different film stocks and handheld cameras in energetic ways that I always thought were influenced by Homicide: Life on the Street. HE GOT GAME is a uniquely stylish film that seems more inspired by slick commercials and sports show intros. The story is about the ugly, exploitative side of college athletics, but the style is all about worshiping basketball as the great American sport.
Two credits give you an idea of Lee's lofty approach: "Music: Aaron Copland. Songs: Public Enemy." The musical score is built from the sweeping 1940s "populist" style orchestral pieces by, as Lee puts it on the commentary track, "the great American composer from Brooklyn, New York." Pieces used include "Our Town," "Lincoln Portrait" and "Fanfare for the Common Man." The latter has been used in sports broadcasts and Navy ads, it has played on Space Shuttles and inspired the scores for both SUPERMAN and SAVING PRIVATE RYAN. It was originally composed upon America's entry into WWII. Copland considered the titles "Fanfare for a Solemn Ceremony" and "Fanfare for Four Freedoms" before using a term he heard in a speech by Vice President Henry A. Wallace. These are reverent Americana anthems for the pursuit of happiness and amber waves of grain and all that. (read the rest of this shit…)
VERN has a new action-horror novel out called WORM ON A HOOK! He has been reviewing movies since 1999 and is the author of the film criticism books Seagalogy: A Study of the Ass-Kicking Films of Steven Seagal and Yippee Ki-Yay Moviegoer!: Writings on Bruce Willis, Badass Cinema and Other Important Topics as well as the crime novel Niketown.