"He's poor, this wrestler! He's had struggle!"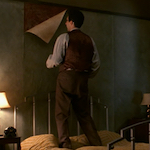 It used to be that August was a time for studios to release a bunch of movies they thought were bad or didn't have high expectations for. You know, they release ROBIN HOOD: PRINCE OF THIEVES and T2 early in the summer, hoping young people and families will go repeatedly throughout the summer. Once it gets closer to school starting up again there's less chance for that, so that's why in the year in question we were seeing weird rooster cartoons and weird dog cartoons and weird dog live action movies and weird Mickey Rourke movies.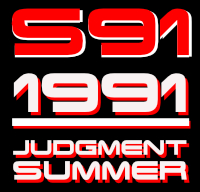 Many things in the world of pop culture were shifting that month. While on the Lollapalooza tour, long-time goth fixtures Siouxsie and the Banshees actually actually made it onto the Billboard charts for "Kiss Them For Me." (By the next summer they'd have a song in a Batman movie.) Pearl Jam released their first album. LaKeith Stanfield was born. But also Bryan Adams' "Everything I Do" love theme from ROBIN HOOD was still the #1 song!
This particular August ended with kind of a whimper – CHILD'S PLAY 3 (still the weakest Chucky movie four sequels later) was released on the 30th. But I thought I should end this review series on the August 21, 1991 release that happens to be one of the weirdest but also best regarded movies of the season. If I had to compare it to another '91 movie I'd have to say it reminds me most of THE DARK BACKWARD, of all things. Well, and I case some fire stunts reminded me of BACKDRAFT. But those are stretches. This one stands alone.
BARTON FINK is the fourth movie by Joel and Ethan Coen, and their first truly weird and confounding one. BLOOD SIMPLE, RAISING ARIZONA and MILLER'S CROSSING were all unique and unorthodox in ways, but they were very much about entertaining the audience. BARTON FINK was written in three weeks while they were stuck writing MILLER'S CROSSING, so it's kind of a fever dream about writer's block and the pressures of being a young idealist trying to make it in Hollywood without selling out or losing your mind. And although I always loved it it's sort of a preview of this decade's Coen movies that often leave me thinking, "I liked that, but I'm not totally sure what it was."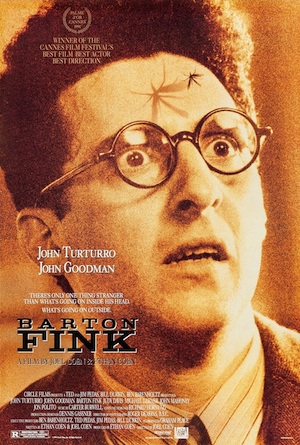 It begins as a Hollywood satire. We meet New York playwright Barton Fink (John Turturro, last seen in JUNGLE FEVER) much as we do Ed Wood in ED WOOD – standing backstage intently listening to actors perform his dialogue. But his play goes over so well it seems to make him uncomfortable, and his agent (David Warrilow, BRIGHT LIGHTS, BIG CITY) convinces him to take an offer from Capitol Pictures in Hollywood to come for a few months and write what turns out to be a "wrestling picture" for Wallace Beery.
Every scene with Barton talking to studio head Jack Lipnick (Michael Lerner, MANIAC COP 2), his underling Lou Breeze (Jon Polito, REMO WILLIAMS, HIGHLANDER, THE ROCKETEER) or producer Ben Geisler (Tony Shalhoub, QUICK CHANGE) is very funny in uniquely Coen ways. Barton is way out of his element, doesn't have even the most remote idea how to write a movie or how to fake that he does, and is completely bowled over by these fast-talking blowhards who never notice that he barely says anything in their "conversations." They still come out with strong impressions about him: Lipnick thinks he's such a genius he literally kisses his feet on behalf of the studio, and Geisler is always angry at him because Lipnick giving a shit about the project means he has to do his job.
But one thing I've always loved is that Barton is about as bad as they are. He's more relatable than them, but he's so full of shit – a guy who never stops talking up his loyalty to "the common man," yet I notice him not tipping or even saying "thank you" to the ridiculously helpful bellboy Chet (Steve Buscemi, MYSTERY TRAIN) or elevator operator Pete (Harry Bugin, THE LAST AMERICAN VIRGIN). And just wait until he actually has to talk to "the common man" in a non-customer-service situation.
That happens in the weirder and actually creepy half of the story about his life staying indefinitely in the Hotel Earle, staring at or revising the couple of lines he has of his so-called screenplay. It has "that Barton Fink feel" Lipnick wants because it's at a tenement building and uses his beloved word "fishmonger."
The hotel becomes a horrific manifestation of his failure to come up with anything – he stares at the texture of the walls, the designs of the wallpaper. It gets so hot the paper is constantly peeling off, oozing slimy melted glue as if it's pus. Over the course of the movie it seems to me to turn more and more flesh-like. He's frequently distracted by the sound of mosquitos (which Geisler tells him do not live in "Los Ang-guh-liss", but they sure do manage to bite his face there) and by the mysterious sounds he hears through the walls. Is that bawling, or hysterical laughing? Or both?
His introduction to next door neighbor Charlie (John Goodman, C.H.U.D.) is great: Barton calls Chet to complain about noise, then listens nervously to the knock on Charlie's door, a short, muffled conversation, then heavy footsteps walking right to his door to pound on it. He confronts him and then talks his way into the room to drink whisky. Charlie, who says he's an insurance salesman, constantly teeters between threatening presence and overly enthusiastic pal. Barton is both terrified of and fascinated by him as a specimen of the working class he claims to speak for and to. But the sincerity of the fixation is summed up well by the clueless ways he talks to him, particularly in the scene where he gets hyped up about his theatrical movement and Charlie keeps saying, "I could tell you stories—" but Barton will cut him off with "I bet you could!" and never seems to even consider listening to them. "Don't call it New Theater, Charlie. Call it Real Theater. Call it Our Theater."
The other major thread involves Barton's attempts to receive guidance from W.P. Mayhew (John Mahoney, CODE OF SILENCE), a legendary novelist on contract with the studio while he drinks himself to death. Barton recognizes him puking in the restroom toilet because he spots the initials on the handkerchief he daintily places under his knees. They have one pretty good talk and the other times they see each other Mayhew is drunk out of his mind singing songs or yelling and smashing things off camera.
Instead Barton ends up talking to Mayhew's constantly apologizing secretary Audrey (Judy Davis, HIGH ROLLING IN A HOT CORVETTE), and he asks her out before realizing she's also Mayhew's lover. When Barton hits his deadline with nothing written he calls her and begs her for help writing a treatment. But Mr. Nice Guy Barton Fink flies into a rage at her because while explaining the formula of the "wrestling picture" genre she says she's helped her boss with this kind of thing all the time – words of assurance that destroy his illusions of the great author W.P. Mayhew. "Well, Bill was always the author," she tries to claim. "So to speak."
Of course Barton could see this as good fortune, because the writer of the works he thought were so brilliant is available to mentor him after all. But maybe it's the image of the genius man of letters he cares about, not the actual stuff that was written. He doesn't want to learn from her, he just wants to fuck her. (Which does turn out to interest her.)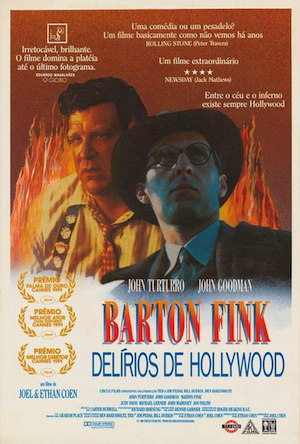 I'm sure you know the movie turns into kind of a horror-thriller, with a gruesome murder (SPOILER: it's Audrey), body disposal, a maniac rampaging in a nightmarish inferno (SPOILER: it's Charlie in the hotel). Many writings discuss the camera move from the sex scene into the bathroom and down the sink into the pipes as a sex metaphor, like the ol' train going into the tunnel. Sure, but it's also a plot point. We hear the sounds of their moans echoing through the pipes because earlier Charlie said, "Seems like I hear everything that goes on in this dump. Pipes or somethin'." And after the death of Audrey, when he's pretending not to know what happened, he asks, "Did you… Barton, between you and me, did you have sexual intercourse?" He knows he did, because he heard them through the pipes and came over and killed her while Barton was asleep.
The two cops who suspect Barton, Mastrionotti (Richard Portnow, MEET THE HOLLOWHEADS) and Deutsch (Christopher Murney, THE LAST DRAGON), are as funny as the Hollywood guys – total assholes, and not in a cool LETHAL WEAPON way. (But anti-Semitic.) An example of the Coens' mastery of complex tones is that it doesn't really lighten things to have the cops use Coen-speak while pointing guns at the killer: "Put the policy case down and your mitts in the air!" one of them yells during a tense moment.
The movie famously ends with Barton sitting on a beach with a woman seemingly prophesized in a photo on the wall of his hotel room, toting a box wrapped in creepy wrinkled paper that we assume contains one or more human heads. It's great that a movie can end on such dark and puzzling notes but still leave me smiling about so much perfect dialogue, stuff that you can't imagine anyone else writing. Lipnick, having not read or seen anything of Barton's, raving "They tell me you know the poetry of the streets!," or laying into Lou for telling Barton he better stop fucking around and write something: "This man creates for a living! Thank him for it, you sonofabitch, or you're fired!" Or Barton thinking Charlie will have sympathy for his struggle when he says, "I gotta tell ya, the life of the mind, there's no road map for that territory." Charlie remembers that phrase much later and yells "I'LL SHOW YOU THE LIFE OF THE MIND!" over and over while chasing Barton.
I suppose we shouldn't have sympathy for Charlie, because fuck that guy, but he definitely has Barton's number when he says, "You're just a tourist with a typewriter, Barton, I live here, don't you understand that?"

As with many/most/all Coen Brothers movies, there's a ton going on here and it's anyone's guess which of it drove them to make the movie. People tend to read all kinds of things into their work that they claim in interviews to not have considered. So it's hard to say definitively what each movie is "about." Obviously BARTON FINK is "about writer's block," because it vividly portrays a struggle to write late at night. This is not something I relate to – if I don't know what to write I can usually write something else, or procrastinate until I think of something. So I focus more on Barton's highfalutin way of talking about his currently non-existent work. I used to take it as a parody of a certain type of pretentious asshole, but now I wonder if it's a little more self-deprecating. We're some critically acclaimed smarty-pants indie dorks making movies in Hollywood now, trying to maintain our integrity, maybe we're full of shit, don't mind us.
They're such an anomaly – they have maintained such a pure vision, with only a couple quickly forgiven failures, and as directors have never publicly had to go to war with producers or studios. I don't think they've ever really dealt with studio bullshit like Barton does. In a case like that it's probly easier to laugh at yourselves. But they deserve that easy laugh.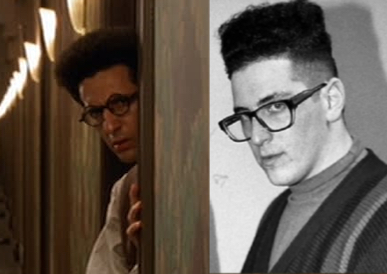 I've read that many aspects of Barton (but not his personality) are based on the playwright Clifford Odets. I don't know much about theater so I thought he was based on MC Serch from 3rd Bass. Mayhew is of course somewhat inspired by William Faulkner, being a dapper southern writer and hard drinker who later worked in the studio system and wasn't proud of it. I always thought "wrestling picture" was a fake old-timey genre invented by the Coens, but they actually got the idea when they read that Faulkner had been a script doctor for FLESH, a 1932 drama directed by John Ford (who disowned it) and starring Wallace Beery as a German wrestler named Polakai.
(I would love to be able to say that I watched FLESH and SLAVE SHIP [the 1937 Faulkner-Beery joint that Mayhew is working on, according to the sign on his bungalow] as research here, but I didn't have time. I hope you know it doesn't mean I didn't want to.)
BARTON FINK was nominated for three Oscars: supporting actor (Michael Lerner), art direction and costume design. Goodman was nominated for supporting actor at the Golden Globes. And before release it had already won the Palme d'Or, best director and best actor at Cannes. It still only made $6 million at the box office ($3 million less than its budget). But why would you think it would make a bunch of money? And why would you give a shit? Somehow the Coens didn't lose a step and have continued to make movies of varying degrees of weirdness. A couple decades later they even talked about doing a sequel called OLD FINK. "It's the summer of love and he's teaching at Berkeley. He ratted on alot of his friends to the House Un-American Activities committee," Joel told MTV.
Maybe they were joking, or maybe they decided against it, but I don't think a lack of interest in the FINK franchise i.p. property was a consideration. They could do it if they wanted to. And that's how it would be in an ideal world – great directors (or all directors) would make movies about whatever fascinates or amuses them, regardless of what they think would make money.
That's the cinema I want. Don't call it real cinema. Call it our cinema.

Aftermath:
Barry Sonnenfeld, who had been d.p. for the first three Coen films, was busy directing his first film THE ADDAMS FAMILY, so the Coens found some other dude named Roger Deakins. He went on to do 11 more movies with them.
The Coens are the type of filmmakers that like to bring back the same actors over and over again, so that happened with much of this cast. Tony Shalhoub (Ben Geisler)'s three previous film roles were as "Airplane Passenger," "Paul's Doctor" and "Taxicab Driver," so this was a big step up for him followed quickly by more characters with actual names in HONEYMOON IN VEGAS and ADDAMS FAMILY VALUES and eventually he became well known in film and television. He reunited with the Coens to play the lawyer Freddy Riedenschneider in what I consider their most underrated movie, THE MAN WHO WASN'T THERE. But mostly he's known for voicing Master Splinter in the 2014 TEENAGE MUTANT NINJA TURTLES and its sequel.
Steve Buscemi (Chet) first worked with the Coens on MILLER'S CROSSING, and returned for THE HUDSUCKER PROXY and THE BIG LEBOWSKI, but it was inarguably RESERVOIR DOGS (the year after BARTON FINK) that made him blew him up and got him roles such as "Neil Fleming" in FINAL FANTASY: THE SPIRITS WITHIN.
The Coens had cast Jon Polito (Lou Breeze) in MILLER'S CROSSING after seeing him in a production of Death of a Salesman. He turned them down until they let him take a different role than the one they had him in mind for. After BARTON FINK he was also in THE HUDSUCKER PROXY, THE BIG LEBOWSKI and THE MAN WHO WASN'T THERE, tying him with Frances McDormand as the actor in the most Coen movies.
John Goodman (Charlie) had been one of Hi's escaped convict friends in RAISING ARIZONA, and the Coens wrote this character for him. Since then they've used him in THE BIG LEBOWSKI, O BROTHER, WHERE ART THOU? and INSIDE LLEWYN DAVIS.
John Turturro had also been in MILLER'S CROSSING for the Coens, and the lead role was written specifically for him. He was later in THE BIG LEBOWSKI and O BROTHER, WHERE ART THOU?, but he is best known for playing The Rat King in THE NUTCRACKER: THE UNTOLD STORY 3D and getting pissed on by Transformers. This is still one of the few movies where he's in every scene.
Judy Davis (Audrey) has not been in another Coen Brothers movie, but she has been in a Clint Eastwood one (ABSOLUTE POWER) and has played Judy Garland, Nancy Reagan and Hedda Hopper on TV. Strangely she was in NAKED LUNCH the same year as BARTON FINK, playing another woman doomed to be killed while hanging out with a weirdo typewriter jockey.
The Coen Brothers are best known for causing Bill Murray to erroneously sign on to star in GARFIELD when he confused Joel Coen with Joel Cohen (possibly apocryphal).
note: I'll have some S91: JUDGMENT SUMMER closing remarks tomorrow
This entry was posted on Tuesday, August 31st, 2021 at 7:07 am and is filed under
Comedy/Laffs
,
Drama
,
I don't know
,
Reviews
,
Thriller
. You can follow any responses to this entry through the
RSS 2.0
feed. You can skip to the end and leave a response. Pinging is currently not allowed.