May 24, 1991
This may surprise you, but I had never seen BACKDRAFT until now. It's often mentioned as the Ron Howard movie people like, or a good Kurt Russell movie or '90s thriller, or a movie with amazing pyrotechnic effects, and I knew I'd heard people speak of it fondly. I asked on Twitter and received many emphatic confirmations that people consider it a classic, some having even reaffirmed their love semi-recently in a theatrical screening.
S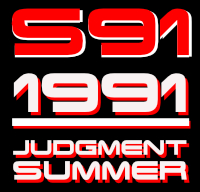 o I hope you won't all feel direspected when I tell you I thought this movie was pretty fuckin ridiculous! Maybe that's part of what you like about it? It's also true that the fire stuff is impressive, and of course Russell is good in it, and his character is pretty interesting because he's about 85% total asshole and 15% guy you root for, which is not the obvious choice. Also, it's fair to say that there aren't very many movies specifically about firefighters; usually the macho ball-busting sweaty working class bros who go to the pub together to be rowdy and are in dutch with the old lady because of the job in movies are cops. Also, I can't fault people for loving the type of corny old-fashioned weepy-eyed hand-over-your-heart astronaut movie type salute it gives to the heroism of firefighters. I think these are all legitimate reasons to like the movie, I'm not questioning that.
But I was exactly one scene in when I realized how much goofier it was gonna be than I'd bargained for. It opens in 1971, when the greatest firefighter of all time, Captain Dennis McCaffrey (Kurt Russell in his followup to TANGO & CASH), chooses by his own free will to bring his young son Brian along with him on a dangerous fire call. The boy watches from the street, smiling innocently as his pop climbs up a flaming apartment building and makes a precarious leap from a fire escape to a window. As far as we can tell from the look on this kid's face, the behavior of the many adults who made an intentional decision to put him in this situation, and the saccharine score by Hans Zimmer, there is absolutely every reason for this kid to be here and no reason for concern of any kind – only pride and appreciation for all the glory and majesty and shit that's going on. What do you mean, it's hard to be flung head first into a movie where everybody is a total fuckin maniac who would do this to a small child for no reason? What is your problem? This is definitely great! This is America! What a time to be alive!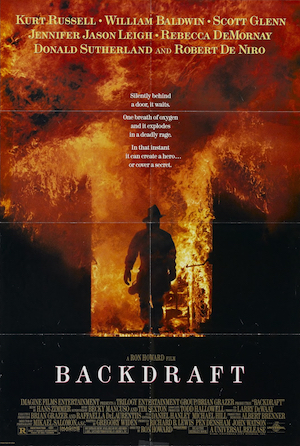 Which is something his old man is not, because a huge explosion swallows him and burps up his helmet – name handwritten on the brim – to land exactly at little Brian's feet. As the kid cradles the on-the-nose symbol just like Boba Fett did his dad's severed head at the Battle of Geonosis, not one of the numerous adults present bothers to give one single micro-shit about the child they just idiotically forced to witness the gruesome death of his father, and who is at this very moment standing in harm's way as he begins a lifetime of grieving on the sidewalk next to the building that is on fire and shooting deadly debris in all directions. Well, except for the photographer, who takes a photo of the worst moment in his life for the cover of Life magazine, then bails.
(That's alot to deal with there, but it would be wrong not to mention that earlier in the scene David Crosby had a cameo as a guy outside of the building worried about his stuff getting burned. I mean why not? Ron Howard learned his craft from some of the greats, and I'm sure every one of them told him if he was gonna make a movie that requires the audience to immediately invest in a weirdly contrived bit of ultra-melodrama, throwing in a totally puzzling celebrity cameo is the best why to calibrate the exact tone needed to pull it off.)
Twenty years later little Brian has become William Baldwin (following FLATLINERS) and it goes without saying just graduating from the fire academy and about to start his new job of facing his childhood trauma that is so famous they have a framed photo of it at the bar where he's celebrating with his fellow fire newbie Tim (the IRON EAGLE himself, Jason Gedrick). This is the kind of event where you run into your ex Jennifer (Jennifer Jason Leigh in her followup to MIAMI BLUES) outside and you make eyes at each other but it's awkward and she disses you and then your buddies spray you with a firehose and Iron Eagle is so excited about a fire truck driving by that you have to follow it to watch the fire. Tim is literally jumping up and down whooping and hollering in excitement a few feet away from a crowd of people presumably watching the destruction of their homes, plus a still smoking corpse that was shot into a parked car like a cannonball. In my opinion this is rude.
Now, different people experience trauma in different ways, but could Brian be thinking about his dad who he watched get blown up in a fire as he now watches a fire while inhaling the barbecue fumes of another human being who was blown up in a fire? Perhaps, perhaps not. Either way, as he watches, a firefighter emerges from the building. Brian stares in awe… because it's Kurt Russell.
Did his dad survive that explosion after all, or is he imagining this, or just remembering? How is this possible? Well, because they decided to have Kurt Russell play both the hero's dead dad and his older brother Stephen "Bull" McCaffrey. They figured hey, alot of times in a family there are two brothers who follow in their dad's footsteps, and one of them looks nothing like the dad at all and the other one literally is exactly him except without a mustache because it's not the '70s anymore. That's just genetics. And they knew that even if we found that distracting it would be worth it just to set up this moment, this little magic trick, where we think we see a ghost, but actually we see a weird casting choice.
Brian absolutely does not want to work with his fucking asshole brother, but "Bull" arranges for him and Iron Eagle to be assigned to Engine 17, the station he's at, and that their father was at. They work with John "Axe" Adcox (Scott Glenn the year after THE SILENCE OF THE LAMBS), who was there when he watched his father get blown up and is a good daily reminder that he watched his father get blown up. Also you gotta assume that Axe is weirded out by working with an identical copy of a friend whose death he witnessed 20 years ago, as well as a terrible firefighter who endangers him because he's so severely traumatized by having witnessed said death, a disaster which was partly his own fault as one of the terrible decision makers who thought that was okay to bring him.
Brian is a trainee and although there are some montages to Bruce Hornsby songs it mostly seems like there are major fires (and no false alarms or medical calls) to respond to every half hour in this neighborhood. I suppose this is partly explained by the thriller element – somebody is setting explosives to target specific businessmen. Stephen yells at Brian what to do and he gets scared and freezes up and then he has a big moment where he finds a woman in the fire and carries her to safety but then when he asks the medics if she lived they make fun of him because it was a mannequin. Which is a completely legitimate thing to make fun of him for because how the fuck could a person even make that mistake? They continue to make fun of him for this a couple times, but honestly they go way too easy on him. There should be an additional half hour just of them making fun of him and most of it should be montages that indicate it went on for weeks and weeks.
(To be fair, it could've been shoe-horned in there as one of those summer movie competition jabs, like how in '98 a GODZILLA toy got squashed in ARMAGEDDON and Mulder peed on some INDEPENDENCE DAY posters in THE X-FILES. Clearly Howard and company thought MANNEQUIN ON THE MOVE was gonna be their main competition for the summer, and they weren't gonna go down silently.)
It has been pointed out that the firefighting scenes are inauthentic in that you can see everything because there's not that much smoke. But they're exciting scenes. One detail I like is that the floors are slippery from all the water. And there are always seems to be stuff in the way – they have to knock over furniture to get the hose to come through a room. (They seem to enjoy wrecking stuff, too.)
I was kind of dreading Gedrick's character being the Goose-from-TOP-GUN. He kind of is, but at least he doesn't die. I think his most memorable scene is when they have a big conversation/argument in the showers and he weirdly keeps talking and spitting out the water that sprays into his mouth instead of just moving his head slightly.
Stephen sees it as his job as older brother to make Brian's life be absolute shit so that he will quit the job and do something safer. He succeeds, and Brian takes a job as assistant to arson investigator/fire whisperer Donald Rimgale (Robert De Niro, who also had GUILTY BY SUSPICION and CAPE FEAR that year) at the behest of Alderman and mayoral candidate Martin Swayzak. Since he doesn't know he's in a movie, he doesn't know that Swayzak being played by J.T. Walsh (also in IRON MAZE, DEFENSELESS and TRUE IDENTITY that year) means he's a bad guy. And that ex-girlfriend Jennifer is Swayzak's assistant, and he's trying to get with her. Anyway, the point is #1, it becomes a movie about trying to catch this bomber, and #2, when Brian arrives to start the job Rimgale goes into his office and changes his shirt so that we will see that his back is covered in severe burns. Another lesson Howard learned from the masters: "Show. Don't tell. Even if that means awkwardly making the character change their clothes at work for some reason."
I got a kick out of the scene where Rimgale suddenly decides he's an FBI profiler in some made-for-cable MANHUNTER ripoff and gives a poetic/worrisome speech about how "It's a living thing, Brian. It breathes, it eats, and it hates. The only way to beat it is to think like it… the only way to truly kill it is to love it a little."
It probly reminds Brian of his brother, who said to him during a fire, "Hey – don't take that kinda shit from it! Don't let it know you're scared!"
(Here's a discussion on a firefighter board where it is agreed that fire is not in fact a living, breathing thing.)
Donald Sutherland (who also had SCREAM OF STONE, JFK and EMINENT DOMAIN that year) plays Ronald, who is the Hannibal Lectre of fire – he was an arsonist who Rimgale not only caught, but saved the life of, and they both have burn scars from it. Sutherland has a great time playing him as a pleased-with-himself weirdo (almost a Renfield type), and I like the scene where Rimgale disrupts a hearing knowing how to make Donald talk horny about arson in front of the parole board who were seconds away from letting him go. As for the scene where Brian interrogates Donald because he's an arsonist so he should be able to magically identify another unrelated arsonist by getting inside his mind – sure, why not? Reason went out the door in Chapter 1: Bring Your Kid To Your Death Day, featuring David Crosby. Why change the rules this late in the game?
There are parallel subplots about the brothers' relationships with their exes. Stephen still seems to have a thing for his ex-wife Helen (Rebecca De Mornay right before THE HAND THAT ROCKS THE CRADLE), and keeps showing up at the house to work on the roof. De Mornay is good at handling the "I feel sorry for him but he's exhausting" looks. There's a scene where Stephen is drunk and inappropriate at a charity event and gets in a fight with Helen's date. I could not stop laughing because everybody pulls him away and he fakes calming down and then tries to leap on him again and even the third time this happens some unseen woman can be heard letting out a high-pitched scream. Somebody get that lady out of there, she obviously cannot handle this party!
Meanwhile Jennifer falls for Brian at work. He gives her a tour of the fire station his office is attached to and she says, "Do you miss it?" The sort of thing you would ask about a job he did for years, but he did it for like two or three weeks I think? Anyway they climb on top of the fire truck to have sex, and suddenly the alarm goes off, the lights come on, people slide down the pole and the truck drives off before they can escape. So they go back to making out (presumably fucking on top of a moving vehicle?) and then when the truck arrives at the fire they bite the bullet and climb down in front of everybody, who kinda act like this happens all the time.
It's a funny bit of absurdity, but the fire they're reporting to is one where some major drama goes down between Bull and Axe, Bull makes the wrong call and Tim ends up badly hurt. So Brian is standing there to see his friend brought out on a stretcher and his brother coming out knowing it was his fault. (Somehow his brother sees him standing there without doing a double take.)
Of course I understand that stories don't always need to be plausible or reasonable, and if a movie wins you over it can get away with all kinds of shit. Many or most people seem to be won over by this movie, so it can do what it wants. But personally I can't help but picture screenwriter Gregory Widen (HIGHLANDER) having his heart set on scenes where Brian sees his father and best friend injured in fires and then realizing it makes no sense that he would be able to witness either of them while not a firefighter. So he racks his brain and doesn't come up with anything until finally he says, "Ah, fuck it. I don't know. His dad just brought him. And maybe he was having sex on top of the fire engine when actual firefighters drove to the fire. I don't know. Leave me alone, Ron."
But it's a great looking movie – the cinematographer is Mikael Salomon (THE ABYSS, ALWAYS, director of HARD RAIN) and the production designer is Albert Brenner (THE MASTER GUNFIGHTER, THE MONSTER SQUAD, UNDER SIEGE 2: DARK TERRITORY) – and it definitely delivers some thrills. There's a classic move during a fight where Stephen is lifted up and accidentally knocks a light fixture off with his head. And I loved the crazy bit where a firetruck takes a corner wrong and tips over and there's a closeup of Brian sideways sliding along the pavement. At the end there's a big showdown where two firefighters (spoiler: Kurt is the red herring, the arsonist is the only other suspect) come face to face holding axes on a catwalk while barrels explode and shoot off like rockets all around them.
And then after the action finale they get a stick-it-to-the-man finale where they dramatically shame the Alderman during a press conference. And somehow Brian remembers a wiseass thing the Alderman said to his brother when he was nearby at the beginning of the movie and repeats it to him verbatim. So he's dumb enough to mistake a piece of wood for a human being, but has very advanced hearing and memory. That was the enigma hidden behind those squinty, sensitive eyes this whole time.
Anyway at the end Brian has witnessed the fire deaths of both his father and identical looking brother, so naturally he returns to being a firefighter at the station they were at and kind of takes on the role his brother had as mentor to younger firefighters, except less dickish and with very little on-the-job experience to justify it. And he looks out the window and smiles, now that everything is okay.

BACKDRAFT was Howard's followup to PARENTHOOD. It's interesting to see him directing Russell, since both had shed being known as child stars to have very successful careers as adults. I wondered if they'd ever crossed paths guest starring on a TV show or anything but according to IMDb the only time was 1976's Battle of the Network Stars II. Ron was on Gabe Kaplan's team and Kurt was on Robert Conrad's. Kaplan's team was victorious, so Ron then made his directorial debut with GRAND THEFT AUTO.
Screenwriter Widen's only previous credits were HIGHLANDER and a 1988 TV movie called WEEKEND WAR, but after this he did THE PROPHECY, so you gotta hope he gets good money from the long-running HIGHLANDER and PROPHECY franchises. Of course, BACKDRAFT is also a franchise – Widen actually wrote the 2019 DTV sequel that has a new lead but does bring back Baldwin and Sutherland and that I think I have to watch now.
A better known continuation of the series is the stunt show that ran at the Universal Studios Hollywood theme park from 1992 to 2010 before being replaced by Transformers: The Ride 3D. (It still runs at Universal Studios Japan.) I've never been on it (it would've spoiled the movie) but apparently it simulates you watching the filming of BACKDRAFT on a soundstage, allowing you to see real flames and videos of Ron Howard, Kurt Russell and Scott Glenn talking about it.
So far there is not a BACKDRAFT 2 stunt show.
Zimmer also scored THELMA & LOUISE, released on the same day. That one is more his blues rock style and this is more his glorious submarines and flags style. He invented both of those before the bwwwwwwwaawwwwwwwww Christopher Nolan style that he handed off to his many children. I like all three, but he chose the right one for the firefighter movie.
BACKDRAFT opened at #1 above WHAT ABOUT BOB? and newcomers HUDSON HAWK, THELMA & LOUISE and ONLY THE LONELY. It was a big hit, making over $150 million and ranking #11 in the year's box office.
—

Important note: According to the credits Tic Tac Dough was in the movie somewhere, so that connects it to MEDUSA: DARE TO BE TRUTHFUL, which had a Wink Martindale cameo.