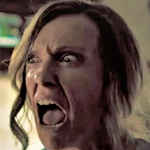 Many horror movies have a little bit of the ol' status quo at the beginning, a seemingly normal day to contrast with when things start getting crazy. HEREDITARY starts with a funeral, but it's fairly uneventful, so that's our calm day to want to get back to when the world starts shitting right into a fan.
Annie Graham (Toni Collette, SHAFT, xXx: RETURN OF XANDER CAGE) has just lost her mom. But the family's feeling strange about it because Grandma Ellen, from the sounds of it, was a weirdo and a total pain in the ass. Annie starts hallucinating her mother's presence and decides to go to a support group. Her husband Steve (Gabriel Byrne, END OF DAYS, COOL WORLD) looks out for the family. Their teenage son Peter (Alex Wolff, MY FRIEND DAHMER) doesn't really care and just wants to smoke weed and stuff, while their younger daughter Charlie (Milly Shapiro, Tony winner for playing Matilda on Broadway!) is… strange. Builds things out of junk, plays with dead animals, munches on a chocolate bar next to grandma's open casket.
Eventually, weird shit happens. There are apparitions, seances, paranoia, pretty standard stuff. But it's put together and unfolded in ways that feel new. I'm trying to be non-specific, even though it's the type of movie that would be hard to spoil. The things that happen are too wild to pin down as a premise or plot twist that can be succinctly explained. It's a good one, as you may have heard. (read the rest of this shit…)
VERN has been reviewing movies since 1999 and is the author of the books SEAGALOGY: A STUDY OF THE ASS-KICKING FILMS OF STEVEN SEAGAL, YIPPEE KI-YAY MOVIEGOER!: WRITINGS ON BRUCE WILLIS, BADASS CINEMA AND OTHER IMPORTANT TOPICS and NIKETOWN: A NOVEL. His horror-action novel WORM ON A HOOK will arrive later this year.