May 15, 1998
In the mystical past of summer of '98, "animation" meant drawings. TOY STORY was the only computer animated feature that existed, so that was still just a novelty, not the entire industry. It wouldn't be until the Fall that dueling bug movies kicked off the war for computer animation supremacy, so nobody wanted to be Pixar yet. They still wanted to be Disney.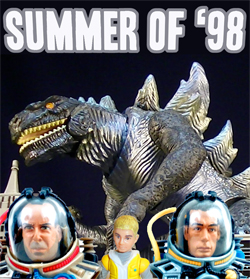 The previous November, Fox Animation Studios had made their Don Bluth directed version of a Disney movie, ANASTASIA. In December Dreamworks would release their Biblical version, PRINCE OF EGYPT. And this was Warner Bros. Feature Animation debuting with their sword and sorcerer version. They took a little bit of the dark fantasy of THE BLACK CAULDRON and early Don Bluth, but mostly tried to make a musical in the vein of the '90s classics like BEAUTY AND THE BEAST and ALADDIN.
The operative word being "tried." This is a terrible fucking movie. Nothing can compare to FOODFIGHT!, but as far as professionally completed animated features given a wide release in theaters, QUEST FOR CAMELOT (a.k.a. THE MAGIC SWORD: QUEST FOR CAMELOT in some countries) is one of the worst I've watched all the way through. The shamelessness with which they try to copy Disney, combined with the clear lack of understanding of why people like the stuff they're trying to rip off, and the substandard execution of it, is honestly depressing to watch. Like any animated feature there are surely many talented people who worked on it, but it's very obvious that the direction at the top came from a bunch of clueless executives who just had no respect for the audience or the art form, and no idea what the fuck they were doing.
Supposedly based on a book called The King's Damosel by Vera Chapman, it's the story of Kayley (Jessalyn Gilsig [PROM NIGHT, THE STEPFATHER], singing voice: Andrea Corr of the band The Corrs), a young maiden or whatever whose father (Gabriel Byrne, END OF DAYS) was Sir Lionel of the knights of the Round Table, but he was killed when she was little (the opening scene). Her mother (Jane Seymour [WEDDING CRASHERS], singing voice: Celine Dion [for real]) wants her to be a girl who wears dresses and does girl stuff for girls, but she dreams of ADVENTURE! And EXPERIENCE! And possibly KNIGHT STUFF!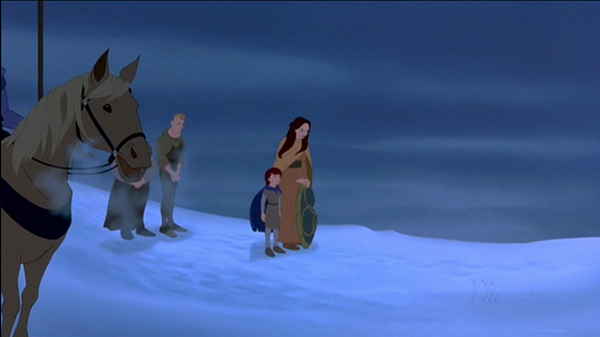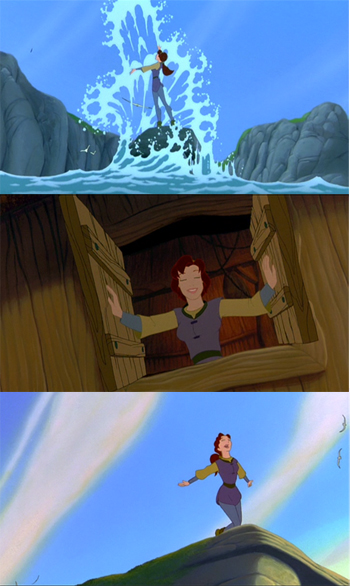 When she learns of her father's death (I have included the above screengrab because I thought it was funny that the horse is drawn to look sad) she looks at her reflection and we watch it grow into an adult to sing about how she will "do great things on my fathers wings" as she goes around doing parkour over animals and making dramatic gestures that are sometimes suspiciously similar to famous Disney moments (but not drawn as well).
Shortly after the song, King Arthur (Pierce Brosnan [STEPHEN KING'S THE LAWNMOWER MAN], singing voice Steve Perry of the band and video game Journey) is making a speech about how great Camelot is doing when a griffin (Bronson Pinchot, TRUE ROMANCE) crashes through the ceiling and steals Excalibur from the back of his chair. To be honest I would just call it a monster, but somebody says "It's a griffin!" So that was helpful. Anyway, Merlin (John Gielgud, FIRST KNIGHT) sends his bird pal Silverwing to "protect the sword," but all he does is make the griffin drop it into an enormous briar patch full of monster hands. Dumb bird.
Well, you know how real Disney characters always have some dream that goes against what their parents expect of them? Kaylee says she wants to "fight evil, rescue damsels in distress" but her mom wants to make her a new dress and let the knights take care of this whole magic sword fiasco.
But this goes against Kaylee's long-held dream of Doing Great Things. "How am I going to do great things if I'm stuck here with these silly chickens?" she asks herself (rhetorical question).
That's actually foreshadowing, because soon a big muscle-headed disgruntled ex-Round-tabler named Ruber (Gary Oldman – I told you LOST IN SPACE wouldn't be his worst movie this summer) shows up with a bunch of barbarian henchmen, sings a rock musical type song while doing a magic spell during which he dunks a random rooster in a cauldron and says "Now this chicken – can KILL! – Behold – Blaaaaaaade-beak-uh!" and then the chicken is a comic relief chicken with an ax for a beak. So, you know, get ready for your whole world to change with the discovery of this marvelous character Bladebeak voiced by Urkel himself, Jaleel White in his first movie role.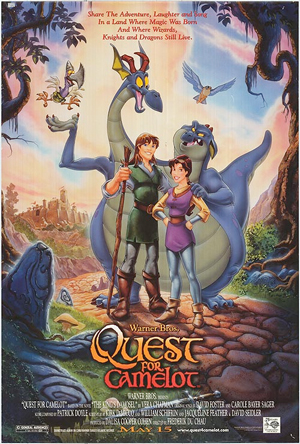 Anyway he turns all his guys into half human/half metal tool warriors and kidnaps Kaylee's mom – if I understand correctly he's assuming he can find the sword and then he will get her to enter Camelot with him hiding inside the carriage and he'll become the king or some shit. Anyway it's cool because now Kaylee is free to pursue her Doing Great Things dream. She journeys into The Forbidden Forest and meets a blind wanderer named Garrett (Cary Elwes [THE ADVENTURES OF TINTIN], singing voice: country singer Bryan White) and the falcon from before, who turns out to be named Ayden, so I guess Merlin calling him "Silverwing" was degrading. According to a wiki I found he is "the terartagonist of QUEST FROM CAMELOT." Sadly that turns out to mean the fourth protagonist, not the lead bird character.
As this group travels together they pick up another straggler, a kids meal toy… er, I mean a two-headed dragon called Devon (Eric Idle, TRANSFORMERS: THE MOVIE) and Cornwall (Don Rickles, KELLY'S HEROES). Somebody obviously had alot of faith in him/them being funny/charming because even though they're a dragon they're (hold on to your socks man this is gonna be a real killer when you hear this concept) total wimps and cowards who bicker with each other and do a musical number where they're separated and one watches TV and has a lava lamp and they dress up as Elvis and as Sonny & Cher. And that's funny because this takes place a long time ago but more of a long time ago than those references. Hard to explain and I definitely didn't laugh but trust me it is the kind of thing that I have noticed is supposed to be funny in the cartoons.
So they go through "Dragon Country" and at one point they see a monster and one of the dragon heads says "It's another dragon!" which made me laugh. And then someone says "That's not a dragon. That's a griffin!" which, again, was informative.
There is a contrived emotional moment where Gareth refuses to continue with them because he feels rejected by society or some shit. And they try real hard to have one of those powerful animation moments when the music gets all quiet and Kaylee tries to say that she cares about him but he doesn't hear her and her voice fades almost to a whisper and she bows her head in sadness and the animators decide you know what, you know what would make this extra powerful would be if the more cartoony looking character(s) with the two heads who want to be the genie from ALADDIN when they grow up and have specifically stated that they are the product of incest also bow their heads in the background. That is just gonna break hearts from here to the Mississippi, trust me, this is a beloved and multi-dimensional character or characters here.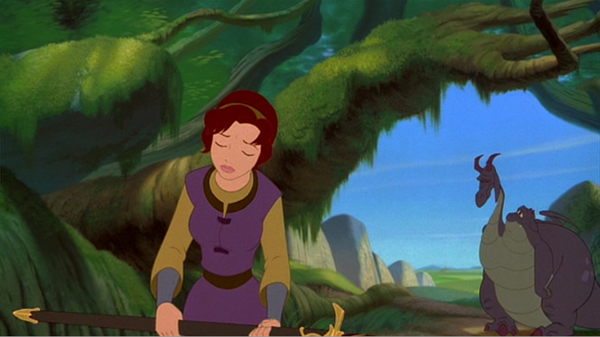 It's a road story but it feels especially patchy and episodic. As far as I could tell the bad guys didn't really have anything they were doing, they would just appear occasionally when a scene required it. One confrontation that seems like it's supposed to be a big showstopper involves a giant "rock ogre" done with three-dimensional computer animation. Since we know TOY STORY already existed at this time we know that this is not the state of the art. But the main thing that I want to mention about the scene is that they have to run away because the ogre farts.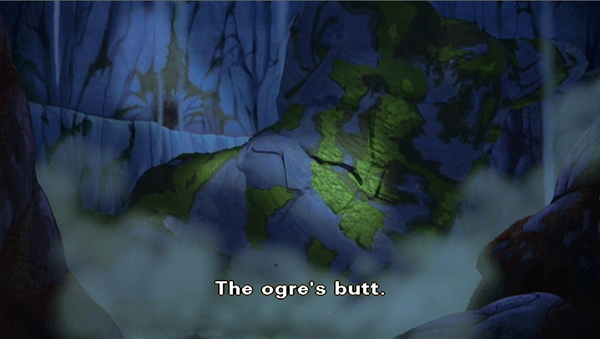 And then there's evil or kidnapping or showdowns or whatever with the bad guys so Gareth has to convince the dragons that they know how to fly and breathe fire and they carry him to Camelot (which by the way is at Stonehenge?) and Gareth, who has been a totally serious character up to this point, says "I hate flying coach."
You see, what this is here, this is absurdist humor, because the thing is that at the time the story takes place there are no airplanes, so there are no airlines, so there are no different classes of flying, so there is no such thing as flying coach or hating to fly coach. And there's no explanation within the world of the movie what else that phrase could mean. And also he's a monk-like hermit who lives on his own in the woods, so even if there were airplanes and airlines and different classes of flying he would not be able to afford first class and it would be completely out of character for him to prefer the comfort or the status of first class. And also the parents of the very small and undiscerning children who the movie otherwise must be aimed at are unlikely to relate to this joke, since mathematically the majority of people do fly coach most or all of the time. So that's why it's funny (?).
There is also a non-diegetic anachronism and/or pop culture reference when the score by Patrick Doyle (MARY SHELLEY'S FRANKENSTEIN, THE EMOJI MOVIE) goes into the iconic John Williams SUPERMAN theme. For some reason it doesn't happen when Devon and Cornwall finally learn how to fly, but when they have been flying for a while and then they finally learn how to breathe fire. I don't get it.
Another reference to the Warner Brothers live action library is Bladebeak imitating Dirty Harry. I wonder if there will ever be a day when cartoonists all agree that just having a cartoon character reference some other movie is not in itself a joke.
As you know I am a positive individual, so I did notice a few good things about the movie, and I will mention them. Some of the shots of flying monsters and stuff look pretty cool, if derivative. The idea of tricking Ruber into (SPOILER?) swinging Excalibur into the rock that Arthur pulled it out of is kind of cool. And the happily ever after type epilogue is the one part of their attempt at Disney style female empowerment that I thought worked. Kaylee is in a dress for a big ceremony and she walks down the aisle and Gareth is standing there and I'm thinking "Jesus Gareth, you couldn't get dressed up or put your staff away for your wedding?" And the mom says "Don't forget this!" and hands Kaylee her father's shield and I thought "Well that's kind of nice that she's letting her do that at the wedding" and then she goes up there and actually it's not a wedding, they're being knighted. And then they ride away together on a horse with a sign that says "Just Knighted."
That's a real good joke by the standards of this movie and it genuinely feels like a subversion of the expectations of the animated fairy tale type formula. And that's the one thing that feels legitimately modern-Disney-esque, since I think the most interesting thing about those movies is the step-by-step evolution of female characters from Belle reading books in BEAUTY AND THE BEAST to the genuinely complicated characters and relationships of TANGLED and FROZEN.
Belgian director Frederik Du Chau made his directorial debut after working as an animator on ROVER DANGERFIELD, The Smoggies, TaleSpin, TOM AND JERRY: THE MOVIE and THE LAND BEFORE TIME 3. He went on to direct the live-action-with-computer-animation movies RACING STRIPES and UNDERDOG. He had stayed on after original co-director Bill Kroyer (FERNGULLY: THE LAST RAIN FOREST) was fired.
Du Chau was working from a screenplay credited to Kirk De Micco (later director of SPACE CHIMPS and THE CROODS), William Shifrin (T.U.F.F. Puppy) and Jacqueline Feather (KUNG FU KILLER) & David Seidler (TUCKER: THE MAN AND HIS DREAM, THE KING'S SPEECH). The songs are written by Carole Bayer Sager (Neil Diamond's "Heartlight") and David Foster (Chicago's "You're the Inspiration") and pretty much represent the last days of that particular brand of polished schmaltz, or at least the idea of using it to sell adults on animated features. The song "The Prayer" has versions performed by Celine Dion in English and Andrea Bocelli in Italian and was nominated for the best song Oscar. It lost to a Whitney Houston/Mariah Carey jam from PRINCE OF EGYPT (though it did win the Golden Globe).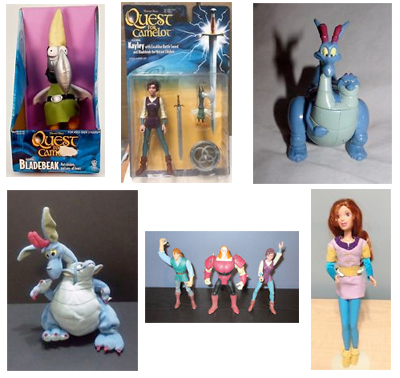 Just like the Disney movies, QUEST FOR CAMELOT inspired all kinds of merchandising, including storybooks, action figures, dolls with combable hair, plushed inbred dragons and Wendy's Kids Meal toys. There was a video game for the Nintendo Gameboy Color which IGN called "bad" and "boring." This stuff probly didn't sell very well, since the movie itself only made $22 million, a little over half its reported budget.
The sad irony of Warner Bros. trying to force feed this bullshit to the public and having it coughed back up is that the following year they seemed to put much less effort into selling what is now recognized as a beloved classic, THE IRON GIANT – a movie that also references Superman during a climactic flying moment, and it makes people tear up instead of confusing them. (It did end up making just over what QUEST FOR CAMELOT did, but had a bigger budget.) This is pure speculation on my part, but I bet the brass at Warner Bros. were thinking "Well, CAMELOT was a failure, and we worked so hard to give the people what they want with that one. There's no way this one will work. There are no funny animals. No songs. We had Celine Dion!"
It'll be interesting to see if some of our twentysomething readers have any sort of nostalgia attached to this one. As far as I can tell QUEST FOR CAMELOT has been mostly forgotten. Its legacy is to be included on WB's "4 Film Favorites: Family Movie Night Collection" DVD along with THE ADVENTURES OF PINOCCHIO, CATS DON'T DANCE and DENNIS THE MENACE STRIKES AGAIN, currently available for $7.95 on Amazon. That seems about right.
This entry was posted on Thursday, May 17th, 2018 at 10:54 am and is filed under
Cartoons and Shit
,
Fantasy/Swords
,
Reviews
. You can follow any responses to this entry through the
RSS 2.0
feed. You can skip to the end and leave a response. Pinging is currently not allowed.