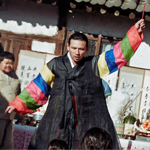 THE WAILING is a long, moody, unpredictable South Korean film about a terrible evil coming to a small fishing town in the mountains. The plot is fairly simple, there's not that much to it, but I like how it takes you very gradually from naturalism to a bit of craziness.
It's one of those openings that made me immediately think this might be a great movie even before anything actually happened. It just has this potent transporting quality as it depicts this hapless cop Jong-goo get up early to investigate a crime scene. Rain is coming down hard, you can hear it in every direction. He's still trying to wake up, and he's not in any hurry. And then he gets there and all the officers are sheltered under their tent-like rain coats, walking through and cataloging the aftermath of a horrific murder, and unlike the usual depiction of seen-it-all cops barely phased by dead bodies (while one minor character kneels down and pukes to show that this is an extra bad one) we see Jong-goo's terrified expressions as he witnesses the increasingly bizarre circumstances of the deaths.
This is our hero. Not some badass. Just a guy. And it endears us to him so that we'll relate all through the movie. (read the rest of this shit…)
VERN has a new action-horror novel out called WORM ON A HOOK! He has been reviewing movies since 1999 and is the author of the film criticism books Seagalogy: A Study of the Ass-Kicking Films of Steven Seagal and Yippee Ki-Yay Moviegoer!: Writings on Bruce Willis, Badass Cinema and Other Important Topics as well as the crime novel Niketown.