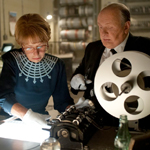 How do you make a narrative film about Alfred Hitchcock filming PSYCHO? Adequately.
Anthony Hopkins (BAD COMPANY) plays Alfred "Hitch" Hitchcock, fresh off of NORTH BY NORTHWEST, anxious about his reputation and itching to do something new. He doesn't want to turn into some by-the-numbers hack so he turns down bullshit like some stupid "Casino Royale" movie they want him to do, whatever the fuck that is. (keep in mind parkour had not been invented yet so it wouldn't have been that good back then.) He doesn't want to repeat himself and he's fascinated by the gory true story of Ed Gein, famed Wisconsin killer, cannibal, grave robber and mama's boy. When Robert Bloch's Geinsploitation book Psycho comes out he decides it's his next movie, but Paramount disagrees. Through his stubbornness, tenacity and a good agent he finds a way to fund it himself and have them distribute it. He makes them his errand boy.
But there's surprisingly little re-creation of famous scenes from PSYCHO, and no mention of changing things from the book or deciding to film in black and white with the crew from Alfred Hitchcock Presents or anything like that. One thing I did like is when it shows the filming of that scene where Janet Leigh is driving by herself and you hear her thoughts, and she has to react to them. Here we get to see what Hitchcock was (supposedly) saying to her off-camera to get those expressions.
Of course they make a big deal out of filming the shower scene, but in a phony way where he flips out and does the stabbing himself and scares everybody, and then he calls cut and everybody leaves even though we've all seen PSYCHO and know that he hasn't filmed the part where her body's on the ground. There were more shots in that scene than just the stabbing – ask Gus Van Sant if you don't believe me. He'll back me up on this.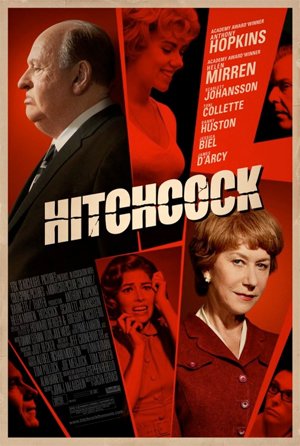 They make scenes out of famous trivia like "PSYCHO was the first American movie to show a toilet." I'm surprised they left "the blood was actually Hershey's chocolate syrup" alone. And "the sound was stabbing a watermelon." Gotta respect them for that, I guess. I had a hard time believing some of the movie's ideas, like that Alma suggested Anthony Perkins to star because she knew he was gay and would know about living a secret life. I think that's an interesting thing about the movie that probly was crucial to his performance, but was it really done consciously? Let me know if the book says that, but it seems to me like a little modern revisionism there.
Also the movie portrays Perkins as kind of a doofus who asks Hitch dumb questions because he can't understand peeping on girls. And it says that Hitch does understand it and somehow is able to use the peephole set to watch Vera Miles (Jessica BLADE 3 Biel) undress. Furthermore, he whines a couple times about not having an Oscar. Is that real? I'd like to think he didn't give a shit. That seems more like something movie fans complain about in retrospect.
PSYCHO screenwriter Joseph Stefano only appears in one scene where he's interviewing for the job. I wish he was in more, because he's played by Ralph Macchio. Poor guy gets in a pretty big movie again and it's only a cameo. For what it's worth he does a good job.
The main thrust of the movie though is not PSYCHO, it's Hitch's relationship with his wife Alma (Helen SHADOWBOXER Mirren). She's very supportive, gives him some great ideas, is a key creative force in the production of his movies. Together they have a comedy-team rapport, batting at each other with dry humor of a style familiar from his TV show introductions. But also she's clearly fed up with his obsessions with younger, hotter, blonder women who he's not married to. She convinces him to cast Janet Leigh (Scarlett Johansson, THE SPIRIT) by reminding him that he liked her "figure," but she's clearly jealous when he follows her advice and behaves accordingly. She keeps finding headshots on his desk and getting upset. Are we supposed to imagine he's been jerking off to publicity stills of Grace Kelly?
Meanwhile, Alma is developing a script with her hunky friend Whitford Cook (Danny 30 DAYS OF NIGHT Huston), the writer of STAGE FRIGHT and STRANGERS ON A TRAIN, and seems to be teetering on the edge of adultery. Note that she calls her husband "Hitch" and her collaborator "Whit." Hitch starts to notice, gets jealous, starts to act like a baby about it. These two need to work some shit out.
There's a scene where Alma's stayed up all night in a secret beach house writing with Whit, and she's trying to sneak into bed without waking up Hitch. I thought it would be great if she's tip-toeing into the room and suddenly there's a bolt of lightning and a shadow appears, and it's the famous Hitchcock silhouette. Sadly, they had more restraint than to do that. But they do manage to shoot him in profile an awful lot. I'm not sure if that was supposed to be a nudge-nudge to the audience or if they just designed the makeup sideways and knew it was a better likeness from that angle.
I haven't read the book, but from what I hear this adaptation is mostly bullshit. I think they tried to model it after ED WOOD, but it's not as well made and doesn't have the same underdog quality to it, no matter how much Hitchcock complains about bad reviews or not getting an Oscar. One weird touch is a bunch of scenes where he sees and speaks to an apparition of Ed Gein (Michael ALIEN RESURRECTION Wincott). Seemed like forced quirkiness to me, but I guess it's a way to depict how unsavory he seemed at the time even though his movies are all very tame by modern standards.
Although only John J. McLaughlin is credited for the screenplay, Wikipedia claims that Stephen rebello, the author of the non-fiction book it's based on, "wrote additional drafts that shifted the story's focus to the complex personal and professional relationship of Hitchcock and his wife." There's no citation for this one, but I did find an official press release mentioning "revisions by Ryan Murphy, Stephen Rebello and Sacha Gervasi." If it's true that Rebello shifted the focus of the movie I wonder if that relationship stuff is therefore less Hollywoodized than the movie-making parts? I don't know.
What makes it watchable is good performances by the cast. Hopkins in a fat suit imitating Hitchcock seemed like a joke when I saw it out of context in commercials and clips, but in the movie I liked it. He works the slow-talking, emotionless persona into a vulnerable, funny, horny, sometimes mean human-like character. I'm sure it's not the most thorough portrait of the man, but this is a guy who my picture of him is mainly a one-joke TV mascot, like the Crypt Keeper. And the movie makes me see what he could be like as, like, a dude who has to eat food and likes to take baths and read the newspaper and stuff.
Johansson is pretty good too, I was surprised how much they got her looking like Janet Leigh and acting like an old fashioned lady. The characterization isn't too complex. She basically just has to rebuff Hitchcock's sexual harassment, be professional, try to be nice to him. But it's kind of a sweet friendship and a role that could've easily been embarrassing if done badly.
Biel as Vera Miles is a pretty important role, but a small one. That's okay, she got to do THE TALL MAN. And anyway she gets more to do than poor Toni Collette, who basically just plays a secretary.
Maybe people wanted to see a harsher portrayal of Hitchcock, because he has a reputation for being controlling and cruel, and because things didn't work out with his wife later, and also people like the dark shit. I don't know, I don't mind a more optimistic story, and it's not like they pretend he was just a lovable scamp. He's obviously not treating Alma the way she deserves, that's made clear.
I'd mostly heard terrible things about the movie, but researching this review I found a quote from Tom O'Neil on The Huffington Post calling it "a serious contender for Best Picture, lead actor, lead actress, adapted screenplay, makeup, music score and maybe art direction." Luckily Mr. O'Neil (who runs an awards-predicting sight) made better predictions closer to the actual awards.
I guess I'm being easy on it because I had very low expectations and was just watching it on video. It kinda felt like a made-for-cable movie, even though I know the made-for-cable one is the one where Toby Jones plays him and it's during the making of THE BIRDS. I think it's called HITCHCOCK IS FOR THE BIRDS. Anyway, I'm not gonna claim HITCHCOCK is a very good movie, but I found it a fairly enjoyable time watching actors play dress up as other actors.
I'm sure this joke has been made already, but it's okay because I'm not joking: I want to see VAN SANT now, aka GUS VAN SANT AND THE REMAKING OF PSYCHO. I'm gonna suggest Ron Livingston as Van Sant, Jennifer Lawrence as Anne Heche and Johnny Knoxville as Vince Vaughn. And I guess it would have to be Jaden Smith as Joseph Stefano. Get to it, Hollywood.