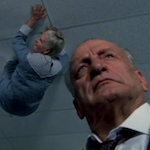 My experience with THE EXORCIST III is different from the other ones. This one I actually saw in the theater as a teenager. In those days you would just go see the latest chapter in a horror series even if you hadn't seen the earlier ones. I'm pretty sure I hadn't seen part II at the time, and I'm not even sure I'd seen the first one. I definitely wasn't familiar with it enough to realize that the protagonist, Lieutenant Kinderman (George C. Scott, Cartoon All-Stars to the Rescue) was a character from the first one (the homicide detective played by Lee J. Cobb).
I think I saw it a second time on video at some point, but that would've been years ago, maybe decades. What I remembered: a creepy part with somebody crawling on a ceiling in the background. Brad Dourif ranting in a cell. Pretty scary. I liked it at the time, but I seem to remember people thinking it was bad. I feel like now it has an overall reputation for being underrated at the very least.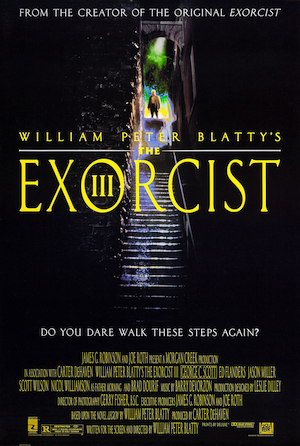 It's written and directed by William Peter Blatty, author of the bestselling novel and Oscar-winning screenplay for THE EXORCIST, based on his own sequel book, Legion. His only previous directing was THE NINTH CONFIGURATION, which was loosely connected to THE EXORCIST through an astronaut character. Some of the cast, the mental hospital setting, and the overall quirkiness of that movie make return visits here, though not the astronaut.
What I didn't remember at all, that took me off guard in this viewing, is that THE EXORCIST III is really funny! At least for a while. Kinderman is in the midst of a particularly gruesome serial killer investigation, but he's a wry, witty guy who constantly jokes around with his friends and family. He was nearby in 1973 when Father Damien Karras (Jason Miller, TOY SOLDIERS, LIGHT OF DAY), who he'd sort of befriended during an investigation, fell out a window and down that famous Georgetown stairway (making a triumphant return here, after having to be re-created in part II). He's best friends with Father Dyer (William O'Malley in the original, now Ed Flanders [SALEM's LOT]), which is actually following up on the last scene of the extended cut of THE EXORCIST (and, I assume, the book), when Kinderman invites Dyer to go to the movies with him. Here they go to see IT'S A WONDERFUL LIFE together on what they say is the 15th anniversary of Karras' death (I count 17th).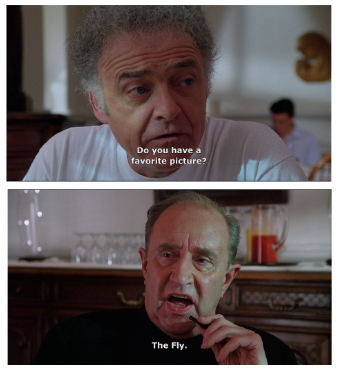 This incarnation of Dyer doesn't remind me of the original one, but I love him – he's a really funny dude, and not the only stereotype-busting priest in the movie. In an earlier scene he asks a fellow priest if he has "a favorite picture" and the guy immediately deadpans "THE FLY." Whether he means the Cronenberg one or not, and whether he's serious or not, I respect it.
After the movie, Kinderman says, "Now I suppose you have all sorts of rosary biz and the like," but Dyer says no, he's "loose as a goose." Kinderman doesn't want to go home, and tells a story about his visiting mother-in-law driving him crazy by keeping a live carp in his bath tub to keep it fresh before cooking it later in the week. This is never confirmed to really be going on at the house, but if he's making a joke it's a very long, very detailed, very dry one. It's so good.
At work his sense of humor is kinda like Foghorn Leghorn, exaggerating how annoyed he is with everybody, cracking jokes only for the amusement of himself, and when the others don't follow what he's talking about he says, "I was signaling beings on Mars. Maybe they're listening." But Father Dyer laughs and plays along with his jokes, even when he says, "Would a God who is good create something like death? Plainly speaking, it's a lousy idea. It's not popular, Father. It's not a winner." And Dyer can hit right back at him. They have such a good friendship, based in their chemistry as much as their shared trauma.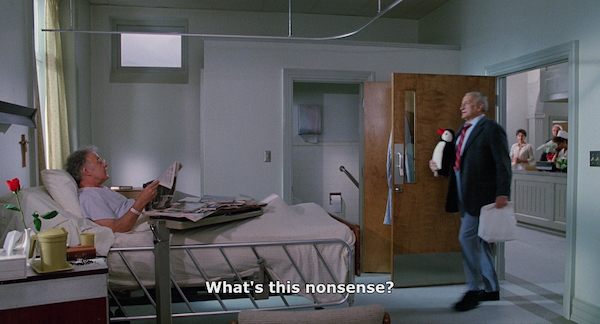 When Dyer later ends up in the hospital Kinderman shows up with a stuffed puffin he claims to have found on the street, and you see him in the hallway getting into character for a second before he storms in saying "What's this nonsense?" He hangs out making wiseass comments while Dyer smokes a cigarette and reads Women's Wear Daily. What I'm saying is, I expected none of this stuff in an EXORCIST sequel. I love it.
Most of this witty banter dissolves away after (SPOILER) Kinderman loses his friend, gets deeper into the investigation, and starts to believe that a dead serial killer has returned from the dead inside the body of another dead friend. But the laughs before all that give so much personality to these cops and priests, who could so easily be generic, and it really drew me into the characters and the story.
More murders happen, with Christian-themed mutilations, and following never-before-revealed details about the m.o. of the infamous Gemini Killer, who also died 15 years ago. (On the same day as Karras?) Fingerprints at the scene indicate they're done by different killers, and the things they're doing seem impossible. For example, within one hour between nurse visits Father Dyer has all of his blood removed and placed into a series of tiny vials without any spillage.
The investigation leads Kinderman to a mental hospital where he discovers one Patient X, an amnesiac John Doe found wandering 15 years ago (hmmmm…), who just happens to look exactly like the late Father Karras (and is played, sometimes, by Jason Miller). But as soon as Kinderman walks into his cell to talk to him he looks like the Gemini Killer (Brad Dourif two years after CHILD'S PLAY).
In multiple scenes of long conversation they sit in this padded cell and Kinderman mostly listens as the patient raves and taunts, claims not to be Karras, but does claim to be the Gemini Killer, and knows about both his original murders and these new ones. Eventually he starts claiming supernatural help, and his voice becomes distorted and what not. In maybe the movie's least successful horror bit, he does some animal roars. He also sings in a woman's voice – that part works for me.
One thing I really like about this movie is that it starts out with very lively scenes shot on location in Washington, DC, giving it a very cinematic feel and a sense of place – for example, showing rowers practicing or carrying their boats in the background in many scenes (before oars are used as a crucifix in one of the murders). Then it switches over to these intimate scenes that are more like a play, with just two characters having long conversations in the isolation cell, talking about things we never see. But because of the earlier scenes it always feels to me like that larger world is still out there, they're just tucked away in here, almost hiding from it.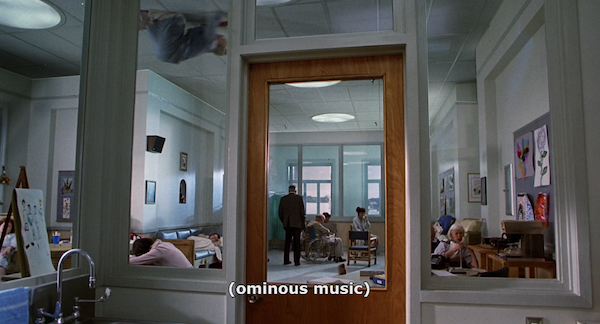 The crawling-on-the-ceiling scene I vaguely recalled was not what I expected. I didn't remember that it was sped up and, to me at this age, pretty comical looking. This is also true of a berserk scene I didn't remember at all where a possessed patient disguised as a nurse (Viveca Lindfors, SILENT MADNESS) shows up at the Kinderman household with a previously-established mortician tool trying to snip off the head of Kinderman's daughter Julie (Zohra Lampert, LET'S SCARE JESSICA TO DEATH).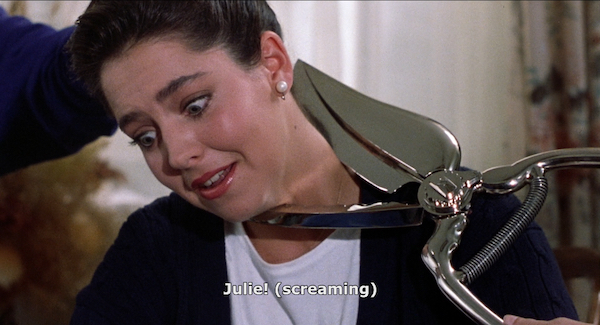 I know this movie is often discussed for having one of the best jump scares ever, but I always thought that referred to the ceiling crawl, when it's actually a different part. It works because it follows a very long static shot of a hospital hallway, with the night staff doing very mundane things. Even if you're waiting for it it's hard to sense when it will come or from which direction.
But more than any of the traditional scare moments what I enjoyed this time through was the weirdness of the scene where the head doctor at the mental hospital (Scott Wilson, JUDGE DREDD) is explaining the circumstances of finding Patient X. The camera is panning across an odd assortment of certificates and photos and things on his office walls – some medical, some occult, some boobs – so we don't at first see that he's not talking to Kinderman, he's alone, reading from a paper, practicing a speech. Then Kinderman walks in, says, "You had something to tell me?" The doctor quickly hides the paper, but sneaks glances at it in his drawer while reciting the story to Kinderman. It's such a great "what in the fuck?" moment, because he just seemed like a stock exposition character, but suddenly we know he's up to something weird that won't be explained until later. Also, the conversation has a long, strange pause while we and Kinderman watch him light one cigarette with another and thoroughly stamp out the first one in his very full ash tray. The Lieutenant definitely notices that this guy is a fuckin weirdo, though he surely couldn't guess the extent of it.
Here's another weird part. Kinderman has a dream where a train station is full of dying patients and angels. He walks past Fabio with angel wings. NBA legend Patrick Ewing is the Angel of Death. Post-DO-THE-RIGHT-THING Samuel L. Jackson is also glimpsed in the dream as a blind man. There are dark undercurrents to the dream and it's a portend of Father Dyer's death, but I think the goofy tone kinda helps get your guard down for later nastiness.
(trivia: I read that the dream sequence was filmed in a former cement factory that was also where they built Dinohattan for SUPER MARIO BROS.: THE MOVIE.)
One part I can't figure out is when it shows this weird Joker-looking statue. It's not one of those quasi-subliminal shots, you just see it there. I saw someone online saying it represents a satanic priest, but what does that mean? Isn't this supposed to be a church? Do they have statues of satanic priests in churches? Also, do satanic priests really enjoy themselves that much? Wow.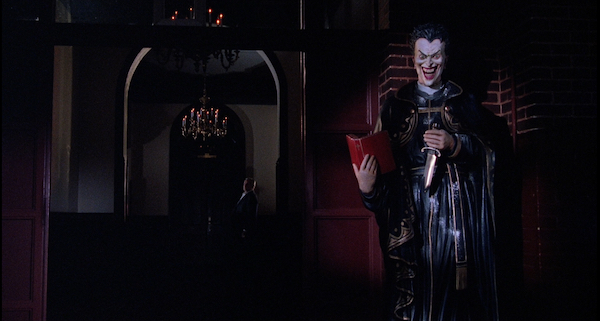 I had wanted to watch the director's cut that's on the Scream Factory blu-ray, but when I realized it's reconstructed using VHS dailies I decided against it. Afterwards I did go back through and watch the new parts to see how it worked, and that's hardly a way to judge it. But with that caveat, I gotta say, I think the theatrical cut is more for me. The director's cut features a few deleted conversations I liked, including a mention (during lunch after IT'S A WONDERFUL LIFE) that Kinderman likes ERASERHEAD. But most of the new footage is different takes of Dourif doing mostly the same dialogue, and there is no exorcism sequence in that version at all. That was added during $4 million of reshoots after the studio saw the terrible test screenings scores, which explains why the new exorcist character, Father Morning (Nicol Williamson, SPAWN), has almost no set up. He just shows up at the climax and gets to work on all sorts of rosary biz and the like.
You can see why Morgan Creek might've had second thoughts about an EXORCIST III that has no exorcist, no exorcism, and the incident with the fake nurse failing to chop the daughter's head off at the dinner table as its horror payoff. After that scene Kinderman just goes and shoots the Gemini Killer, the end, everybody please go home. If you expected to see a bunch of cool magic stuff happen and a priest get stuck to the ceiling and then pull himself off and his skin peels off well, you're barking up the wrong tree, pal, because this is not that kind of–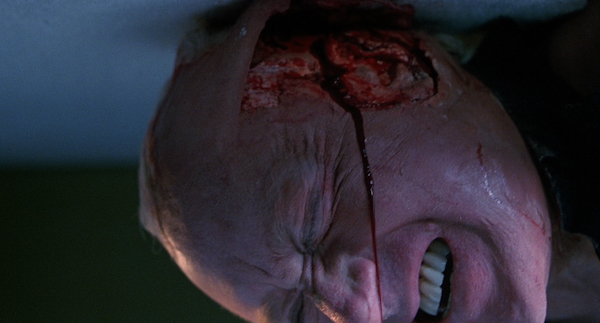 —oh, whoops. They did make us do that in reshoots. (And it's fuckin amazing.)
The other major change of the reshoots was bringing back Jason Miller. They originally didn't have him! In the theatrical cut we see him as the patient briefly and then he turns into Dourif and then back to Miller during the exorcism. It's weird, but it's a good weird. In the director's cut the weirdness is that Kinderman decides this guy is Karras even though Karras died 15 years ago and this guy looks and speaks as the Gemini Killer the whole time. If someone is more familiar with this cut or the book maybe they could explain to me how that works.
I dug up my Fangoria from the time of release, and producer Carter DeHaven does discuss that "Originally, our ending was similar to the book, but Morgan Creek and Fox wanted a big ending, so that's what they got." Makeup FX genius Greg Cannom is quoted saying, "I would have liked to have seen more makeup effects like in the first one, but they didn't want to make that kind of film. This film doesn't have a lot of effects like the original, except for the changing head at the end."
Here's how he describes the head: "It's a motion-control head that changes between 30 different faces. The head makes the same movement every time, and we change the face part of it, so all the faces appear with lap dissolves as it goes through the motion. It's similar to the effect in the recent Michael Jackson project, where Michael turned into the robot. Hopefully, it'll be very smooth, and it'll also look very strange."
Well, apparently Blatty didn't think it looked very smooth, because he ended up not using it. A little snippet of it can be glimpsed near the end of the trailer and I think it looks cool, but maybe it was too EVIL DEAD for them.
I think even in its possibly-Hollywooded-up theatrical version THE EXORCIST III is an audacious sequel, and not just because it's following up on a movie everybody's so precious about, while ditching the original template even more than the previous, universally hated sequel did. I'm more impressed that a major horror movie of 1990 is about a guy in his sixties who hangs out with witty film buff priests. George C. Scott was obviously a big name, but in those days, to be the lead of a horror movie? He hadn't been in a theatrical release in six years, and that was as the bad guy in FIRESTARTER. It's so novel to see him star in this, and he's so perfect for it.
We've got a few more things to look at, but right here at the point where THE EXORCIST is a trilogy I think it's a special one. It sort of follows the ALIEN model of getting strong voices for each and letting them do something very different each time. We've got the original, the crazy sequel, and then the different type of crazy sequel from the writer of the original. I like how the first sequel follows Regan and Merrin, this one follows Kinderman and Dyer, and makes them so great (thanks to the comedy team of Scott & Flanders) that suddenly I'm paying way more attention to those characters in the first film. Each followup has a different idea of who and what is worth following up on, and how to do it. So far, at least, they don't care much for repeating how it was done before, and to me this makes it thrilling, even when it's not working. But also when it is, which for me is most of the time.