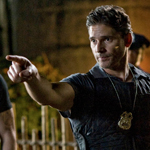 DELIVER US FROM EVIL takes place in a horror movie Bronx. It's all gloomy cinematography of wet streets at night, filthy, decrepit apartments, an ancient Latin invocation carved into walls or flesh. A malevolent demon monster or whatever is spookifying the place, so wherever our hero goes the power cuts out or the light bulbs burn out or they flicker like a strobelight (sometimes for an entire knife fight scene).
Also I think the filmatists are trying to play off of our primal fear of animals, so the Iraq War prologue features tarantulas, a snake and a bat. Another early scene involves a zoo with the animals loose (and lights out, of course) and the heroes get chased by a bunch of lions. Later a major piece of evidence is a security camera tape of a dude talking to a lion. And you got your usual cat scares like in all movies and also a crucified kitten and if you saw the trailer you'll remember the scene of the hero's daughter in bed at night getting spooked by her weird hooting owl doll. Sadly that James-Wan-esque scene climaxes with a jack-in-the-box with blood on its face. The ol' evil clown standby. Boo.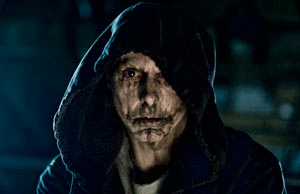 Patrolling this world we have macho NYPD Sergeant Ralph Sarchie (Eric Bana). He was raised Catholic, sure, but doesn't believe in all that mumbo jumbo, etc. He's renowned by his colleagues for catching a child killer with the first draft name "Marvin the Molester" and punching his face to death. He works too much his wife is pregnant she never sees him when he is home it's like he's not even there she never knows if she's gonna get that call in the middle of the night he missed his daughter's birthday she cried herself to sleep, all that. But somehow every case he gets connects to this weird supernatural thing with a mysterious guy who walks around acting scary with his Darth Maul hoodie up at all times even though he's never in the numerous scenes where it's pouring rain.
Sarchie also has a wiseass partner with seven deadly sins themed tattoos who carries two big knives that he uses to fight suspects instead of guns which in my opinion is not regulation. He's played by Joel McHale from Community and the local Seattle sketch show that Bill Nye the Science Guy started on, Almost Live!. I know from an interview with director/co-writer Scott Derrickson that McHale has been his best friend for years and supposedly this character is more like the real him than anything he's ever played. Apparently he really is obsessed with knives and maybe even wears a backwards baseball hat and sleeveless shirts all the time. Still, I had a hard time accepting the funny asshole guy from TV as this David Ayer type character, even when he tried to do an accent.