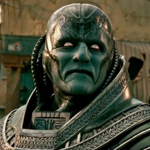 I remember when the first X-MEN movie came out I went to it expecting something stupid but enjoyable, along the lines of MORTAL KOMBAT. Instead it was a fun super hero movie with a star-making performance by Hugh Jackman and a really appealing premise: super-powered mutants are a minority, feared and endangered by the government, and split between two factions led by old friends/bitter rivals (both played by older Shakespearean actors) who have philosophical disagreements about how to deal with that.
The sequels continued to mine this material in interesting ways. Part 2 had me talking about the USA PATRIOT Act in the review. Part 3, though widely hated, has the most interesting gimmick: a "cure" for mutants, so that each of them have to face whether they would be happier just fitting in and being "normal." The prebootquels FIRST CLASS and DAYS OF FUTURE PAST delved deeper into the relationship and argument between Professor Xavier and Honorary Doctorate Magneto, and continued with what I really liked about the original trilogy, which was that the "bad guys" were always at least kind of right.
Now finally with part 6 we have that movie I originally thought I was going to see in 2000, where you just get to enjoy the people in crazy costumes punching and shooting beams at each other if you can get past how forehead-slappingly stupid the story is.