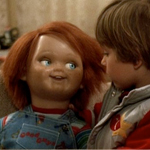 We all know Chucky, the vulgar, red-haired, Jack-Nicholson-sounding killer doll. He's almost as famous as Freddy or Jason, characters that you don't have to watch horror movies to be aware of. But when I first saw CHILD'S PLAY in 1988 I honestly didn't know it was gonna be a killer doll movie. The poster/newspaper ad only showed Chucky's evil eyes hovering in the sky over little Andy's babysitter plummeting from the window of their Chicago apartment. A TV ad showed a quick glimpse of him attacking, but I remember thinking of what I was looking at as some kind of crazy witch lady. Maybe a killer dwarf?
An exciting moment in my recent trip to Vegas was seeing a portrait of Chucky and his bride Tiffany posted in the tiny lobby of an Elvis chapel along with Rob and Sheri Moon Zombie, Jon Bon Jovi and somebody he married, Richard Belzer just by himself. There were plenty of horror movies in 1988, but I doubt they'd hang pictures of the killers from BLACK ROSES or HIDE AND GO SHRIEK or even MANIAC COP in there (although that would've been a thrill too). Chucky has lasted.
Like anyone I enjoy the pop culture phenomenon of Chucky, most of his sequels and the absurd places this series has gone, but CHILD'S PLAY is something different. It puts a serial killer into the doll in the opening, then puts the doll in the arms of a child and makes us dread what will happen – what is happening when we're not looking – until near the end. We look accusingly at the doll sitting there limply. We know you're in there, you asshole. Why won't you show yourself? For most of the movie his conniving happens in whispers we can't hear, in low-to-the-floor POV shots, his little hands reaching out, or in quick glimpses, a little thing running by in our peripheral vision. When we finally do get a good look at him in his living-doll form it feels like we caught a bigfoot, or walked in on that dude in the bear costume in THE SHINING. Something we're not supposed to be seeing. (read the rest of this shit…)
VERN has a new action-horror novel out called WORM ON A HOOK! He has been reviewing movies since 1999 and is the author of the film criticism books Seagalogy: A Study of the Ass-Kicking Films of Steven Seagal and Yippee Ki-Yay Moviegoer!: Writings on Bruce Willis, Badass Cinema and Other Important Topics as well as the crime novel Niketown.