They say THE GIRL WITH THE DRAGON TATTOO is an international phenomenon. The whole world has Dragon Tattoo Fever and Steig Larssonmania. This is a Swedish mystery thriller, the first in an already completed trilogy adapted from the hugely popular books written by this guy Larsson and published after he died. Some people die and their family is horrified to find their porno stash, this guy dies and they find 3 (three) smash hit mystery novels. It's ridiculous. Like anything that's popular around the world (cursed videotapes, drifting, Lambada, quiet preteen Swedish vampire dramas) the Americans want in on that action, so they're already working on an American version. I'd be annoyed, except it's David Fincher directing, so let him do what he wants.
Anyway, this review here is of the original movie version that no matter what will be preferred by Swedes and by Americans who want to rebel against The Man by rejecting his popular entertainment in favor of foreign product.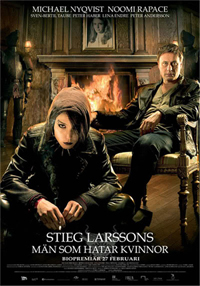 Mikael Blomkvist is a magazine publisher and investigative reporter who gets set up and sued for libel. He decides not to appeal and steps down from the magazine he founded, innocent, but defeated and disgraced. But in the few months before he has to report to lockup he gets a gig working for an old rich guy on a secluded island. This guy's teenage niece disappeared 40 years ago, and nobody ever figured out what happened. There's lots of weird details, like he thinks someone in his family did it, he thinks the killer sends him a framed flower every year on his birthday, there's a piece of film where the girl can be seen sitting in a window, her diary has some unexplained numbers jotted down in it, and Mikael remembers being babysat by her one time when he was real young. The police and family members try to discourage him from even trying, but he needs something to distract him so he takes the job.
What Mikael doesn't know at first is that he's under surveillance by a security firm. A pouty, pierced young woman named Lisbeth Salander reads everything on his computer and even figures out leads to follow before he does. The movie is very deliberately paced, so it's an hour in before he finds out about her and convinces her to be his Robin, his Ponch or his Tennille.
Lisbeth is the titular girl with said ink. Don't worry, it's on her upper back, it's not one of those lower back tattoos they all got now. More Yakuza than bachelorette party. I got no clue why the tattoo is significant enough to be the title – they only show it once and it doesn't seem important to me. Actually, the original title translates to Men Who Hate Women, which makes alot more sense. By far the most memorable part of this movie is its characterization of Lisbeth as this girl who's been abused by men her whole life and developed a cut throat survivor instinct, which you see early on when a bunch of dudes try to attack her in the subway station. She shows them who's bad.
Man, I gotta tell you, this is not the DA VINCI CODE. There is some brutal and seriously fucked up shit in this movie. Lisbeth goes through a mini-I SPIT ON YOUR GRAVE arc in the first section. I'm not gonna give away the details, but jesus, man. Ouch. A sleazy motherfucker in authority tries to press his advantage, and you gotta endure a few real harsh scenes. But this isn't PRECIOUS or nothin, she's not gonna be a victim for most of the movie. She not only outsmarts this prick, she goes so much further than expected in exacting her revenge on him that you gotta 1. take your hat off to her and 2. get the shivers. It's a real good character moment because it shows you that she's alot more messed up than you first realized, but it also makes you think okay, this girl can handle herself. Whatever some sicko throws at her, she's gonna have a strong rebuttal. After that I was ready to follow her anywhere, and she happened to be going to this island to solve the 40 year old cold case, so that's where I followed her.
(By the way, Swedes, I've seen a few of your movies: THE VIRGIN SPRING, THRILLER: A CRUEL PICTURE, LET THE RIGHT ONE IN… I was wondering, you guys got anything without rapists and pedophiles in it? You don't have a reputation for being sickos but I'm starting to worry.)
Lisbeth's not just tough, she's seriously talented, even has a photographic memory. She uses a computer enough to be what Hollywood calls a "hacker," but she's really a researcher, she goes through books and physical files and shit too. She makes a real good partner to this guy, although sometimes she wakes him up in the middle of the night to fuck him and then refuses to cuddle. And he just sits there and asks, "Are you sure this is a good idea?" Doesn't put up any resistance or nothin, just plays innocent.
The actress who plays Lisbeth, Noomi Rapace, is real good, and I was surprised to find out she's a normal pretty actress, because she doesn't come across as a poser. She seems genuinely scary and angry at the world and looks comfortable wearing a spiked dog collar. In fact, it should maybe be called THE GIRL WITH THE SPIKED DOG COLLAR, that actually seems like a more notable feature than the tattoo.
The mystery itself is very complex and involved, even reminded me of ZODIAC a little so you can see where Fincher comes in. One part that's kinda weird, there are three members of the Vanger family that were Nazis, and when he goes to one of their houses the fuckin guy has Nazi certificates and shit displayed openly in his house! Is that really something you can do in Sweden? People just figure, "Ah, he's old, let him hang up his Nazi stuff"? So you can go to jail for insulting an industrialist in a magazine but it's socially acceptable to be proud of your Nazi past. I hope that part wasn't realistic.
Anyway, it's a well made thriller, a good yarn, but it's the characters that make it special. I like the weird relationship between these two, and their successful mystery solving team. I like that that poor girl is a little messed up in the head and that her old man doesn't agree with some of the things she does but understands why she does them and tries to be supportive. It's kinda sweet, kinda badass, kinda creepy.
In my opinion Lisbeth Salander is a better female detective character than even Jessica Fletcher. She's unpredictable, and she rides a motorcycle. That's why these books are so popular.