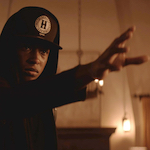 SLEIGHT is a 2016 film from director J.D. Dillard, who later did that fun woman-trapped-on-an-island-with-a-monster movie SWEETHEART. It's produced by Blumhouse Tilt and the prestigious WWE Studios, who I still contend should only make movies starring wrestlers, but I forgive them in this case. The Undertaker would've been weird in this part.
Instead, Jacob Latimore (DETROIT) plays Bo, a young man living in L.A. He's some kind of budding engineering genius and he got a great scholarship, but he had to ditch out on it because his parents died and he was the only one left to take care of his kid sister Tina (Storm Reid, THE INVISIBLE MAN). He has a cool neighbor, Georgi (Sasheer Zamata, formerly of Saturday Night Live), who looks after Tina for him sometimes, but otherwise he's on his own.
Like SWEETHEART, it trusts us to have the patience to watch what he does for a while instead of giving us all the information up front. We see that he works as a street magician – a really good one. He does David Blaine style card tricks that blow the minds of the various young people he approaches on Hollywood streets. And he has a few weirder tricks where he seems to make objects move – like, causing someone's ring to float and spin above his hand, moving his other hand around it to show that there are no strings involved. He does that one for Holly (Seychelle Gabriel, THE LAST AIRBENDER, BLOOD FEST) who is clearly into him, and maybe would be giving him the same look if the trick wasn't so astounding. He gets her number and starts having awkward dates with her. (read the rest of this shit…)
VERN has been reviewing movies since 1999 and is the author of the books SEAGALOGY: A STUDY OF THE ASS-KICKING FILMS OF STEVEN SEAGAL, YIPPEE KI-YAY MOVIEGOER!: WRITINGS ON BRUCE WILLIS, BADASS CINEMA AND OTHER IMPORTANT TOPICS and NIKETOWN: A NOVEL. His horror-action novel WORM ON A HOOK will arrive later this year.