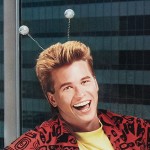 Some day I gotta come up with a name for this certain style of movie I like, a movie that is really fuckin dumb, but in a good way. It manages to be so spectacular, almost innovative in its level of stupidity that it is what the young people now and in the '80s called "awesome." I'm not talking a dumb comedy like HOW HIGH, I'm talking about a movie that as far as anyone knows is supposed to be serious. One really good example is DEEP BLUE SEA, Renny Harlin's movie about super intelligent sharks. That takes the genre to its highest levels because there are so many things that play with the audience's expectations that it is undeniably clever, almost brilliant. And at the same time, so fuckin dumb. A movie where a girl has to take her scuba suit off and stand on top of it so as not to get electrocuted. Because of the super intelligent sharks. That's the best, when it's so smart and so dumb that you can't even tell which is which anymore.
Well this is not that good but it is another dumb movie by the same director. I think maybe the pressure of doing a sequel to DIE HARD was too much for Renny Harlin to take, it damaged his brain and he's been mushy ever since. MINDHUNTERS isn't as good as DEEP BLUE SEA but it's worthwhile if you're into that type of stupid shit, like I am. It has Val Kilmer, Christian Slater and of course DEEP BLUE SEA's LL Cool J in the cast but it sat on the shelf for a couple years. It actually came out on DVD in Russia a long time before it came out in american theaters. So maybe the Russians could tell me what to call this genre.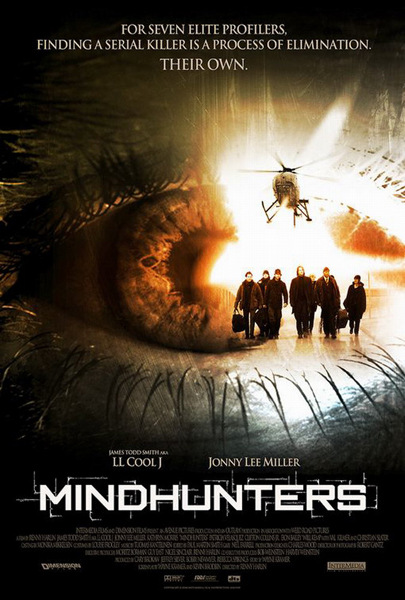 Here's the premise: a group of hotshot students trying to become FBI profilers must face their final test – they are sent to a remote island to track a fictional serial killer. But then somebody starts killing them for real one by one in elaborate show offy ways.
Even the very premise of this movie makes no god damn sense. How could anybody learn anything about profiling from a hypothetical killer? All that means is the teacher (Val Kilmer, ISLAND OF DR. MOREAU) made up a story and the students guessed it right. Maybe it would have some value if he could base it on a real killer, but then if these were really the top students they would probaly know about all the famous cases, wouldn't they?
Then even if there was some value to it, how exactly would they have done this exercise on the island if they hadn't been rudely interupted by a real killer? The island has a fake town of empty buildings filled with mannequins covered in worms and maggots. What are they supposed to do, interview the mannequins to see if they saw any suspicious mannequins in the area? Narrow it down to a few suspects and then interview their neighbor and relative mannequins? Maybe they could do an autopsy of the dead mannequin they find hanging up on hooks. This guy thinks he's Jack the Ripper. The victim's internal organs have all been removed, she's completely hollowed out. Either that or because it's a mannequin it already was hollow. I'm not sure.
Of course the teacher, Val Kilmer, is an eccentric genius or something. Alot of the old guard there don't believe in his methods. Alot of them think he's crazy. The reason we know this is because of the part at the beginning where he says, "Alot of the old guard here don't believe in my methods. Alot of them think I'm crazy." I'm guessing somebody read the script and pointed out that the method of testing made no god damn sense so they went back and added that line. Just like the part where they point out that "foreign nationals" aren't allowed in the FBI, so Val Kilmer has to half explain that the british guy is "American on the inside." It would be too hard to rewrite it so he's an american, so they just threw that line in there and started filming. No time for rewrites, the Russian video market awaits!
You already know you're in for some serious stupid bullshit in the opening scene when the two leads, some lady and Christian Slater, are doing an investigation and they stumble across the home of a serial killer. Movies like to fetishize serial killers and give them these stupid gimmicks and forced atmosphere that makes it all real hard to swallow. This particular killer lays it on extra thick. Inside the house you got:
maybe a dozen rotted, dead animals hanging from the ceiling on strings attracting flies
a ballerina music box playing a lullaby
a birthday cake with a slice cut out and lit candles!
Number three was the winner for me, I was ready to love the movie at this point. I think maybe it was some kind of reference to the slasher movie HAPPY BIRTHDAY TO ME, but more likely just some random shit that makes no sense. What definitely makes no sense is that all this was not even real, it was an exercise set up by Val Kilmer. No wonder the old guard don't like him if he's going around hanging dead cats on strings and shit. I mean what exactly possessed him to whip up a birthday cake for this one? What convinced him that was the crowning touch needed for his students? As soon as their car pulled up did he run and light the candles and if so, did he then run away giggling?
Probaly the biggest laugh in the movie comes early on, when Christian Slater becomes the first guy to bite it. He is the victim of a trail of dominos that sets off a contraption like the one Pee Wee Herman used to make his breakfast. I recently saw FINAL DESTINATION 2, so this is the second movie I've seen in a row where it seems like the heroes are being haunted by the ghost of Rube Goldberg. Anyway, Christian Slater gets sprayed by some kind of liquid nitrogen and in about 5 seconds his legs turn to solid ice and break off. He falls apart and shatters on the ground. I rewound it twice.
The movie could definitely be improved by more ridiculous shit like that, but there's a good amount to go around. LL kicks holes in the walls and climbs around to avoid a water/electricity booby trap. Val Kilmer gets hung up by hooks HELLRAISER style, and then controlled like a marionette. At the end there's a gunfight underwater. At one point it seems like they ran out of good deaths so they just have a bunch of spears fly out of who knows where and impale a guy.
LL gets both the best bad line and the best good line, and I'm gonna tell you both of them.
"Eenie, meenie, miney, moe. Who's the next motherfucker to go?"
"I guess we found out his weakness. Bullets."
It's a good thing nobody gives a shit about the ending to MINDHUNTERS, because I'm about to give some of it away. LL gives more support to my theory that rappers cannot be killed in horror movies or thrillers (the one exception being Redman in SEED OF CHUCKY). In DEEP BLUE SEA, LL seemed destined to be the first guy to go, and yet he ended up escaping the sharks about five times more than any white person in the movie, and making it to the end. In HALLOWEEN H20 he was shot and appeared to be dead but showed up alive to save the day at the end. In HALLOWEEN RESURRECTION, LL's fellow rapper-actor Busta Rhymes is stabbed and appears to be dead but shows up alive to save the day in the end. And in MINDHUNTERS, LL is hit on the head with a fire extinguisher and appears to be dead but shows up alive to save the day at the end. Don't call it a comeback. The new ground that's broken here is there's a climactic scene where the audience is supposed to think LL is the killer. I feel that it is cheating though because the way they convince the audience is by having LL chase after the main woman and say menacing things to her, acting evil. When he turns out not to be evil, he never explains why he was being such a weirdo earlier, and nobody asks.
This is not a prime example of the enjoyable stupid bullshit genre, it's only a decent one. But we could have another one on the level of DEEP BLUE SEA coming our way before we know it. Renny Harlin is currently planning a movie about werewolves on the moon.