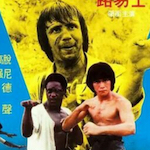 After seeing the 1977 Bruce Li movie SOUL BROTHERS OF KUNG FU and wondering about his young African-American co-star Carl Scott, I decided to watch this 1979 followup which comes up under both A HARD WAY TO DIE  and SUN DRAGON on Prime. I guess if I had to pick, the latter comes closer to having something to do with the movie.
This is another Hong Kong production from the same director as SOUL BROTHERS OF KUNG FU, Hua Shan (THE SUPER INFRA-MAN), but the interesting thing is that it was filmed in Phoenix, Arizona. You don't see that every day. Unfortunately, it's a period piece, so they stay away from urban areas and just shoot in, like, a strip of ugly grass, or a gravel pit. The Hong Kong setting of the other one was far more interesting to look at. (read the rest of this shit…)
VERN has been reviewing movies since 1999 and is the author of the books SEAGALOGY: A STUDY OF THE ASS-KICKING FILMS OF STEVEN SEAGAL, YIPPEE KI-YAY MOVIEGOER!: WRITINGS ON BRUCE WILLIS, BADASS CINEMA AND OTHER IMPORTANT TOPICS and NIKETOWN: A NOVEL. His horror-action novel WORM ON A HOOK will arrive later this year.