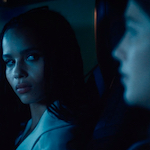 Before going into Corona lockdown I rented a bunch of Blu-Rays and DVDs, and I already have my own stacks laying around, many of them movies I have not reviewed yet. I hope to get to many of those, but during These Uncertain TimesTM I'm making an extra effort to mix in reviews of things that are easily accessible from home, and I'll try to vary which streaming services they come from.
GEMINI is one I found on Hulu. It's from 2017, and I know it's been on DVD for a while because I remember looking at the box at the video store and considering it. The reason I bit the bullet this time is Hulu's own fault: I've been watching Zoë Kravitz on their series High Fidelity (based on the Nick Hornby novel and John Cusack movie). I remember liking her in X-MEN: FIRST CLASS, I guess I had seen her in THE BRAVE ONE, ASSASSINATION OF A HIGH SCHOOL PRESIDENT and AFTER EARTH, I forgot she was Mary Jane in INTO THE SPIDER-VERSE, and of course I adore her as Toast the Knowing in MAD MAX FURY ROAD. But High Fidelity is one of those holy shit arrivals of an actor you suddenly realize you had wildly underestimated or under-appreciated. She is great.To me the show is a seductive fantasy about being young and cool and living in New York City, and yes you have fucked up relationship problems of your own doing and probly shouldn't be drinking as much whisky as you are, but also you have a fun time with cool friends seeing bands and going to bars and spending your days hanging out in a record store, which you own, and don't seem too worried about.
(TWO IMPORTANT NOTES:
1. I guess I'm kinda slow so I think I was on episode 3 when I said "Oh shit, her mom was in the movie!"
2. One of the aforementioned friends – the Jack Black character, I guess – is played by Da'Vine Joy Randolph, and she's even more delightful than she was as Lady Reed in DOLEMITE IS MY NAME.)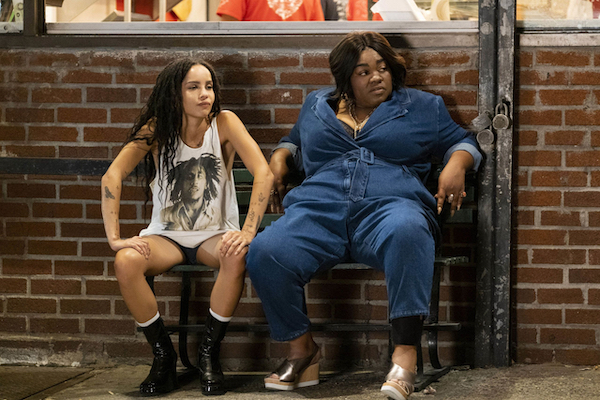 Kravitz plays the protagonist, Rob, and I think it's an interesting gender swap, at least from the movie version that I'm familiar with. She and her friends still talk about music minutiae, top five lists and mix tape philosophy, but it comes off a little different. If someone dismisses her opinion it has a different meaning. That she's confident in asserting her opinion has a different meaning. And the character's failures and selfishness in relationships automatically become more interesting to me, because there's still a little novelty to women playing characters that are charming and relatable but flawed and complicated. And Kravitz is so good at juggling that charisma, humor and pathos. She's a master at showing pain on her face and then covering it with a smile or a joke before the other characters notice.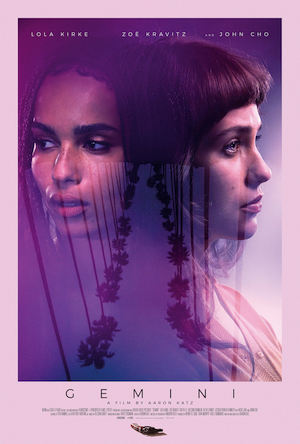 In GEMINI her character Heather is pretty similar to Rob if she was a famous movie star who lives in a big mansion. It starts as the story of this celebrity's close relationship with her hard-working personal assistant Jill (Lola Kirke, GONE GIRL). I had no idea what genre I had stepped into, and was down for this to just be a drama about poor Jill working hard at her job and having to be in the middle of it when her boss/friend is going through some shit and decides to drop out of a movie, to the fury of the director (Nelson Franklin, PUPPET MASTER: THE LITTLEST REICH) and her agent (Michelle Forbes, ESCAPE FROM L.A., Homicide: Life On the Street).
I really appreciate the way it drops us into their lives without the usual awkward world-building used to establish fictional celebrities. They refer to everyone in their lives by their first names, as you do, letting us eventually piece together that Greg is the director, Jamie is the agent, Devin is an ex-boyfriend, etc. We hear Heather's last name a few times, but there's not a single instance of that usual bullshit where somebody says "Are you kidding me? You're Heather Anderson! Star of EXTREME CONDITIONS 2!" or whatever. There's not even the fake entertainment show explaining her career to us. It's beautiful. It works so much better.
And therefore it really captures that mythical allure of L.A. – the night life, the cars, the elite hipster spots, the winding roads, the homes of the extremely rich, up on the hills, with a view of the skyline, looking like a castle in the distance. There's a character named Tracy (Greta Lee, TOP FIVE, Russian Doll). We get that she's a love interest because Heather kisses her, we get that she's someone successful because we see her expensive looking sports car, before we see her amazing home, which is when we get that she's some kind of artist because of a poster she has on her wall. But they don't really have to talk about that stuff.
And Jill is this person who has been accepted into that world because she's clearly good at her job, but she's a little separate from them. She has cool bangs but on a normal work day she wears a grey sweatshirt and '90s style jeans like she doesn't give a fuck. She drives a small, normal person car and lives in a small, normal person apartment. When Heather makes her bring her there and compliments the comfiness of her couch, she has to remind her yeah, you bought it for me.
I think that dynamic is very authentic. Heather is very appreciative and often recognizes how much Jill does for her – not just driving her around, keeping track of things she forgot about and losing sleep to follow her whims, but also taking the brunt of her erratic decisions, showing up at meetings in her place to give the bad news and things like that. And also they're genuine friends, they have fun together, they mean it when they say "I love you." But there's always that unavoidable fact that Jill is the employee and Heather is the employer. When Heather talks Jill into sleeping over to "protect her" because she's scared at night, I think Jill does it because she cares about her, but somewhere in her mind there's gotta be a little "Well, I better do it because she's paying me." There's a sense that she's exhausted from putting up with all of Heather's quirks and that there's a blurry line between how much of that is friendship and how much is her job.
The biggest sign that this is not just about relationships: Heather pressures Jill to loan her a gun. She doesn't feel safe. There's definitely something foreboding about Heather's fears, the L.A.-at-night atmosphere, and the extremely effective score by Keegan DeWitt (LISTEN UP PHILIP, MORRIS FROM AMERICA), which alternates between very modern electro-beats and a sort of eerie jazz feel. Sure enough, GEMINI turns abruptly into a neo-noir, so I'll have to tell you the to-me-unexpected left turn that sets that in motion (SPOILER THAT IS GIVEN AWAY IN BRIEF PLOT SUMMARIES): Jill comes back to Heather's mansion and finds her dead.
That was upsetting! I told you I was watching this for Kravitz, and also I became very attached to her character and this relationship. It's very tragic. But the movie doesn't dwell in darkness, exactly. Though I appreciated the truthful feel of the earlier part, I like that it shifts to the heightened reality of a detective novel. A homicide detective (John Cho, "Parking Valet," THE FLINTSTONES IN VIVA ROCK VEGAS, FAST & FURIOUS presents BETTER LUCK TOMORROW) clearly suspects Jill, since the gun belonged to her. Instead of handling this reasonably, she puts on a disguise, evades police, and considers, questions or spies on the various suspects: pain-in-the-ass paparazzi Stan (James Ransome, THE AMERICAN ASTRONAUT, KEN PARK, INSIDE MAN, PROM NIGHT, RED HOOK SUMMER), the fan who approached them at a diner (Jessica Parker Kennedy, "Beautiful Girl," CAM, DECOYS 2: ALIEN SEDUCTION), asshole ex-boyfriend Devin (Reeve Carney, THE TEMPEST, Riff Raff in the TV version of Rocky Horror). She uses her industry knowledge to make phone calls, impersonate people and glean valuable information to find the people she's looking for. She follows people, breaks into places, searches for clues, hides, listens in. Shit, no wonder she was a good assistant, she's very crafty!
There's a type of storytelling moment I love where RELATIVELY INSIGNIFICANT SPOILER she drives away from a place on a motorcycle and I thought god damn, they set up both that there was going to be a motorcycle here and that she knew how to drive it, and it wasn't necessarily needed to establish either of those things, but it felt totally natural at the time, and then I completely forgot about it, so now that I see it fit together I am delighted!
Kirke and her character are so good that they easily earn the right to take over what I expected to be Kravitz's movie. I felt like sometimes she wasn't acting upset enough about the tragic loss of her friend, but on the other hand it seems to fit the unfazable quality of this character, always ready to roll her sleeves up and deal with whatever random shit gets thrown at her and not complain.
It has the effective suspense sequences and surprising twists you need in a good mystery, plus a strong mood and confident visual style you don't always get. I was a little thrown off by an epilogue that felt to me like it was going toward some big revelation that did not materialize, but maybe I just didn't get that part. It still worked for me.
I wasn't familiar with writer/director/editor Aaron Katz, but I do know how to read, so I can now tell you he's from Portland, went to that same North Carolina college that gave us David Gordon Green, Jody Hill, Danny McBride, Jeff Nichols and Craig Zobel, and has been directing indie movies for about 15 years. His first narrative feature was the ultra low budget DANCE PARTY, USA in 2006. (Unfortunately it doesn't seem to be about the terrible American Bandstand type show I watched ironically on the USA Network in the late '80s and early '90s.) His second one, QUIET CITY, had Joe Swanberg in it and caused him to be named co-founder of "mumblecore." Some of his movies sound interesting though, and this one really impressed me. I should keep an eye out.
P.S. I've been saving the last episode of High Fidelity, so if there's anything to spoil for me, please don't do it!