KNIGHT AND DAY is that action/comedy/romance deal that came out this summer, one of two or three that were about a guy who's secretly a government agent taking a girl on an unexpected adventure involving guns and crashing vehicles. Of those, this is the one where it's Tom Cruise and Cameron Diaz. It's called KNIGHT AND DAY because Cruise's character takes a little toy of a knight from the airport gift shop to hide something in, and also because it turns out his last name is Knight, and the 'Day' comes from Cameron Diaz because she's playing a young Sandra Day O'Connor. Well, okay, I made up that last part, or at least if it's true it isn't made very clear in the movie. Actually there's no reason for the 'Day,' I don't think they got that far when they were proofreading the title.
I know nobody had very high hopes for this one, but I kind of figured it would be okay just because it's James Mangold, director of WALK THE LINE. Not a visionary by any stretch of the imagination, and not to brag but I am a visionary so my imagination stretches really far. But he's usually a decent director and not known for this type of thing, so it seemed potentially interesting I thought. Incorrectly.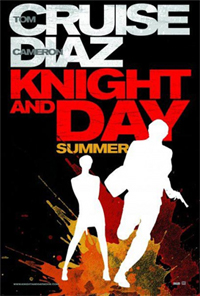 The action is actually not bad, '90s studio style, no post-action bullshit. In fact there are a couple parts I really dug: Cruise doing a spectacular motorcycle freeway overpass jump and mid-air dismount landing on the hood of Diaz's car, but shown entirely from her perspective. Also the continuous shot of a group of goons walking together and the guy in front doesn't notice the guys behind him being lassoed and yanked away one-by-one.
Also there's a gimmick where she gets drugged and then she kind of fades in and out with foggy visions of various huge action scenes that he's carrying her through, until she finally comes to on an uncharted island. I thought that was a pretty clever idea the first of the three times they did it.
The problem is the movie lost me early on with these characters. Cruise I think is just supposed to be playing his MISSION:IMPOSSIBLE guy, but in a comedy. I guess what makes it a comedy is that he's used to being drawn into high speed chases, shootouts, deceits and triple crosses, getting framed, set up and back-stabbed in a fight over a powerful alternative energy device, but Diaz is just supposed to be a regular girl trying to get to her sister's wedding. So she's supposed to sit in for us when she gets mixed up in all this and doesn't know if this guy is joking, crazy, lying or for real. She doesn't know how to shoot an uzi, screams when stuff explodes, etc. Ha ha. She's like us.
Except we're not idiots, in my opinion. She's just so dumb from the beginning, and it doesn't seem to me like it's ROMY AND MICHELE type funny-dumb, just badly written type annoying-dumb. There's too many parts early on where people don't act like humans in order for the story to happen. Like, let's say you are a human woman, and you're flirting with this stranger on a plane, and you go to the bathroom and when you come back you don't notice that there's been a huge brawl and the guy has killed everybody else on the plane. Okay, fine, we're human, we make mistakes. Then the guy starts explaining what happened, and says that he shot the pilot. You assume he's joking – fine. But as a human, and especially as a human on an airplane in post 9-11 America, don't you feel a little bit nervous about standing in the middle of a plane laughing while a man you just met loudly "jokes" about shooting the pilot? Yes, you do, because you are a human.
Cameron Diaz in this movie is not a human, so she laughs like it's a funny joke and thinks nothing of it.
Another example is when her still-in-love-with-her ex (Marc Blucas) comes to her apartment because he thinks she might have been on the plane that just crashed. He's worried enough that he comes to the home of his ex–girlfriend to check on her, but not worried enough that he stays past 2 or 3 knocks or is visibly relieved in any way when it turns out that she is not dead.
These are dumb little things but too many of these dumb little things kept me from identifying with these characters and situations, killing the comedy and making the movie tedious. Cruise is fine, but he's playing a superhuman character, he can do anything and never seems to be in danger. He's kind of somewhat mildly funny in the way he keeps assuring her that everything is fine, especially when he's hanging upside down and swinging like a pendulum. But it would be much better if she was more convincing as an everywoman.
So the filmatists are utterly failing to ground this Day character, meanwhile they're busy trying to make her awesome. In THERE'S SOMETHING ABOUT MARY I think it was a joke that Diaz was so much a man's fantasy of the ideal woman that she loves nothing more than sitting around watching sports on TV. But I don't think it's a joke here that she's an expert on restoring vintage sports cars. Then they have to explain this and why she can throw a punch so they have her claim "My dad wanted a boy." It's like the old "I learned to shoot guns by playing video games" joke with a light sprinkling of sexism.
I'm probly being a little hard on this movie. I've seen worse, and I made it through in one sitting. But it's just such a waste of time for everybody involved in making and watching it. There's only one writer credited (Patrick O'Neill, some guy who was in a several John Cusack movies) but it turns out this was one of those things that got started down one road and took too many lefts and ended up getting so lost that it forgot which road it was on, where it was headed and how to put on its pants.
Check out this explanation from IMDb trivia:
Patrick O'Neill originally wrote a serious action thriller, starring Gene Hackman and 'Justin Long' (I), with the title "All New Enemies." When that fell through, Joe Roth's Revolution Studios retooled it as "Trouble Man," a romantic action comedy starring Chris Tucker and Eva Mendes. After that fell apart, the script was revised and given a new title, "Wichita." That script caught the attention of Adam Sandler, who later passed. Gerard Butler considered it, but passed to do The Bounty Hunter (2010) instead. Cameron Diaz became attached after reading a rewrite by Scott Frank. Diaz told her friend and Vanilla Sky (2001) co-star Tom Cruise that he should co-star with her. Cruise took the role. After 7 other writers doctored up the script (Dana Fox, Laeta Kalogridis, Ted Griffin, Nicholas Griffin, Timothy Dowling, Simon Kinberg, and director James Mangold), and Fox co-chairman Tom Rothman gave it a new title early in production, the project finally became the action comedy "Knight and Day."
So you watch it wondering why exactly they thought this was a movie worth making, and I'm not sure any of those people listed above would be able to remember. It's like an animal that started out as a dog and got groomed so much it turned into a bird at the end. Of course it's not gonna know how to fly.
Why bother to put so much time and money into developing something that just gets developed and developed and developed until there are no edges on it at all? There's nothing left, it's just okay, mediocre, set on medium heat, sitting in the middle of the road, not knowing why it's called "Knight and Day," but I guess call the co-chairman and see if he can remember.
This entry was posted on Tuesday, November 30th, 2010 at 4:15 am and is filed under
Action
,
Comedy/Laffs
,
Reviews
. You can follow any responses to this entry through the
RSS 2.0
feed. You can skip to the end and leave a response. Pinging is currently not allowed.