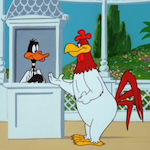 August 5, 1983
When I do these summer movie retrospectives there's usually an animated feature or two. I like that because if they're a classic it's a good excuse to write about them, and if they're not it's a good excuse to watch them. That can be painful, but I find the airballs pretty interesting, because so much loving craft still had to go into them in those days. I enjoyed reviewing ROCK-A-DOODLE, ROVER DANGERFIELD, FERNGULLY: THE LAST RAIN FOREST, TITAN A.E., and FREDDIE AS F.R.O.7, for example.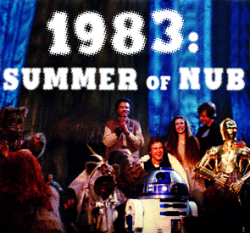 Most of those were from a weird time when Disney had become so successful it encouraged other studios to take a swing at the animated feature game, with mixed results. But the early '80s were that other weird time, the one when Disney had been so far out of the game that it left room for other people to try something different. For example the weird-ass Canadian sci-fi talking animal musical ROCK & RULE came out in April of '83, and the George Lucas produced cut out animation movie TWICE UPON A TIME came out on August 1st. But I've already written about those, so today I'm here to discuss some of their competition. DAFFY DUCK'S MOVIE: FANTASTIC ISLAND was directed by animation legends Friz Freleng and Phil Monroe, which may sound promising, but this is what they call a "compilation film," or in TV terms, a "clip show." The new animation is just a framing device for edited down versions of ten classic Looney Tunes shorts.
It would be cool if it was a parody of Rene Laloux's FANTASTIC PLANET, but no, the title refers to Fantasy Island, the popular Aaron Spelling (MR. MOM)-produced TV show that aired from 1977 to 1984. After Daffy Duck's boat is attacked by a shark he's stranded on a remote island with Speedy Gonzales (I like that Daffy's beak has stubble on it), and they find a treasure map that leads them to a magical wishing well. The way the magic works is the person (or talking animal I guess) who possesses the map can control the well, so Daffy wishes the island into a lush resort and various other Looney Tunes characters fly in as guests to take turns paying him to make wishes, which come in the form of the pre-existing shorts. Are they supposed to be seeing these things in the well, actually experiencing them, or what? I don't know. Just go with it.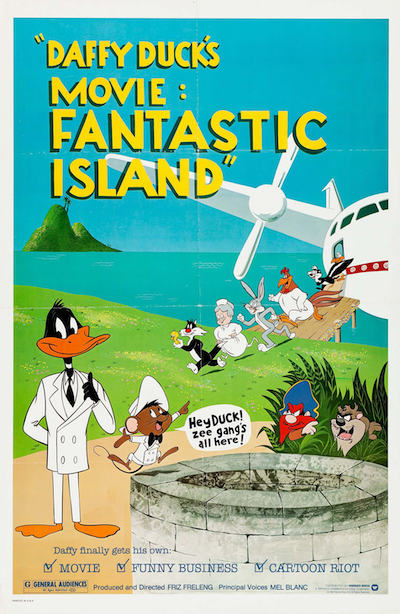 A more important question: Why would Daffy and Speedy, two characters not previously associated with each other, be on this island together? The answer is so Daffy can wear a white suit and then Speedy can say "Boss! De plane! De plane!" You see, because he's short and has a thick accent, like Herve Villechaize on Fantasy Island. These pop culture references practically write themselves.
(The other big '80s reference is when Speedy suggests wishing for E.T. to get home. I choose to believe this means that E.T. is a real being who exists in this world who all the Looney Tunes know, not that Speedy is confused about the difference between movies and reality.)
Another weird pairing is Yosemite Sam and the Tasmanian Devil, who are on a pirate ship together before they come to the island. I guess this foreshadows the later Looney Tunes movies like SPACE JAM and LOONEY TUNES BACK IN ACTION, where they're treated like the Muppets, they all know each other and maybe live together or something.
The interstitial scenes are mostly the Looney Tunes lining up at the well, paying Daffy some money, making their wish to a rhyming voice inside the well (Les Tremayne, THE WAR OF THE WORLDS), then it dissolves to the shorts. Daffy wishes to be a hero, so we get part of the super hero parody Stupor Duck. Porky's pathetic wish is to be a producer who discovers new talent, and then it shows part of Curtain Razor, which has Porky sitting at a desk auditioning various wacky acts. Almost a Saturday Night Live type of joke format.
I don't remember ever seeing one of these compilation movies in a theater, but I suspect even at that age I would've sensed something off and felt ripped off. It's a practice that went back decades, to when animated shorts were a regular feature of moviegoing, but within my lifetime it feels kinda scammy. What can we do that technically counts as a feature film, but doesn't take as much time or money? I suppose it's in the same spirit as Roger Corman reusing the score and effects from BATTLE BEYOND THE STARS for SPACE RAIDERS.
Of course, it's also more tolerable than your average rip-off for the simple fact that these are some great animated shorts they're cynically recycling. And it's kinda funny because they were all 20-30 years old at the time, with references from different eras. One of the ones that made me laugh the most was the Foghorn Leghorn short Banty Raids, I guess Foghorn's last starring role of the classic era. It's about a cool beatnik rooster sneaking into the henhouse disguised as a baby to make out with the hens. He woos them with a little rockabilly song and a record player but goes back to baby mode whenever Foghorn shows up. And there are weird jokes like his guitar gets broken so he shoots it to put it out of its misery.
At the end Foghorn has been put through a machine that dresses him up as a woman, and the youngster is about to marry him but he protests that he's a rooster. "Don't let it bug ya, ma'am," the beatnik says. "Like, we can't all be perfect!" I thought that was very sexually liberated until I realized it was just a SOME LIKE IT HOT reference.
I don't think Foghorn was one of my favorites as a kid, but now he is. He really clicked for me once I realized he reminded me of an old man friend I had named Bill (R.I.P.). Just that particular way of talking to people in a playfully condescending way and making jokes only for himself. He does more of that in another scene taken from Lovelorn Leghorn, where he tricks a lonely single hen into hitting on the dog. Bill once nonsensically advised me to bring my wife an avocado as a gift, and here Foghorn gets the hen to give the dog a melon. Great minds think alike.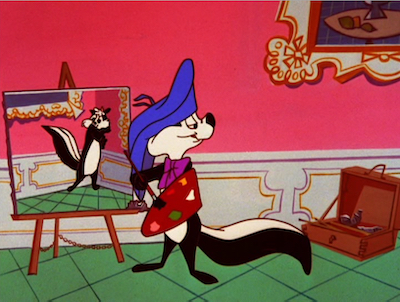 This might be controversial but my other favorite segment is the Pepe Le Pew one, from the short Louvre Come Back to Me!, which I've read was that character's last of the classic era as well. This one is cool for its visual style but I just find it very funny to watch Pepe walking around completely oblivious to the exaggerated reactions everyone is having to his stench. Of course it's also about his unwanted advances toward Penelope, a female cat who accidentally gets a white stripe painted down her back and is mistaken for a fellow skunk. I know at least in some circles Pepe Le Pew is considered offensive today, because how can sexual harassment be funny? And that's valid, but it's just a fact that personally, to me, these cartoons are very funny. There really are arrogant, clueless dudes like this and it's okay to use animal jokes and French stereotypes to laugh at them, in my opinion. Your sympathy is always with Penelope, obviously. The joke is that the guy is gross, not that this is something you want to happen to an innocent anthropomorphized cat.
This one also has some enjoyably corny art history jokes when Pepe's smell makes the clocks in Salvador Dali's The Persistence of Memory unmelt and then pop their springs, and the paint peels off of Edgar Degas's Two Dancers, revealing that it's a paint-by-numbers.

I also enjoyed Tree for Two, the one where the mean dog Spike and kiss ass Chester are chasing Sylvester and don't realize that they keep having run ins with a panther that escaped from the zoo. After a while I guess I take for granted the genius of the characterization and acting in these cartoons. Things as simple as the scene where Sylvester cowers and holds up one claw, then the panther claws Spike into slices, so Sylvester looks at his claw in confusion, then gets cocky believing he's a badass. As animation became simpler and more script-oriented we got less emphasis on that comedy that was all about the drawings and the performances. But that's the good shit.
My actual favorite Looney Tunes were always the Wile E. Coyote and Road Runner shorts. Sadly those characters are not in this one, either because they don't (usually) talk, or because Freleng only directed them in one short when they crossed over with his guys, Speedy and Sylvester (The Wild Chase, 1965).
A useless FANTASTIC ISLAND tidbit I learned from Wikipedia is that there are characters named Hysterical Hyram, Hoppy and Minniesoda Fats who appeared on a 1981 puzzle featuring 105 Looney Tunes character, and their only known appearance outside of the puzzle is being quickly glimpsed waiting in line for the wishing well in this movie. I didn't notice them. But if you want to show off, start making a huge deal about Minniesoda Fats being your favorite Looney Tunes character and act snooty about it when people ask who that is.
I don't think DAFFY DUCK'S MOVIE FANTASTIC ISLAND did big business. It does not appear in the top 23 The Numbers lists for its opening weekend (though SNOW WHITE AND THE SEVEN DWARFS made it to #14 in the fourth week of a re-release). Still, they did another compilation movie five years later called DAFFY DUCK'S QUACKBUSTERS. They should do one now called DAFFY DUCK'S QUACKATAR or YOSEMITE SAM'S SUCCOTASH PIZZA or something like that. Or not. Maybe it's best to leave this sort of movie in the past.
Summer of '83 connections: Daffy parodies Superman, a character who appears in the movie SUPERMAN III. There's a pirate ship like in YELLOWBEARD. There's a shark like in JAWS 3-D. There's quicksand like in KRULL.
This entry was posted on Tuesday, August 1st, 2023 at 7:19 am and is filed under
Reviews
,
Cartoons and Shit
. You can follow any responses to this entry through the
RSS 2.0
feed. You can skip to the end and leave a response. Pinging is currently not allowed.