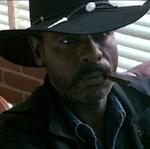 "I don't think so."
In the early '90s, FRIDAY-THE-13TH-part-I-only director Sean S. Cunningham found himself stuck again. More than a decade after intentionally not sticking around to make FRIDAY sequels (instead directing movies including THE NEW KIDS and DEEPSTAR SIX and producing HOUSE I-IV) the director-turned-honcho was moving the chess pieces around to set up his dream of a FRIDAY THE 13TH / A NIGHTMARE ON ELM STREET crossover. But New Line wasn't ready to play yet, so in the mean time he was gonna have to keep Jason in shape.
A couple of problems: the audience seemed kind of sick of Jason. And Cunningham (who had only really worked with Jason's mom) had never really liked him anyway. So he hired 23-year-old recent film school graduate Adam Marcus, who did like Jason, but was excited to do a drastically different chapter – easily the least FRIDAY THE 13THy of any FRIDAY THE 13TH movie. Marcus has often claimed that Cunningham asked him to get rid of the hockey mask (an allegation Cunningham denies). Whatever the truth of it, the movie manages to have mask-wearing Jason in the opening and closing, but for most of the movie he body hops between ordinary non-scary-looking people wearing ties and stuff. Instead of working like the other FRIDAY THE 13THs, it's sort of a re-enactment of THE HIDDEN with considerably less momentum, tension, style, production value, atmosphere, characterization, story, entertainment value or creature FX. But 100% more some parts with Jason.
It does boast probly the cleverest opening of the series (reportedly written by HOUSE IV director/DEEPSTAR SIX writer/TITANIC actor Lewis Abernathy, uncredited). A woman (Julie Michaels, a.k.a. Denise from ROAD HOUSE and "Freight Train" from POINT BREAK!) arrives at a remote Crystal Lake cabin at night, where various familiar creepiness happens: the lights go out and she has to fix them, she drops something in front of the bathroom mirror and when she stands back up you expect to see a reflection behind her, she takes a shower and the lights go out again and she hears a sound that spooks her, she investigates wearing only a towel.
Then of course she's attacked by Jason (Kane Hodder, BEST OF THE BEST II) and flees into the woods. It seems a little goofy how well she runs and jumps over obstacles, especially with bare feet. Then a bank of floodlights come on and she leaps into a gratuitous somersault and a SWAT team rappels in to fill Jason full of lead. They detonate a bomb that blows his whole body into chunks with the intact head flying up in the air and landing on the ground next to his still pumping heart.
It's a genuinely funny and surprising scene that's either marred or given an exclamation point (depending on your point of view) by the addition of a mysterious man in a cowboy hat (Steven Williams, BETTER OFF DEAD, STAKE LAND II, BIRDS OF PREY) watching from the woods saying to himself, "I don't think so."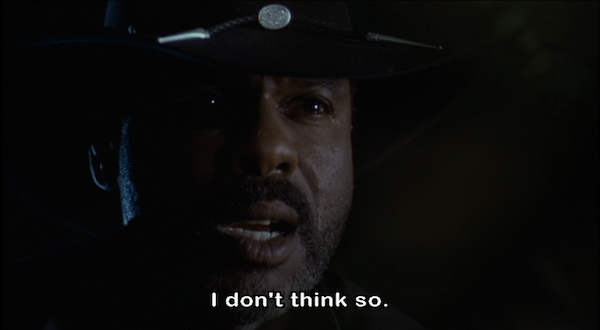 (This leads to the title, which is not worthy of the earlier FRIDAY THE 13THs but at least not as shameful as JASON TAKES MANHATTAN, since there is fire in the letters and it's underlined by a slash of blood.)
Some of the many questions we have about the guy in the woods are answered a little later when he's interviewed at his "private training compound" on "a very special episode of American Case File." Who the fuck is this guy? Creighton Duke, a bounty hunter famous for capturing six serial killers. Not random ones, either – "the country's most reviled" ones. How did he know that blowing Jason into a million pieces would be useless? I have no fucking idea. And there's a whole lot of "no fucking idea" in whatever made it to the screen from the script written first by Jay Huguely (Magnum P.I.; singer of the novelty trucker song "White Knight") from Marcus's ideas, then completely rewritten by Dean Lorey (a friend of Marcus who had written Cunningham's recent production MY BOYFRIEND'S BACK) in four days, with an uncredited quickie polish by Leslie Bohem (THE HORROR SHOW, A NIGHTMARE ON ELM STREET 5: THE DREAM CHILD, NOWHERE TO RUN; also one time bass player for Sparks).
It's arguably admirable that Marcus wanted to mix things up and expand the mythology, but it has so little that is recognizable as Jason and so much that seems completely out of nowhere, but presented as if we're supposed to have known all along, that it really plays like a totally unrelated script with a few names haphazardly switched out with "Jason" and "Voorhees" at the last minute. (Or "Vorhees," as it's spelled on the family mailbox for some reason.)
Yes, there is a Vorhees mailbox because there's a Voorhees house. It's functionally the same as the Myers house in the HALLOWEEN series, but they act like this is a thing we know about. Oh yes, of course, the house that is still intact and unclaimed 13 years after its owner's mass murder career ended in decapitation and while everyone in the area is terrorized by her son's "83 confirmed murders and speculated scores of others." And that Jason knows to go to even though he's been living in the woods as a feral ghost zombie or whatever since he lived there as a little boy.
And there's the Voorhees family. As we have all known but just never discussed previously, Jason has a half sister named Diana Kimble (Erin Gray, Silver Spoons) who has a daughter named Jessica (Kari Keegan, THE PRINCE OF PENNSYLVANIA) and baby granddaughter, and of course, obviously, it goes without saying that they are all in danger because if a little boy drowns but doesn't drown and lives in the woods and is killed and brought back to life by electricity several times and then gets blown up by cops, obviously his oversized black heart will then turn into a slug that crawls into orifices and takes over other bodies, transferring from person to person looking for "a Voorhees woman," since then of course he could be "reborn" back into his original rotting and horribly mutilated corpse body. And only Creighton Duke knows that in that situation "only a Voorhees" can kill Jason, and only with a particular magic dagger he knows is in the Voorhees house, but in retrospect that should've been as plain as day. It's as natural as that vampires can be staked in the heart, or that Freddy made a deal with dream demons and can only be killed while wearing 3D glasses.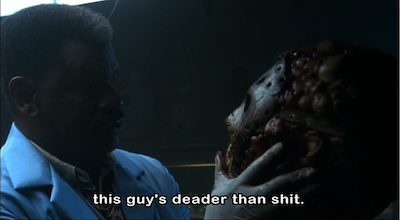 I failed to mention how the body jumping starts, which is admittedly a cool part. As in PART III and some other slasher series', we get to see our supposedly dead unkillable killer at the coroner's office late at night, as we wait for him to come back. We learn from the coroner (Richard Gant, KRUSH GROOVE, COLLISION COURSE, ROCKY V, STONE COLD, CB4, POSSE) that this "large male, Caucasian" has "well over 100 bullet wounds," and that his heart is twice the size of a normal one and filled with "black, viscous fluid" that is not blood.
And the heart starts beating. Which is weird. He stares at it for a bit. Then shrugs. Then starts chowing down on it. I mean, shit, why not, right? There are some unusual-for-this-series visual effects of evil glowing power or whatever transferring to the coroner, and then he becomes a gross zombie who goes around killing people sort of the way Jason would.
Meanwhile, Jason's half sister Diana works as a gingham-clad waitress at a diner, where Creighton Duke arrives to regular harass + sexually harass her, and gets arrested by the sheriff (Billy Green Bush, the warden from THE JERICHO MILE). The sheriff is named Ed Landis, which is weird because Max Landis was only 8 years old, how did they know to name a character after him?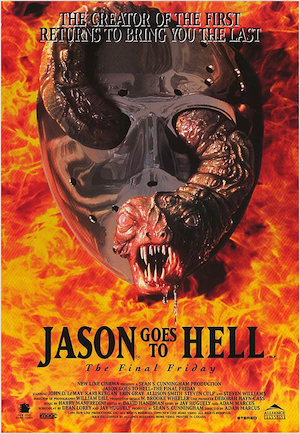 Though they set out to make a very different FRIDAY THE 13TH, they eventually realized that fans might be annoyed by a lack of FRIDAY-THE-13TH-esque content, so in reshoots they added a scene where Jason-in-the-coroner's-body kills some campers who are having sex near Camp Crystal Lake. And they tied it in by having the guy who it seems like is supposed to be the main character pick up the victims while they're hitchhiking. Steven Freeman (John D. LeMay, THE FREEWAY MANIAC, Friday the 13th: The Series) was Jessica's boyfriend, but she left him before having their baby. He's on his way to go talk to his ex's mom (she told him to meet her) when he picks up the hitchhikers, Alexis (Kathryn Atwood, S.F.W., CYBER-TRACKER 2), Deborah (Michelle Clunie, sketch artist in THE USUAL SUSPECTS) and Luke (Michael B. Silver, "Undercover Cop," VIRTUOSITY). The movie shows that it's in on the joke by having them discuss smoking dope, having specifically premarital sex and skinny-dipping at Camp Crystal Lake in celebration of Jason's reported death. For extra horniness, Alexis tries to convince Steven to come with them and even kisses him on the cheek.
I wish he had, because this guy is such a wet noodle. The actor was 30 but he wears a letterman's jacket for the whole movie so it's possible he's playing a teen? I have no idea. It's never clear why we should be following this guy who I can only assume Jessica dumped for good reason. We'd all be better off if he'd listened to his boner, tried to get laid and got impaled on a tree so the movie could follow someone else.
Anyway, this scene is all set up for arguably the most gruesome and over-the-top kills in the series when Coroner-Jason impales naked-mounting-Luke-Deborah as she's orgasming and then lifts the blade up, splitting her torso in two. It's not pleasant to look at but I admit there is a "holy shit, I can't believe they did that" thrill to such a horrible image being executed with such technical skill. (Unlike the last installment, all the graphic gore did make it into the movie via an unrated cut.)
As is tradition, this scene has an "I'll be right back" where the person actually does come right back as promised but then is killed after at least some good sex. There's also a joke that he steps on an unopened condom that they decided against using. The joke is that you should practice safe sex, I assume, but in this case obviously it didn't really matter so if they enjoyed it more it was the right decision.
From that classically FRIDAY THE 13TH sequence we go to an is-this-even-the-same-movie one where Coroner Jason kidnaps a philandering sheriff's deputy named Josh (Andrew Bloch, HARD TO KILL), straps him to a plank at the Voorhees house and shaves his beard (?) before transferring Jason's soul to him via a slug. (For how long has Jason actually been a slug controlling human bodies like a mech? Since not drowning? Since his first adult resurrection? Since the toxic waste?)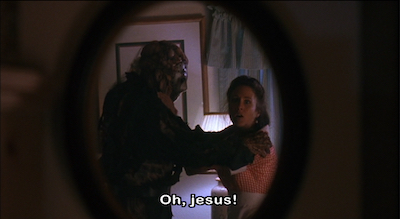 Jason-in-Josh goes to Diana's house and kills her (she sees that he's Jason in the reflection of a mirror and calls him "You motherfucker!") but not before deadbeat ex-son-in-law-or-whatever Steven arrives, so Diana is able to tell him to protect Jessica. (Apparently she also knows the magic rules.) Of course, now it looks like Steven murdered his ex's mom, so he's locked up in the cell next to sexual harasser Creighton Duke, who flirts with him by breaking some of his fingers and telling him the magic rules. (To Steven's credit, he never complains about or seems slowed down by the lack of working fingers for the rest of the movie.)
To reward us for sitting through all this, there's a cool FX sequence where Josh melts into a pile of goo after the slug transfers to Robert.
Meanwhile, Steven finally gets to his ex and "rescues" her, which basically is kidnapping her. They go to the diner where Marcus shows some action movie fandom with lots of shooting and posing and slo-mo. A waitress named Vicki (Allison Smith, TERROR TRACT) suddenly turns action hero, deftly handling a shot gun and flipping up a rebar to spear Jason with (but immediately gets her skull crushed).
By the way, Jessica's boyfriend Robert (Steven Culp, "Party Guest #1," DEAD AGAIN, SPARTAN) is the interviewer from American Case File. Small world. And Robert stole Diana's body and hid it in the Voorhees basement to "discover" during a live broadcast. (In those days it seemed satirical and timely to have a sleazy tabloid TV show person in a movie, the way they did with reality show producers for many years, and now true crime podcasters.) Unfortunately the Jason slug enters Diana's corpse, presumably through means we don't want to think about (and that Gray felt violated by when she saw it at the premiere), and is reborn into the Jason we all know and love, including clothes and mask and all of the damage not including that caused by the SWAT team. Because that's how it works.
At this point we should address the mysterious continuity following JASON TAKES MANHATTAN. I have read that they wanted to just ignore MANHATTAN, which is why they don't explain how he got unmelted from toxic waste (in a child's body?) or whatever. But what is the reason for his new look? His head is all swollen and lumpy like The Toxic Avenger, with growths actually forming around the straps on the mask, like it's becoming a part of him. Doesn't it seem like that's supposed to be the result of the toxic waste? I don't know. But I gotta give credit to KNB Effects Group. Jason looks good, the kills look great, and though not on the level of an ELM STREET movie the couple of creatures and the melty guy make it more varied and imaginative than other FRIDAYs.
As soon as Jason returns, Duke handcuffs him and says, "Son of a bitch, you remember me?" And what is the implication even supposed to be there? "Remember me? I'm one of the numerous people who have been absolutely no obstacle to you at any point, in my case during events that happened in between movies and that no one else felt were worthy of mentioning"? Jason bear hugs him to death while Jessica for some reason can't straighten out her elbow enough to grab the knife/dagger that is very visibly within her reach. (And then she knocks it down a hole.)
(In a part when she has the dagger the sheriff tells her to "put the knife down," which is sure different from the Seattle cops who like to kill mentally ill people and describe whatever they're holding as "a sword.")
The movie gets a little more fun now that Jason is back. He throws Steven onto a jungle gym and it tips over. I wish he would bend the jungle gym into a ball around him and roll him down a hill. When Jessica finally stabs Jason with the magic dagger, balls of light shoot out of him, looking and sounding kind of like a roman candle. I don't know if this supposed to be the souls of the people he killed, like in the Freddy movies. But there's a cool effect where Steven repeatedly punches him in the face and orange sparks of light pop out of the holes of his mask.
I've always gotten a kick out of this finale because when "Jason goes to Hell" all that means is that some big Muppety looking hands come out of the ground and pull him into the dirt. It's kind of adorable. There are photos where he's surrounded by monster puppets and apparently they did some stop motion too, but as far as I can tell that must be among the stuff that Marcus thought looked too cheesy and cut out.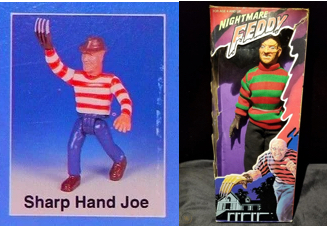 When that's all settled we come to the whole reason Cunningham wanted to do the movie. As Jessica and Steven walk off into the sunrise (poor choice on Jessica's part) some pretty music plays and the camera examines the dirt where Jason got sucked down. A dog comes over for some reason and digs and finds his mask just under the surface. Then, suddenly, Freddy's glove comes out of the ground and grabs the mask. Or it looks like Freddy's glove, but the cackle sounds like some other dude, so I believe it's actually one of the bootleg Freddys. From the design of the glove and sweater I believe we can rule out Sharp Hand Joe and confirm that this is Nightmare Feddy, setting up a FEDDY VS. JASON that we are unfortunately still waiting for.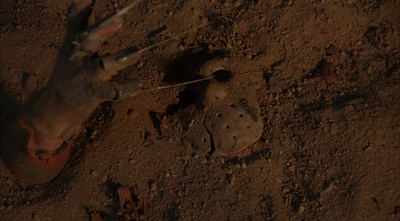 I've occasionally heard this epilogue discussed as one of those great moviegoing experiences, an unexpected twist or appearance that had the audience gasping, cheering, leaving the theater pumped. I remember that sort of reaction when Sean Connery showed up as the king at the end of ROBIN HOOD: PRINCE OF THIEVES, and when Commissioner Gordon produced the Joker card at the end of BATMAN BEGINS. But I did not experience it when I saw JASON GOES TO HELL at a suburban multiplex in 1993. If there was an audible response it wasn't enough to make an impression, and personally I thought it was about the dorkiest thing I'd ever seen.
I was way more of a Freddy guy, so maybe it seemed presumptuous for a Jason movie to feel it was on the same level. At the time I did not think that putting them in the same world was even remotely cool or appealing. And I thought it was laughable that they appeared to be fighting while buried under a few inches of dirt. For years when people discussed a potential crossover I honestly didn't think they were really trying to make one. I just assumed that professional makers of movies agreed with me that it was embarrassing to even contemplate.
(By the time they actually did make it, of course, I had grown into the type of person who could enjoy that type of horse shit. And it was just exciting to see Freddy almost a decade after the end of his series.)
The JASON GOES TO HELL chapter in Crystal Lake Memories is a fun one because it makes it sound like everyone was having a great time until suddenly things turn to chaos at the end. First, Marcus and Keegan got into such a fight about her injuring her neck in a stunt and him trying to get her to do the shower scene nude that she refused to work with him and Cunningham had to take over for the last two days of filming. Second, Cunningham claims what had been shot was so terrible that he only used about 45-50 minutes of it and reshot everything else. But for me the best detail is that Cunningham had a theory that actors do everything too slow so he made Marcus shoot the movie at 22 frames a second and lower the sound by an octave so their voices didn't sound weird. No joke!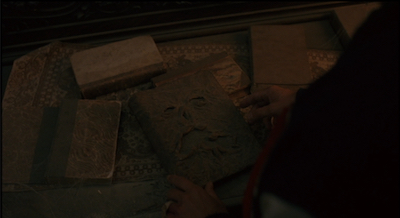 JASON GOES TO HELL was a real changing of the guard situation in the history of franchise horror. Not only was Cunningham reclaiming the reins, not only was he moving over to New Line, but having a 23 year old director meant having a director who was 10 years old when the original FRIDAY THE 13TH came out. He's only a year older than Corey Feldman! So for the first time we did not have a journeyman trying to make something the teens would like, but one of the kids who grew up on these movies trying to make a movie for people like himself. It was his idea to put that Freddy bullshit in there, and the crate from CREEPSHOW, and to borrow the actual Necronomicon from Sam Raimi, who was filming ARMY OF DARKNESS at the same time. Yes, the Necronomicon is in the Voorhees house, and not just as an easter egg – Steven stops and flips through it. As with the Nightmare Feddy cameo, I always took that as a corny in-joke, but in new interviews on the Scream Factory blu-ray Marcus says in apparent sincerity that Pamela Voorhees used the Necronomicon to resurrect Jason and he is a straight up Deadite. Which I would not think was cool as fan fiction and I think it's even less cool as the official thing that happened in this series. But such is life.
JASON GOES TO HELL did make a little more money than JASON TAKES MANHATTAN, but was still the second worst performer of the series. Probly didn't matter to New Line too much, though – they just needed Jason for that other thing. In my estimation the movie was poorly received by fans, though over the years it has definitely gained some appreciation for being such an outlier.
At the time I thought it was terrible, but I was more a teenager who goes to whatever horror movies come out than a dedicated fan of the series. In the years since I have become the latter, and have gone back and forth on how much I like this one, but not by that much. The opening is obviously great, the other little Jason parts are fun, and sometimes I admire the reckless abandon of taking a long-running series and turning it into something totally different that obviously nobody wanted. And, I mean, the guy eating the heart, that was cool. There is some good stuff. It lacks the filmatistic competence of the first 4 films, but you can see Marcus and cinematographer Bill Dill (THE FIVE HEARTBEATS, M.A.N.T.I.S., Murder Was the Case: The Movie) trying to Raimi it up a little with a few showy camera moves, a bullet P.O.V., some slo-mo. I appreciate the signs of youthful enthusiasm.
But most of the time when I watch it, including this time, it's just not very fun to sit through, and I get too mad about how uncool all the mythology is. It wouldn't matter that it's so ludicrously out of nowhere – that might even make it extra fun – if they had come up with something cool. But a relative has to use a magic knife? That's not even good enough for a placeholder.
After such an early start, Marcus didn't get to direct for another 6 years, and then it was a teen comedy called LET IT SNOW. He later did a 2008 Val Kilmer movie called CONSPIRACY before returning to the world of notable franchise horror in 2013, when he and his partner Debra Sullivan wrote the ridiculous/fun TEXAS CHAINSAW 3D. He also did a 2018 Christmas horror thing called SECRET SANTA. Huguely subsequently wrote Hal Needham's BANDIT: BANDIT'S SILVER ANGEL (1994) starring Brian Bloom, and two episodes of Silk Stalkings. But I think Lorey has had the most interesting arc of the three. His next movie was MAJOR PAYNE starring Damon Wayans, which led to him writing and directing for Wayans' show My Wife and Kids. He wrote episodes of Arrested Development and iZombie and is creator, executive producer and voice director of the really funny Harley Quinn animated series, soon to be in its third season. That's legitimately impressive!

WORM ON A HOOK NOTES:
I always loved JASON GOES TO HELL'S opening scene, and I can't deny that my premise of a final girl with a secret Seagalian background and revenge mission is similar to/related to/possibly inspired by this great idea of a seemingly typical Jason victim who turns out to be an undercover FBI agent. She's offering herself as bait, as is Florence, hence my title. In my version though she does the ass-kicking herself (not a SWAT team) and becomes the main character, whereas this one is barely a character at all. Still, when I finished writing the book I thought about the similarity and panic rewatched the scene in fear I had ripped it off too much. I don't think I did, but I must acknowledge a debt.
In retrospect the character of Hardwoood may fancy himself a Creighton Duke type. I definitely picture him dressing kind of like that. But my idea with him was to make fun of DELIVER US FROM EVIL's exorcist cop and establish that there's nothing supernatural about Stoneback, so he can't be stopped with spells and rituals.