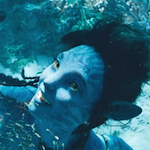 If we hadn't seen it coming for so many years, AVATAR: THE WAY OF WATER would be a cinematic miracle. There has definitely not been a blockbuster movie with this level of mindblowing spectacle, visual beauty and action chops since MAD MAX: FURY ROAD, and before that since the first AVATAR.
I've rewatched AVATAR several times since it came out, and it's always as good, usually better than the last time. Watching it again this week was no exception, and it really struck me that holy shit, these "game changer" visual effects from 2009 have influenced everybody, but not one movie has matched them. (Probly closest would be Peter Jackson's largely forgotten HOBBIT trilogy.) I don't want to get into an attack on modern blockbusters, many of which I enjoy, but it's a simple statement of fact that the similarly-greenscreen-and-performance-capture based visuals in the very expensive Marvel movies that are trailered before THE WAY OF WATER and coming out next year look crude and primitive next to what was achieved thirteen years ago in AVATAR. And now along comes the sequel that blows AVATAR out of the water (by putting it into the water).
The story begins in the format of the original, with narrator Jake Sully (Sam Worthington, CLASH OF THE TITANS) catching us up on his Pandoran activities since part 1, and then resetting for a new conflict. Remember he's no longer an avatar, his conscience has been combined with his Na'vi body. He's still the chief of the forest-dwelling Omaticaya, "mated" to the previous chief's daughter Neytiri (Zoe Saldaña, COLOMBIANA). It's peace time now, but things are crazy because they have two teenage biological sons, Neteyam (Jamie Flatters, THE SCHOOL FOR GOOD AND EVIL) and Lo'ak (Britain Dalton, "High School Kid," READY PLAYER ONE); an 8-year-old daughter named Tuk (Trinity Jo-Li Bliss; and an adopted teenage daughter named Kiri, who's played by Sigourney Weaver because she was mysteriously birthed by the dormant avatar of the late Dr. Grace Augustine (still being stored in a tank). Plus there's a human named Spider (Jack Champion, THE NIGHT SITTER) who was left behind when the Resources Development Administration base was abandoned, because babies can't be put in cryosleep, so he grew up running around the forest with the Na'vi, dressing like them and speaking their language. Jake considers him more of a "stray cat" than a son, and Neytiri is frankly racist toward him, but the kids accept him completely. (I think calling him "Monkey Boy" is affectionate.)
But one day the motherfucking "sky people" of the RDA return, now less interested in hearts and minds than last time, bulldozing and burning through miles and miles of forest immediately upon landing. A year later we learn all that and then we get to a contrivance that doesn't seem to me to make any sense but you just go with it because it makes for a good story: just before the climactic battle that he died in, part 1 villain Colonel Miles Quaritch (Stephen Lang, BAND OF THE HAND) and a handful of his grunts uploaded their memories to be implanted into Na'vi/human hybrid bodies like Jake's. They're not avatars, they're permanently in there, "recombitants," or "Recom" in military lingo. So they can breathe Pandoran air and enter the forest without setting off the planet's natural defenses. Also they're tall and have those strong bones. And the original Quaritch has instructed his clone to consider Jake Sully responsible for his death.
They consider Jake an insurgent leader. The first movie builds to an all-timer last act with the natural Na'vi battling human military tech – here we get to that fun right away with the warriors swooping in on their dragons to derail a train and steal its arms shipments. (I hope some future Sammy Fabelman watched that train crash and had his world rocked.)
The Sullys do use a little bit of human technology. They take a family photo, they keep some sort of small viewscreen, they still use the walkie talkie things on their throats, and Jake uses a machine gun with an ornate, carved handle as if it's equivalent to his wife's sacred heirloom bow. Also their scientist friends still have their Project Avatar lab nearby, and the kids get away with running around in there. But mostly it's a simple life in nature.
When Quaritch comes hunting he captures their children. Jake is able to rescue most of them, but Quaritch takes Spider – who, by the way, is the original Quaritch's son. Spider stands up to torture and doesn't give his friends up, but they know he can't hold out forever, so Jake gives up leadership and they flee to hide out with the sea-dwelling Metkayina clan in the east. Meanwhile, Quaritch uses his new Recom abilities and his son's knowledge of Na'vi culture to try to track them.
Just as the middle of AVATAR explores the flora and fauna of the Pandoran forest as Jake attempts to be accepted by the Na'vi (and – at first – convince them to move out of the way), WAY OF WATER shows us the lifestyles and animal friends of the sea people, and the family tries to be accepted by their hosts, led by chief Tonowari (Cliff Curtis, WHALE RIDER) and his wife Ronal (Kate Winslet, A KID IN KING ARTHUR'S COURT).
Youngest Sully son Lo'ak is kind of the main character, and I like Jake, but I find Lo'ak more relatable. He's frequently getting into trouble (joining a guerrilla battle, going to places he's not supposed to and running into Quaritch, starting a fight with the Metkayina chief's sons for picking on Kiri), but he's not really petulant towards his parents. He's a little afraid of his dad, calling him "sir" and apologizing for his mistakes, trying to defend his actions, but never getting anywhere with him. He kinda gets a shit sandwich, but he tries to keep going.
The chief's daughter Tsireya (Bailey Bass, PSYCHO SWEET 16) shows Lo'ak around, and how to hold his breath underwater, and clearly has a thing for him. But he's more occupied with trying to make peace with her mean brothers, who pretend to be his friend just to lure and abandon him in dangerous waters, where he's chased by a shark-like creature. The score by Simon Franglen (arranger of the late James Horner's AVATAR score, and producer of "My Heart Will Go On") pretty much turns into JAWS for a while as Lo'ak scurries through the reef, just barely protecting himself from the thing, like Hooper in the shark cage.
I was definitely ready for a "'There's always a bigger fish' —Qui Gon Jin" moment, but was not expecting that Lo'ak would become best friends with the bigger fish! A creature called a Tulkun – like a whale with a sandworm mouth – rams the shark, and Lo'ak nearly drowns but wakes up on the Tulkun's back. He speaks to him with sign language and removes a metal device from his fin – it's been in there so long it's rusty. Of course we know there's a truth to this, because it reminds us of those videos of divers removing hooks from sharks.
My favorite thing in this whole movie stuffed with incredible things is this friendship between Lo'ak and the Tulkun, who turns out to be named Payakan. It's taken to the next level when Lok'ak is back safe at home talking to the other young people and when he describes his new friend's injured fin they know his name – and his reputation! Turns out he's an outcast! But Lo'ak continues to hang out with him and speak up for him when people say bad things about him. And there's an amazing montage running around on Payakan's back and flipping up in the air when he jumps. At one point Payakan blows water through his blowhole and Lo'ak laughs, "Disgusting, bro!"
He calls him bro! And you bet your ass Payakan is gonna show up later when his bro needs him. It's beautiful.
Even very positive reviews of WAY OF WATER often throw in some sort of a "well of course the writing is terrible, it's very predictable" type caveat. I totally disagree, and I think they're conflating "very effectively uses some of the classical story elements that make this genre so timeless" with "bad," but we don't need to get into that. That would be, you know, predictable.
I do want to counter the idea that it's some kind of empty-headed spectacle, though, because that's just flat out incorrect. There's all kinds of stuff going on in this movie thematically, and that's what I'm most excited to write about. So here we go.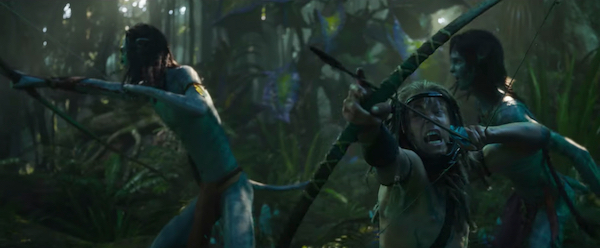 Evolving out of the whole idea of the "avatar," this is a story about people adopting cultures, and this time it delves further into the question of to what extent those cultures will adopt you back. Once an outsider and a "demon," Jake now seems to be accepted and legendary planet-wide as the "Toruk Makto" who flew that giant dragon, united the clans and saved Pandora from the sky people. (For quite a few years.) But when they live with the Metkayina his children are mocked as "demon blood" and "freaks" for having four fingers, in addition to lacking the wide tails and forearm fins of the sea people. (I don't think anybody mentions skin color, but it's a handy visual storytelling tool that the locals are more of a bluish green.)
Neytiri accepted the demon avatar of Jakesully into her world, and has found a soulmate in "Myjake" as she calls him, but she harbors animus for Spider, who she considers "alien." That especially shows itself in a cold-blooded (but effective) gambit she pulls in the climax. So this is not a thread that gets wrapped up in this chapter. There's still tension there.
Earthling scientists Dr. Norm Spellman (Joel David Moore, HATCHET) (sometimes in avatar form) and Dr. Max Patel (Dileep Rao, DRAG ME TO HELL) are welcome among the Omaticaya, but when Jake understandably calls them for help after Kiri suffers a seizure, Ronal seems very offended by their technology and/or presence, and they have to be shooed away. And honestly they kinda fuck up: their visit leads Quaritch to the location, and it seems like they misdiagnose Kiri anyway; they attribute her spiritual visions of connection with Eywa the All-Mother to delusions caused by frontal lobe epilepsy, but it sure seems pretty fuckin real later. When she's telling her dad about it while they're dangling their feet in the water, and glowing fish circle around hers and not his, I figured maybe that was a normal Pandora thing, since he didn't react to it. But I saw the looks of awe on the Metkayina kids' faces when she controlled a bunch of sea anemones to work as a giant hand, so I know that shit is special.
Of course both AVATAR movies to date are about man's reckless destruction of nature. The first one dealt with clearcutting and mining for unobtainium. Since this one moves to the sea there are obvious comparisons to the whaling industry, and we learn that a fluid in the brain of Tulkun is now the most valuable substance in the universe, and the reason for the operation on Pandora. It's always gonna be something.
But what's especially interesting in WAY OF WATER is how it illustrates different levels of complicity with this environmental damage and the violent suppression of indigenous populations to make it happen. The RDA Recoms are obviously the villains, but a little bit less evil than them is Mick Scoresby (Brendan Cowell, DECK DOGZ), Aussie-accented captain of a vessel they commandeer. With his Hawaiian shirt and cynical attitude he reminds me of Mac from NO RETREAT, NO SURRENDER 2. He's a Tulkun hunter, which I consider bad, but he doesn't want to do what Quaritch tells him to do, knowing it's against treaties and will inflame the Metkayina. But when he feels he's being forced, he goes all in – using the situation as a hall pass to be a bastard. I liked him as a character and hated him as a person. You'll wish he'll get his and you'll be impressed when he does.
Nicer than Scoresby is Dr. Ian Garvin (Jemaine Clement, THE BFG), the marine biologist on his ship, who shows clear moral reluctance about what they do, and says it drives him to drink, but it's pointed out that he goes along with it because it funds his research. He's a marine biologist – that's one of Cameron's guys! But he goes along with this, and does not redeem himself.
In that same spirit, the crew of this ship are equipped with submersible subs kinda like the one Cameron himself pilots in his undersea exploration documentary GHOSTS OF THE ABYSS, but these ones have the ability to transform into crab-like mechs. One driver is so raring for a fight he makes his punch one claw into the other like a cartoon character muttering, "Why, I oughta…" The scenes about hunting these whale-like creatures are viscerally upsetting. We know it's a fantasy world but also we know it's not far off from the real world at all. (The end credits will play over gorgeous aquatic footage made to look like a nature documentary – we know it's not real, but what really is the difference? Ours have different colors and shapes but are equally as worthy of protection.)
Most interesting of all is the character of Spider, who combines both the adopted culture theme and the complicity theme. He's a human who has been (mostly) accepted into Na'vi culture and proven himself worthy (and is a white man with dreadlocks!), but now he comes face-to-face with the responsibility that comes with his position, and discovers he's not as up to the task as he probly assumed. Because he's Quaritch's son (and probly human privilege too) they let him live and travel with them, and though he makes his opposition to them clear, he still ends up sharing too much of his knowledge of the Na'vi. Suddenly he finds himself standing next to war criminal invaders, having to apologize and say he didn't know what they were going to do, knowing that's not good enough.
The Sully kids still consider Spider their bro and go out of their way to rescue him, but they never know the extent of what he did, especially in regards to the survival of his (sort of) father. He seems to recognize the need to do his part/redeem himself, and jumps to go with Jake and use his knowledge of the vessel to help rescue Tuk and Kiri. (This could also be motivated by a crush on Kiri.)
When Spider sees his father(ish) drowning, almost leaves him, then says "Fuck!" and reluctantly drags him to safety, he makes it clear that he's still rejecting him. Asked to join Quaritch on his dragon, he bares his fangs and hisses like a Na'vi, and then he leaves. But is this enough? The Sullys are still gonna have to deal with this vengeful bastard, who they thought was out of the way. I mean I assume Recom Quaritch will have an interesting arc, and become much more complicated as he deals with his new reality over the course of more sequels. But he'll also do some bad shit that the Na'vi will be more likely to suffer from than Spider. So, judge his quality of allyship how you will.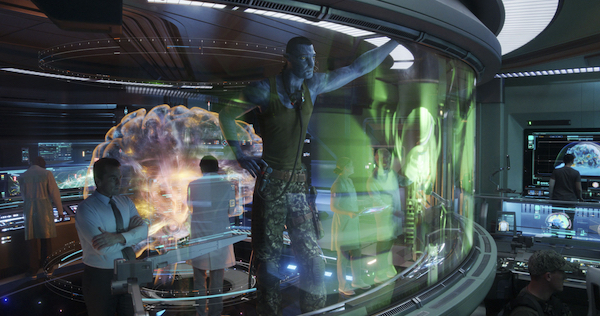 Quaritch in this movie also demonstrates to us how Jake is special. Quaritch insists on doing things "the Na'vi way" to understand the enemy, and he does in fact bond with a dragon (after Spider laughs at him for wanting to use a tranquilizer on it). I thought by following the same path as Jake he could gain new perspective just like Jake did, but no – he doesn't learn jack. Of course, he doesn't dedicate himself as fully as Jake did – he wears boots and all his macho tactical gear and shit, and he gets on a boat and uses mechs and calls in the choppers. Another difference is that Jake had to earn his body. His consciousness surviving in his Na'vi body was a miracle achieved after a moral and spiritual journey culminating in heroic sacrifice. Quaritch and friends' new bodies and lives are simply a corporate or government investment.
I love that even as Na'vi these guys can look like total douchebags with their sunglasses and tattoos, strutting around cockily chewing gum, being pricks. More than the first one, more than ALIENS, Cameron has this particular type of macho asshole down just right. They stand around and smirk, speak in what might as well be pre-recorded phrases ("keep your head on a swivel, guys," "watch your six," "get some"). They manhandle children, grab them by their braids, threaten and terrorize people in their homes. They're everything anybody hates about occupying soldiers and cops and other armed, officially sanctioned bullies.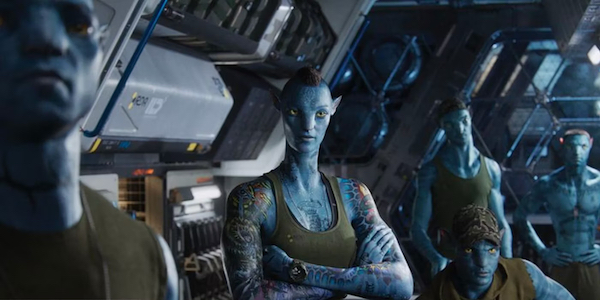 Really the only thing I found at all disappointing about WAY OF WATER is that I don't think Neytiri's character has evolved in an interesting way. Jake has changed as a leader and a father, now trying to avoid conflict while also addressing messy issues in parenting and diplomacy. But Neytiri once again scream-cries at an environmental catastrophe, and at the death of a family member, and she gets mad at Jake and has to be talked into his plans. The time she comes most alive (besides happy moments seen fleetingly in peace time montages) is when she goes into warrior mode and kicks ass at the end, but that's nothing new.
However, with other characters I think Cameron is adding a few comment cards next to the Badass Women of Cinema continuum largely built on his portrayals of Ripley in ALIENS and Sarah Connor in TERMINATOR 2: JUDGMENT DAY. The depth of those two characterizations still shines through decades of simplistic imitators that assume tank top + attitude = strong woman/feminism. Here he introduces General Frances Ardmore (Edie Falco, COP LAND), a successful, powerful, badass woman in charge who we are not meant to admire. She's got the job Colonel Quaritch had last time around, and she shares his trademark of enjoying her coffee in the ship while they fly over the rain forest they're in the process of barbarically decimating in the name of greed, a reminder that women just doing the same shit as men isn't a good end goal. Same story with the new character Zdinarsik (Alicia Vela-Bailey, "Japanese Cyberpunk Woman," HOSTEL: PART III), one of Quaritch's Recom grunts. She's basically Vasquez from ALIENS if the aliens she was assigned to kill were non-violent civilians and she didn't have a problem with it.
On the other hand we have Ronal taking Cameron's asskicking mother fascination to the next level by insisting on going into battle while very pregnant (I think we also see Neytiri bow hunting with a baby on board). And as a healthy alternative there's Kiri, the heart of the film, very likely some kind of chosen one, and not a warrior at all, but a person with a deep connection to nature. And played by Ripley herself! (I hope Sigourney had fun playing a teenager. She does a great job, and she and the animators give Kiri the perfect movements for a gangly, awkward teen unsure of her place in the world.)
Since I've occasionally seen Cameron villainized as an old out of touch guy by dumb young-people-of-Film-Twitter controversies (like the one where he – gasp! – said he preferred Ripley and Sarah Connor to cinematic Wonder Woman), it's interesting that WAY OF WATER shows such optimism about younger generations leading the way. The Sully kids adapt better to the sea culture than their parents, and separately save both of them from the sinking ship. Lo'ak is particularly impressive because he defies both clans. He's in the doghouse for politely telling Tonowari "I'm sorry, you're wrong" about his whale friend Payakan. Sure enough Payakan leads the attack on the sky people invasion and shows up again to carry Lo'ak and Jake to safety after Lo'ak has talked his dad through lowering his heart rate to escape the ship. When (EMOTIONAL SPOILER) Jake finally understands that his son has been right all along and puts his hand on him and says "I see you," the well established Na'vi phrase suddenly seems profound.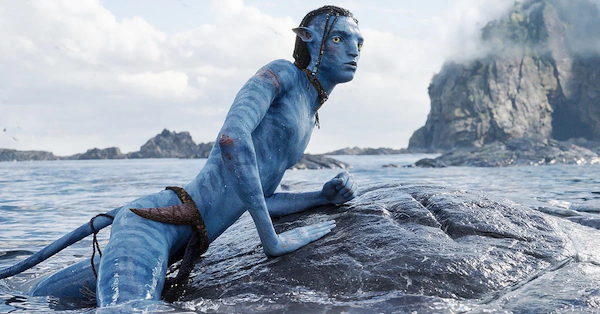 To me WAY OF WATER is full of heart and of ideas to chew over, and yes, in addition to all that, it's one hell of a spectacle. That includes tiny human details like the Na'vi kids moving and giggling and talking just like actual goofy little dorks, not animated characters, and it also means giant thrills like riding on giant fish that glide up (like PIRANHA II!) and bite the necks of the dragons the enemies are riding, or shooting an arrow through a windshield so that a copter falls sideways and hits the floor of the whaling vessel and part of the guard on the propeller breaks off and the propeller hits against the surface causing the thing to jut along against until it crashes again and explodes. There are luminescent fish (and Na'vi – sometimes their dots glow underwater). There is frolicking under and over water. There is brutal underwater jiujitsu. There's a bunch of TITANIC type shipwreck disaster. Like most 3D movies it looks cool at first and then you get used to it and forget about it. But in the end when they're in a sinking ship, rapidly losing space to breathe (and reminding us of THE ABYSS and TITANIC) as the water gets closer to the ceiling, the format really increases the claustrophobia. It's a great moviegoing experience in an endless variety of ways.
It has quite reasonably been described as "a technical masterpiece," and for God's sake, that alone should be celebrated! But if you're really so blase about the art of cinema that a technical masterpiece doesn't do it for you, luckily that's only half of the story. AVATAR: THE WAY OF WATER is another unimpeachable James Cameron classic, and another notch in the belt of the world's greatest maker of Part 2s. However long it takes us to find out what a James Cameron Part 3 is like, I bet it will be worth the wait.