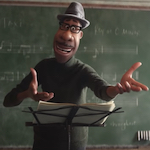 SOUL is one of the best and most ambitious movies Pixar has made, and they had to release it straight to Disney+ (great job, Covid). It comes from MONSTERS, INC. director Pete Docter, co-directing and co-writing with Kemp Powers, the writer of ONE NIGHT IN MIAMI (both the play and the upcoming movie), and it's another one of Docter's hard-to-explain emotional high concept fantasies like UP and INSIDE OUT, but this time squarely centered in Black culture.
The protagonist, Joe Gardner (voiced by Jamie Foxx, and I honestly never thought of him as Jamie Foxx), is a New York City middle school music teacher. Not a bad one, but not currently seeming to motivate kids like he's Mr. Holland or somebody. He's finally been offered a full time job at the school, which impresses his mom (Phylicia Rashad, CREED) but sparks feelings of failure that his occasional gigs as a jazz pianist haven't led anywhere and he might have to settle in doing this less exciting work.
Then, a stroke of luck: Curley (Questlove of the Roots), a student who Joe did inspire back in the day, suggests him as a last-minute fill-in for a small club gig with legendary jazz saxophonist Dorothea Williams (Angela Bassett, STRANGE DAYS). After some real uncomfortable moments, he nails the audition, he's gonna be in the band that night, so he's set to fulfill a lifelong dream.
And on the way home he walks into an open manhole. Whoops.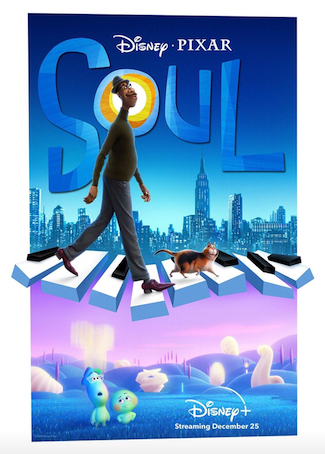 Here's what seems like it's gotta be the Pete Docter part: Much (but not all) of the movie takes place in a cartoon-abstract idea of an afterlife in the vein of INSIDE OUT's carefully thought-out world of anthropomorphic human emotions. Joe becomes a blobby sort of ghost (though he's able to maintain his identity via his glasses and hat) and escapes from "The Great Beyond" to the "Great Before," where he's mistaken for a "soul counselor" who must help prepare blobby, baby potential souls to begin life. They've already been assigned a personality profile and the counselors help them find a "spark" – perhaps a talent or hobby like soccer or painting? – that will complete their earth passport and officially send them on their journey. When Joe gets stuck mentoring 22 (Tina Fey, MEAN GIRLS), a notorious problem-soul trying to avoid ever moving on to the living world, they come up with a scheme to keep 22 in this realm and get Joe back into his (now-in-a-coma) body in time for the gig tonight.
It's a Pixar/Docter trademark to come up with concepts that weird and complicated and somehow make them work brilliantly, and that's what they do here. So much of the Bay Area's supply of cleverness and humor is put into figuring out and succinctly explaining the rules of this conceit, how the transference of the human soul could possibly work as a bureaucracy, complete with an uptight auditor named Terry (Rachel House of THE HUNT FOR THE WILDERPEOPLE) getting Joe into trouble after counting all the souls on an abicus. Largely inspired by stylized limited animation of the '50s, it's a realm made of pleasingly simple shapes and colors, but it's full of different nooks and crannies of reality, including connections to the living world through people in the right mind state.
That's all great and interesting, but more of the movie than you may expect is set in the living world, with the most vividly detailed animation Pixar has ever created. And obviously it's new and exciting territory for Pixar to attempt to capture the experience of, for example, a Black barbershop – their first location to have an A Tribe Called Quest poster on the wall. Or a realistic New York City apartment, with an old record collection instead of, like, Woody dolls. It seems to me like they got those things down pretty damn good, but I'm not qualified to judge, so instead I'll note that it's also unusual for animation to deal with a middle aged, middle class man, in this case a single one without kids who's not, as far as we see, worried about finding love. He's just trying to find fulfillment.
One of the many things that seems very authentic about Joe is the way he straddles the line between cool and dorky. You can see him bore the shit out of his students talking about jazz and then impress them a little with his piano improv. He looks slick when he puts on his MO' BETTER BLUES-worthy suit, but it doesn't erase his mild nerdiness or his slight paunch. (He kind of looks like Michael Steele, actually.) He reminds me of so many real non-famous musicians I've met. And of all the gorgeous animation in this movie – from the creepy "lost souls" in the Great Before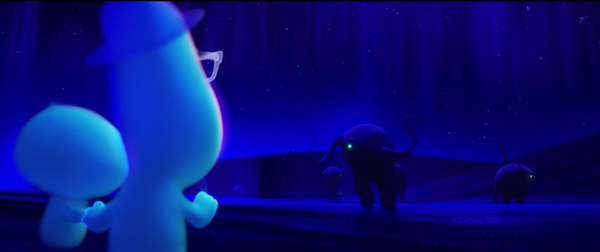 to the overwhelming detail of the New York City streets –
the sight that impressed me most was a shot of Dorothea in the midst of a feverish solo during the gig.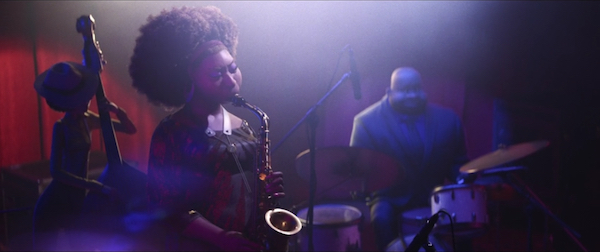 The textures of the characters are photorealistic, but they are caricatures, and yet that looks like live action footage. I read that they studied the performances of the real band (led by John Baptiste), but man. It can't be easy to animate the subtleties of the way a sax player holds themselves, shifts their body, tilts their head back, moves their eyes behind their closed lids, both moved by the music and the physical requirements of blowing air into an instrument… it's absolutely incredible how true it looks. (Of course there are probly entire separate teams working to make the lighting, her clothes and her hair just right too.)
Equally effective is the way Joe's surroundings slowly melt into a void as he gets lost in a solo. You can almost feel it. Since "the zone" is revealed to be a physical place that one's soul is transported to, it makes sense for the ultra-realistic and expressionistic sides of the film's style to blur together here.
I'm sure kids can enjoy this movie – why not? – but it seems to be speaking more directly to adults, and it has some pretty thoughtful things to say to us. The way it deals with the concept of the "spark" is surprisingly advanced, because it seems like a straight forward "find what you love and follow your dreams!" type of message, and it does want you to do that. But then it faces the reality that many people get what they think they want – even something pure like what Joe wants – and they still don't feel fulfilled. The way Joe influences Curley, the sullen trombone player Connie (Cora Champommier) and the seemingly un-mentor-able 22, I was sure it was headed toward him realizing that in fact his true calling really is to be a teacher and then he'd suddenly be happy with his life as it was.
But it doesn't do that! It doesn't lay that on him. Yes, we can see that he's a good mentor, but it's not gonna pressure him to do that if he doesn't want to. I like that.
But just playing jazz isn't the full answer either. This a story about a love of music, about expression, but ultimately it's saying that life is more than that. That's where it hit me where it hurts – when it argues that being great at jazz (or writing about DTV action movies) is, while totally awesome and all, a simplistic idea of one's "purpose." And that too much obsessive focus on those things can get in the way of your connections with people and the world. I was excited for the Pixar jazz movie, but I didn't know how much it would address things I've been trying to reckon with in my own life.
Despite that, it didn't quite make me cry, like some of the other great Pixar movies have. But I love that the part that almost got me wasn't sad – it was a montage about life being beautiful. Not what you expect in a movie seemingly about dying.
I caught up with several of the big newish movies over the Christmas weekend, and I liked or loved all the ones I watched, but I think SOUL is the one I've continued to think about most. I can't recommend it highly enough.

P.S. This is also the first Pixar movie where I wondered if the protagonist cared that he was passing the location of the climactic sword duel in HIGHLANDER.
This entry was posted on Tuesday, December 29th, 2020 at 12:18 pm and is filed under
Cartoons and Shit
,
Reviews
. You can follow any responses to this entry through the
RSS 2.0
feed. You can skip to the end and leave a response. Pinging is currently not allowed.