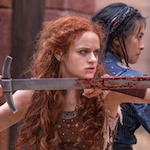 THE PRINCESS is a new straight-to-Hulu movie with a simple concept. At its center is a Disney-type story of a medieval princess who wants to find her own destiny and not be forced to marry somebody for political reasons, but it's done as a violent martial arts movie with a DIE HARD type premise. The Princess (Joey King, WHITE HOUSE DOWN) wakes up, having been drugged, in a Rapunzel type tower. She doesn't have long hair, but she does know how to fight, so she battles to the death with the guys guarding her and sneaks around the castle picking off enemies McClane/Ryback style while plotting how to save her family, who she sees threatened at swordpoint in the plaza below.
In flashbacks we learn that due to a lack of male heirs The King (Ed Stoppard, JUDY) was gonna let this motherfucker Julius (Dominic Cooper, WARCRAFT) marry the young princess. She almost went through with it "for the good of the kingdom" or whatever, but backed out at the last minute, and now this hostage situation is how Julius plans to change her mind. Great guy.
When she first started fighting I wasn't sure if it would be that device where everyone just automatically knows how to do acrobatic martial arts, because it's fun. I'm usually okay with that, but they have an explanation here. The Princess's tutor Linh (motherfuckin Veronica Ngo, CLASH, CROUCHING TIGER, HIDDEN DRAGON: SWORD OF DESTINY) is a great warrior, and The Princess wants to be one too, so she convinces her to teach her fighting along with etiquette. The Queen (Alex Reid, THE DESCENT 1-2) okays it as long as Dad doesn't see.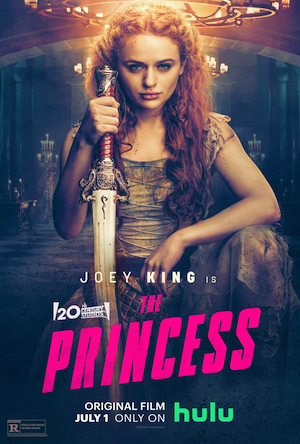 The trailer, with its fairy tale fake out leading to "Bad Reputation" fight montage, suggests a movie that will lean into the absurdity and smart alecky-ness of mashing up these two genres. Nothing against that, but I like that it takes a pretty serious (but not overly serious) approach. It attempts to win you over not by winking and mugging, but by really being a well-crafted action movie – tons of fighting, with a variety of weaponry and methods, a clearly dedicated star performing complex choreography without having to cut every move or two, an effective, economical story structure (by first time feature writers Ben Lustig and Jake Thornton). Also, gratuitous somersaults, cartwheels and flips, which I always encourage, support and respect in any work of art, no matter the medium.
I suspect the reason this turned out so good is the same reason I watched the movie in the first place: it's from director Le-Van Kiet, who did Ngo's outstanding 2019 vehicle FURIE. (As much as I'm recommending THE PRINCESS here, if you haven't seen FURIE, make that a higher priority.) It also has the same fight choreographer, Kefi Abrikh, this time working with supervising stunt coordinator/second unit director Clayton J. Barber (choreographer and Nomak double in BLADE II). And Ngo gets an actual good character, who gets to fight and be the emotional center of the movie, not one of those "well, it was cool to see her at least" parts alot of international stars (including Ngo herself in THE OLD GUARD) get in English language movies.
Linh herself has a cool mentor named Khai (Kristofer Kamiyasu, HITMAN'S WIFE'S BODYGUARD). When we learn who he is in flashback we also recognize him as one of the people being held hostage by Julius, and therefore a possible sleeper waiting to go into action. We also learn that he's the previous owner of the Princess's cool Asian-styled, dragon-hilted sword, and that he bestowed it on her for something she did without a sword, which in itself sets up how she'll handle some important fights at the end. I can enjoy a cool sword for the sake of a cool sword, but it's even better when it has a history, meaning and narrative purpose. (If only it had a name! I like swords with names.)
I have started a new paragraph and I'm still talking about the sword, so please realize how much I love it. Late in the movie she's lost it, and Julius has it. Linh sees it and says, "That sword doesn't belong to you." So she, and the movie, are just as concerned as I am that it gets back to The Princess. (The movie doesn't let us down.)
Another distinct weapon belongs to Julius's right hand woman Moira (Olga Kurylenko, MAX PAYNE). It's a whip and it has a little claw-like blade that comes out of the end of it. She's a wicked badass with large, elaborate hair, a thing for Julius, and more of a thing for killing people. She uses the whip in many different ways and she (non-specific spoiler) meets a fitting end. Many good deaths in this one.
From what I could tell Linh doesn't have a favorite weapon, she uses a bunch. A bow and arrow, a double-sided sword, at one point a frying pan. Makes sense, since she taught The Princess how to use everything as a weapon – the chains they bind her with, a ribbon, a mug, flammable liquids and torches, whatever.
My friends at the Action For Everyone podcast enjoyed this one too and they had some good points. Mike calls it a reverse THE RAID because she's fighting her way down instead of up. Vyce honored King with the prestigious A4E Action-Packed White Girl designation and noted comparisons people had made to video games, including that it's a princess moving down levels to save herself instead of somebody coming up to rescue her. (Mario couldn't get off work I guess.) The style of action is definitely more inspired by THE RAID than DIE HARD, but I want to note some specific similarities that might be intentional.
When McClane is sneaking around Nakatomi Plaza, Gruber doesn't know who he is at first, and calls him "cowboy." Julius doesn't actually know it's The Princess doing all this killing, because nobody sent to check on her comes back to report that she's gone, and it wouldn't occur to them that she'd be capable of this. So he keeps sending his men to find and kill "this vigilante." Much like McClane crawls through vents and elevator shafts, The Princess climbs in the spaces between walls. In one great scene she spies on Julius and Moira through a slit and attempts to stab him through the wall, but he gets called away a moment before she would've got him.
When The Princess sets a man on fire and knocks him out of the tower it reminds me of McClane dumping the body onto the police car (though McClane is trying to get help, while she's calling attention to herself by accident).
The THE PRINCESS equivalent of avoiding an explosion by jumping off the building with a firehose and smashing a window with bloody feet is when she avoids capture by leaping out the window, holding onto a banner and running across the wall to get to another window.
Of course Julius finds out who "the vigilante" is and tries to use her family against her. His biggest oh-shit-this-guy-really-is-an-asshole villain move is when he decides on a new plan of killing her and marrying her pre-teen sister Violet (Katelyn Rose Downey) to become king. Very, very, very uncool there, Julius.
It's impressive how well they maintain simplicity without being very repetitive. She's plowing through motherfuckers but they do a good job of distinguishing some of the thugs she gets into it with. One of her early encounters is with a huge guy with his face hidden inside a horned helmet. When he talks he reminds me of The Humungus from ROAD WARRIOR. There's a funny joke that he comes into a room where she's hiding and she has to hold her breath under bath tub water while he first takes a long piss and then stops to flex in the mirror. Her battle with him is a beaut because he so overpowers her but she zeroes in on a weakness – the horns. She scrapes them against a wall, uses them as handles to twist the helmet around backwards, stabs him with them.
I mean, there are the movies where people just shoot and punch each other and there are the ones like this where they must've sat and filled a couple journals full of every cool move they could think of. Tear her necklace off and throw the gems on the stairs like marbles to knock everybody on their asses. Then run across their shields. Grab a guy and use him to cushion a big fall. Get between two guys and duck behind one's shield when the other one stabs. She always has a strategy. Everybody wears armor, so she knows to slash at the joints. And there's gore. Stabbing through heads. Removing heads. Good stuff. Kids will love it.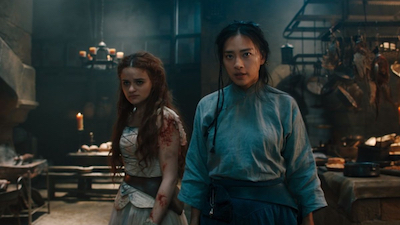 The Princess starts to blame herself, because if she had just given in then all these other people wouldn't be in harm's way. But Linh gives her supportive affirmations, and in the end her choices actually cause progress. She did the right thing. Also the most entertaining thing.
In a way it's a thankless role for Cooper – he's capable of playing one of those fun, charismatic assholes, but this is more the despicable kind. The whole plot is based on this tradition that the throne can only go to a male heir – a systemic declaration of male supremacy. But of course we see that The Princess and Linh are far more capable than any of them. The Queen is nicer than The King (who disapproves of The Princess having so-called masculine interests, tries to make her marry against her will, and also is just a fuckin idiot for thinking it's okay for Julius to be King, however it happens). And on the evil side, Julius has a whole army of male doofuses and this one badass gal Moira who he doesn't seem to notice seems kinda jealous about him trying to get with The Princess. I like to think if they'd succeeded in taking over the kingdom she would've ended up taking him out with that whip later.
Anyway, at the climax of this movie Julius seems to have won, and he's mouthing off to The King and everyone, and the sound fades out. It's to show The Princess focusing her mind in order to find the precise moment to make her move, but it's great because also it's his big speech and she just doesn't pay attention. Yeah yeah yeah, I don't care dude, shut the fuck up.
I think this is a good one for the straight-to-streaming format. It's slight enough that maybe having to go out and pay for a ticket would've made people harder on it, but it definitely has a much bigger than DTV budget because they clearly spent a long time training for and filming the fights, which seem to make up the majority of the movie, and outshine most of the action we're getting in any medium these days.
I look forward to the next time Ngo gets to be the lead, but until then good for little miss "Girl in Wheelchair / China Girl" from OZ THE GREAT AND POWERFUL, Joey King. Whatever they were teaching you and young Bane in that pit, it's paying off.
This entry was posted on Wednesday, July 6th, 2022 at 11:04 am and is filed under
Action
,
Fantasy/Swords
,
Reviews
. You can follow any responses to this entry through the
RSS 2.0
feed. You can skip to the end and leave a response. Pinging is currently not allowed.