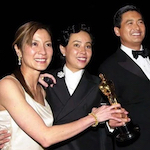 Hello friends, and welcome to my annual preview of the Oscars. They happen on Sunday and I'm anticipating them in the very rare-for-me position of my actual personal favorite movie of the year (EVERYTHING EVERYWHERE ALL AT ONCE) being the clear favorite for many categories, including best picture. It makes me a little nervous because, for example, in 2015 I wasn't expecting MAD MAX: FURY ROAD to win an "obviously this is the best picture, how is this even a discussion?" trophy, so I wasn't let down when it didn't. So I'm trying to keep in mind that whatever happens it's amazing that this small, weird, unlikely movie managed to catch on so big and already won a bunch of the other awards. It doesn't need to win everything. Though it would be cool.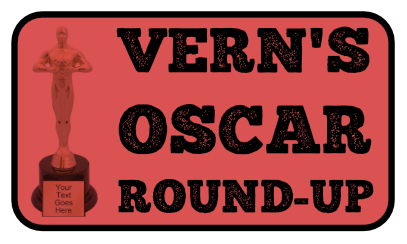 This year for my preview I'll go ahead and go through each of the categories, though I'll have less informed opinions on some where I haven't seen all the nominees. And of course I encourage following the links to my reviews of the ones I've seen.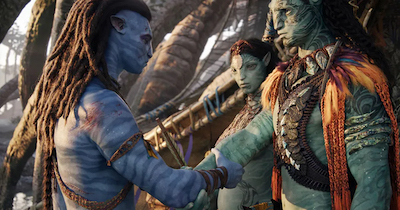 BEST VISUAL EFFECTS

nominees:
ALL QUIET ON THE WESTERN FRONT

AVATAR: THE WAY OF WATER

THE BATMAN

BLACK PANTHER: WAKANDA FOREVER

TOP GUN: MAVERICK

I have indeed seen all five of these, and they all have great FX, but what kind of a maniac would even consider voting for one that is not about blue people? You could do it, but you'd be lying to yourself. Open and shut case on this one. I see you, AVATAR.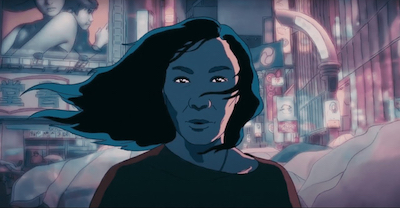 BEST FILM EDITING

nominees:
THE BANSHEES OF INISHERIN

ELVIS

EVERYTHING EVERYWHERE ALL AT ONCE

TÁR

TOP GUN: MAVERICK

This one is more competitive because four of them are outstanding nominees. (I don't get why BANSHEES is in there, as much as I loved it.) MAVERICK has clockwork precision in its action scenes and storytelling, and TÁR and ELVIS have complex structure and sequences, and the latter of course has all kinds of beautiful montages to move through time and celebrate music. Extra points for so seamlessly integrating a little bit of real Elvis.

Still, I gotta go with EVERYTHING EVERYWHERE for communicating such a ridiculously complex concept and world, that would be difficult to put into words, leaving you with plenty to miss and puzzle over in subsequent viewings while communicating it clearly enough to work as a total crowdpleaser. I know that old complaint "it's best editing, not most editing." But you know what, smart guy, it's also not "least editing." In this case most and best are one and the same. Maximalism can be valid. It's not just some random Avid fart flashiness, these cuts are laser focused. It's just a case where it takes more lasers than usual.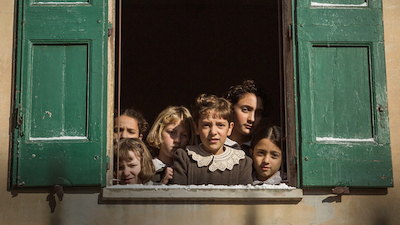 SHORT FILMS

Unsurprisingly, I have not seen any of the documentary short films. I haven't seen any of the animated shorts either. I have actually seen 1 (one) of the live action short films, LE PUPILLE, which is hard to call anything but "delightful." It's about some orphan girls, some mean nuns and a fancy cake. It's on Disney+ for some reason and I'm glad I watched it even though it's dubbed on there. But maybe the other ones are even better. Good look, short people.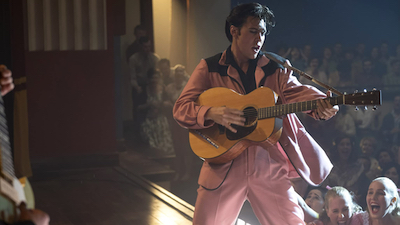 BEST SOUND

This could go any way because all the nominees (ALL QUIET ON THE WESTERN FRONT, AVATAR: THE WAY OF WATER, THE BATMAN, ELVIS and TOP GUN: MAVERICK) have obviously praise-worthy soundscapes. If I have to choose one to root for I'll go with ELVIS, since it's doing interesting things with music while the others are all variations on engines and explosions and shit.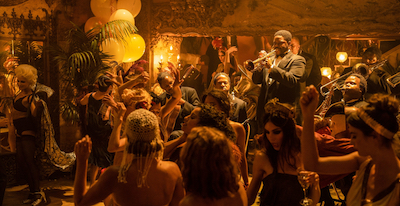 BEST ORIGINAL SCORE

nominees:
ALL QUIET ON THE WESTERN FRONT

BABYLON

THE BANSHEES OF INISHERIN

EVERYTHING EVERYWHERE ALL AT ONCE

THE FABELMANS

First of all, THE BATMAN should've been nominated in this category. As the song says, "It's the Batman. It's the Batman. It's the Batman." These are all nice, but it's definitely BABYLON for me. The score is so central to the experience it makes it feel like a musical. And it doesn't sound like any other movies except those by these same people. I tried to describe it in my review:

It's more of an expressionistic riff on the subject matter than a period piece, crashing together jazz and circus music, played by a 100-piece orchestra with wild background noise and off mic singing and chanting. Musically the vibe is like a wild, partying big band jamming on Louis Prima's "Sing Sing Sing (With a Swing)," but sometimes disintegrating into a quiet lament from PUNCH-DRUNK LOVE, then building back up again. I also thought of THE UMBRELLAS OF CHERBOURG because of the way so much of the score sounds like one long song repeated in different styles and instrumentation.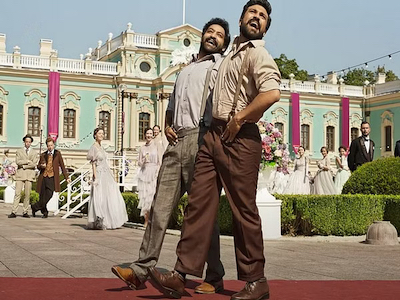 BEST ORIGINAL SONG

nominees:
"Applause" – TELL IT LIKE A WOMAN, "Hold My Hand" – TOP GUN: MAVERICK, "Lift Me Up" – BLACK PANTHER: WAKANDA FOREVER, "Naatu Naatu" – RRR, "This is a Life" – EVERYTHING EVERYWHERE ALL AT ONCE.

Frankly "Naatu Naatu" is the only one I remember. And to be fair, as catchy as the song is it's the dance off sequence it accompanies that makes it so beloved. Still, it's clearly the one that's most crucial to its film. I don't know how you vote for anything else.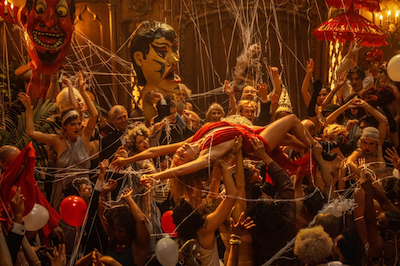 BEST PRODUCTION DESIGN

nominees:
ALL QUIET ON THE WESTERN FRONT

AVATAR: THE WAY OF WATER

BABYLON

ELVIS

THE FABELMANS

All pretty worthy. I lean BABYLON. Incredible looking movie with alot of scope to it. Then again maybe I'm punishing AVATAR just because I know it's mostly not sets. It looks totally real so what's the difference?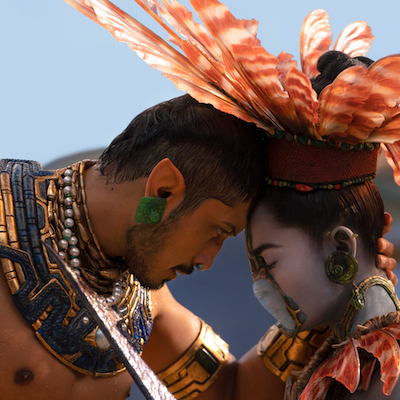 BEST COSTUME DESIGN

nominees:
BABYLON

BLACK PANTHER: WAKANDA FOREVER

ELVIS

EVERYTHING EVERYWHERE ALL AT ONCE

MRS. HARRIS GOES TO PARIS

I haven't seen MRS. HARRIS. I do think the costumes in BABYLON are worth praising. ELVIS maybe moreseo – they're Elvis costumes! I would be very happy for EVERYTHING EVERYWHERE, with those great sweaters that Michelle Yeoh wears, and having to give each of the characters distinct looks in different realities. I still think BLACK PANTHER might be the most worthy because I always believe more imaginative, otherworldly costuming is more impressive, and Ruth Carter and friends created this South American inspired underwater culture, in addition to expanding on the Afrofuturist look of the first film. Since Carter already won for the first film though, I suspect she'll be out of the running.

But now that I look at more photos maybe I lean EVERYTHING EVERYWHERE anyway because I forgot about some of the crazy outfits in there. And done on a low budget, even. But I'm too lazy to change the picture.

snubbed in this category: NEPTUNE FROST for its e-waste-based fashion.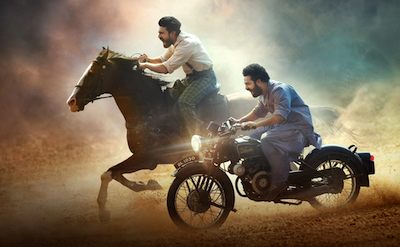 BEST INTERNATIONAL FEATURE FILM

I have only seen ALL QUIET ON THE WESTERN FRONT (GERMANY), not ARGENTINA, 1985 (ARGENTINA), CLOSE (BELGIUM), EO (POLAND) or THE QUIET ONE (IRELAND). Obviously if India had submitted RRR I would be rooting for that. Those who are more knowledgeable here, let me know what you're rooting for.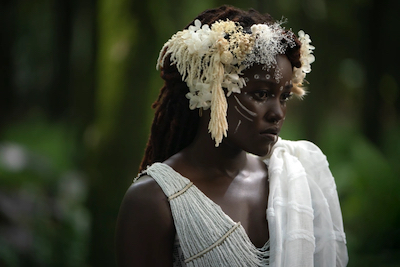 BEST MAKEUP AND HAIRSTYLING


nominees:

ALL QUIET ON THE WESTERN FRONT

THE BATMAN

BLACK PANTHER: WAKANDA FOREVER

ELVIS

THE WHALE

THE BATMAN must be included for the incredible prosthetics on Colin Farrell that made him unrecognizable but allowed him to look like a real person. ELVIS is kind of a funny nomination since many found Tom Hanks' fat suit comical, but I think there are some mostly subtle things they did to make Butler look more like Elvis, and to age over time, that are impressive. I think BLACK PANTHER is kind of the coolest nominee, though, since it encompasses creature-type makeup with the blue-skinned underwater people as well as the face paint that the Wakandans wear. Diegetic makeup, you could say. BLACK PANTHER obviously has by far the more noteworthy hairstyles too. (I have not seen THE WHALE.)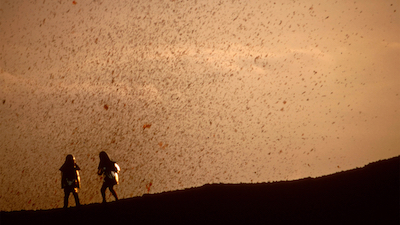 BEST DOCUMENTARY FEATURE FILM

I have no clue what should win here because I haven't seen ALL THAT BREATHES, ALL THE BEAUTY AND THE BLOODSHED, A HOUSE MADE OF SPLINTERS or NAVALNY. I did enjoy FIRE OF LOVE and reviewed it earlier this week.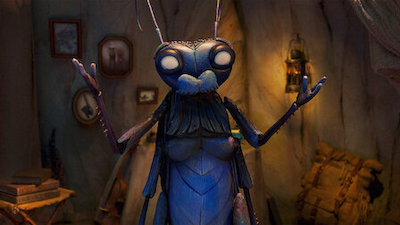 BEST ANIMATED FEATURE FILM


nominees:
GUILLERMO DEL TORO'S PINOCCHIO

MARCEL THE SHELL WITH SHOES ON

PUSS IN BOOTS: THE LAST WISH

THE SEA BEAST

TURNING RED

This is the category I wish I had done better on. I enjoyed TURNING RED. I've heard good things about both PUSS IN BOOTS and THE SEA BEAST and might watch them some day. I plan to see MARCEL and find out what that's all about. But I would be surprised if I liked any of them more than PINOCCHIO, which I'm guessing will be the winner. It's such a beautiful work of craftsmanship, has those great monster designs, plus I'm a sucker for something that's cute that also deals with mortality and the rise of fascism and shit. Also talking crickets are cool. And anybody that wins best picture and then goes to work on a cartoon they always wanted to do is pretty cool. Good job, del Toro.

However it is a crime that Phil Tippett's one-of-a-kind MAD GOD wasn't nominated. And I wish WENDELL & WILD was too if only so there would be four stop motion nominees.


BEST CINEMATOGRAPHY

The nominees are ALL QUIET ON THE WESTERN FRONT, BARDO, ELVIS, EMPIRE OF LIGHT and TÁR. BARDO and EMPIRE OF LIGHT are the two I haven't seen, and they're shot by legends Darius Khondji and Roger Deakins, respectively, so I don't have enough information here. Movies I believed could've justified a nomination here include BABYLON and THE BATMAN.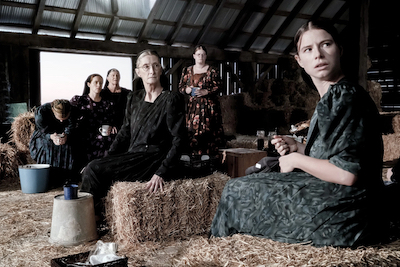 BEST ADAPTED SCREENPLAY


nominees:
TOP GUN: MAVERICK

LIVING

GLASS ONION: A KNIVES OUT MYSTERY

WOMEN TALKING

ALL QUIET ON THE WESTERN FRONT

It's weird that this is two literary adaptations, two sequels and a remake competing against each other. Different things, really. I have not seen LIVING but enjoyed the others. I would like to see it go to WOMEN TALKING, but I also feel the need to speak up for MAVERICK, since I've seen that nomination made fun of. This is a sequel that was widely mocked for the many years it was developed. Yet it managed to win over most of the non-fuddy-duddy community in the end. That wasn't easy. It's largely a feat of filmmaking, but it could not be accomplished without a precisely tuned story and the exact right approach to presenting an older version of Maverick and giving him the right issues to deal with. It's an excellent work of Hollywood craftsmanship, if not a bold vision in the spirit of when a Coen or a Tarantino or somebody wins this category.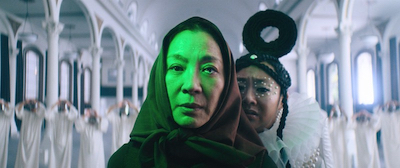 BEST ORIGINAL SCREENPLAY

nominees:
Todd Field, TÁR

Tony Kushner and Steven Spielberg, THE FABELMANS

Daniel Kwan and Daniel Scheinert, EVERYTHING EVERYWHERE ALL AT ONCE

Martin McDonagh, THE BANSHEES OF INISHERIN

Ruben Östlund, TRIANGLE OF SADNESS

I liked all of these, would say I loved four of them. I'm rooting for EVERYTHING EVERYWHERE – it's the most unlikely work of mad genius nobody else could've thought of, tried to do, or come anywhere near pulling off, such a bizarre hybrid of silly comedy, over-the-top sci-fi and deeply personal family story. But TÁR and BANSHEES are also the wholly unique work of their authors, the latter having such incredible dialogue, and I appreciate Spielberg getting acknowledged for his most autobiographical work.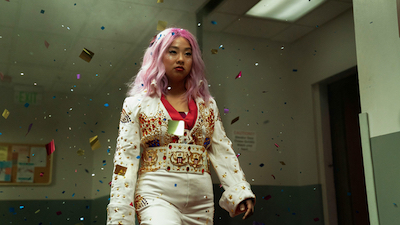 BEST SUPPORTING ACTRESS

nominees:
Angela Bassett, BLACK PANTHER: WAKANDA FOREVER

Hong Chau, THE WHALE

Kerry Condon, THE BANSHEES OF INISHERIN

Jamie Lee Curtis, EVERYTHING EVERYWHERE ALL AT ONCE

Stephanie Hsu, EVERYTHING EVERYWHERE ALL AT ONCE

I'm pretty open-minded on this one. Bassett's biggest competition is her own past performances. She's great in that but is she Angela Bassett great? Maybe yes, maybe no. Obviously I love Jamie Lee and will celebrate her likely win, but I would go with Hsu as my favorite between the nominees from that movie. Condon has shown great improvement since playing an adult teen with braces in UNLEASHED. All good work.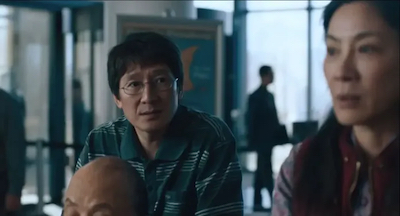 BEST SUPPORTING ACTOR


nominees:
Brendan Gleeson, THE BANSHEES OF INISHERIN

Brian Tyree Henry, CAUSEWAY

Judd Hirsch, THE FABELMANS

Barry Keoghan, THE BANSHEES OF INISHERIN

Ke Huy Quan, EVERYTHING EVERYWHERE ALL AT ONCE

I'm pro Quan despite being fairly anti-GOONIE. It's kind of unfair what a great comeback story he has but he's also so crucial to making that movie work. When we left THE FABELMANS my wife said "Judd Hirsch will get a best supporting actor nomination," so good call on that, Mrs. Vern. I like the Uncle Boris scene – it's a fun, showy role, but I personally would not vote for it over these other ones. Gleeson vs. Keoghan seems unfair because doesn't Gleeson seem more like the lead? But he seems similar to many roles we've seen him do before while Keoghan does such a unique blend of comic relief weirdo and heartbreaking tragedy.

I should see CAUSEWAY – had not even heard of it when it was nominated, but Henry is one of my favorite actors working today so I'm glad he's getting recognition. Paper Boi forever.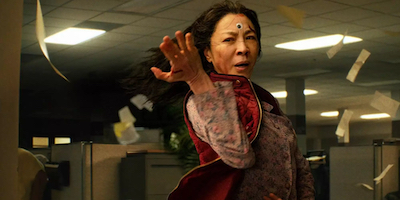 BEST ACTRESS

nominees:
Cate Blanchett, TÁR

Ana de Armas, BLONDE

Andrea Riseborough, TO LESLIE

Michelle Williams, THE FABELMANS

Michelle Yeoh, EVERYTHING EVERYWHERE ALL AT ONCE

I have not seen BLONDE or TO LESLIE. I thought the HALLOWEEN H20 alumni was great in THE FABELMANS (some did not), and Blanchett is incredible in TÁR. And the other two have been very good in the movies I've seen them in so I have no doubt they're worthy nominees. But I will be bummed if one of them gets an upset over Yeoh. Much has been said about the significance such a win would have for representation, and around here it goes without saying that it would be honoring one of the great international movie star careers of our lifetime. But truly you can discount all that and she's still the clear choice for me. It's just such an incredible role, showcasing her known talents as a dramatic actress and martial artist but even allowing her to stretch into types of comedy and vulnerability that she has not had the chance to get into before. What more could you ask for in a role, and in a performance?

Furthermore, I have always resented that while singing in a movie often works to strengthen the acclaim for an acting performance (Barbra Streisand, Jennifer Hudson, Reese Witherspoon in WALK THE LINE), physicality doesn't, and even seems to get in the way of it. Uma Thurman wasn't nominated for KILL BILL, Charlize Theron wasn't among the ten nominations for FURY ROAD – rather than thinking "Holy shit, such a great performance and she did all these great action scenes," they seem to think "that's not serious acting, that's just an action movie." If I ever dared imagine Michelle Yeoh winning an Oscar I would've bet it was for a non-martial-arts role, but here we are. So this would warm my heart.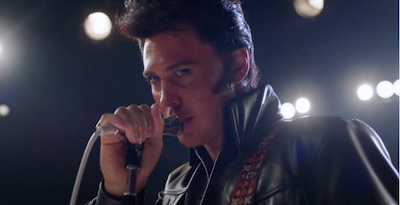 BEST ACTOR

nominees:
Austin Butler, ELVIS

Colin Farrell, THE BANSHEES OF INISHERIN

Brendan Fraser, THE WHALE

Paul Mescal, AFTERSUN

Bill Nighy, LIVING

I think Butler is incredible as Elvis, and I always love Farrell, but those are the only nominees I've seen here, so I'm out of my element. Fraser is the clear favorite to win, and people love that guy and his comeback story. I may watch THE WHALE some day because I like Aranofsky's movies, but it just looks so condescending and wrong-headed, and also if I thought Fraser was bad in it as I do in most of his most popular roles, I would just feel like such an asshole. So Payakan may have to remain my only whale this year.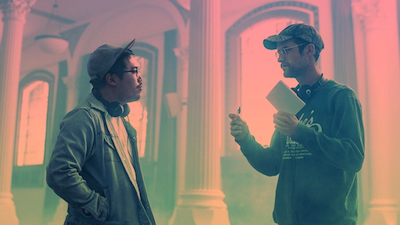 BEST DIRECTOR

nominees:
Martin McDonagh, THE BANSHEES OF INISHERIN

Daniel Kwan & Daniel Scheinert, EVERYTHING EVERYWHERE ALL AT ONCE

Steven Spielberg, THE FABELMANS

Todd Field, TÁR

Ruben Östlund, TRIANGLE OF SADNESS

Spielberg would be sweet, Field would kinda make sense, Daniels would be my choice.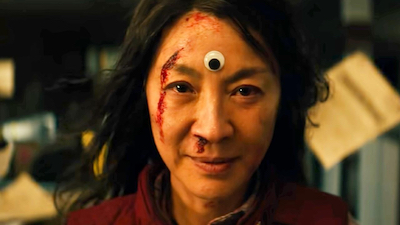 BEST PICTURE

nominees:
ALL QUIET ON THE WESTERN FRONT

AVATAR: THE WAY OF WATER

THE BANSHEES OF INISHERIN

ELVIS

EVERYTHING EVERYWHERE ALL AT ONCE

THE FABELMANS

TÁR

TOP GUN: MAVERICK

TRIANGLE OF SADNESS

WOMEN TALKING
ALL QUIET is the only one I wasn't planning on watching until it got nominated. I'm glad it did, because I really liked it. There's a widely shared opinion that it's not anti-war enough, that it glorifies it. I feel like I'm in some alternate dimension because I honestly can't comprehend how you could possibly interpret the movie that way, even if you weren't paying much attention, or only picked a couple scenes at random to watch. It just has so many inventive ways of depicting the utter depravity and senselessness of war, starting with the incredible montage treating hundreds of dead soldiers as a waste disposal and recycling problem, continuing with the boyish dipshit protagonists skipping straight into the meat grinder, proudly wearing their uniforms that they say seem tailored for them, though we just watched them get pulled off the corpses of the last suckers who fell for that scam. And it continues that way up until the conclusion where our lead basically goes on a mass shooting spree in full knowledge that he's fighting for nothing in a war that's already over. I thought it was incredibly impressive but honestly maybe I was wrong because nobody else seems to see anything but a generic war movie. Maybe it's speaking to me in secret code.
That said I really hope it doesn't win! Oh well, whatever goes down I'm just happy that I liked every one of these, that my official #1 and #2 movies of the year (EVERYTHING EVERYWHERE and AVATAR) were nominated, and even ELVIS, which I felt like nobody agreed with me on at first, somehow made it here in the "it's an honor just to be nominated" slot. And also let's just step back and admire the fact that the sequel to TOP GUN not only finally happened, not only was very good, but was even nominated for best picture! Few would've called that a couple years ago. (For a while there I was thinking TOP GUN might pull a CODA and win by being in everybody's #2, 3 or 4 slot on the ranked balloting, but I don't know.)

It's a good movie year and a good Oscar year. So I forgive everyone for not liking THE NORTHMAN even though I believe it will be remembered longer than a couple of these. And I forgive them for not nominating Mia Goth for PEARL. It's okay for horror to stay disreputable. Maybe it's for the best. Maybe it's getting too used to respect. It's better if it doesn't give a fuck.

But as always, if you watch the awards, have fun. Let me know what you think of the show, what your picks are, what you recommend from the ones I neglected to see. We'll see what dumb controversies happen for us to talk about afterwards. A funny bit would be if they have some guys doing kung fu with Oscar statues stuck up their butts. Consider it, Billy Crystal or whoever.

If you would rather see a totally different type of awards, check out Vulture's first annual Stunt Awards. I was actually a voter in this (see if you can guess which anonymous quote is mine). I believe only one thing I voted for won, but that's okay because hopefully it means the stunt professionals got the way over the critics. They're much more qualified to judge this than I am.

Anyway, happy awards season conclusion. Onward to the future. I'll have my SCREAM VI review next week and the week after that if all goes as planned I will begin posting the very long director retrospective I started researching and writing something like five years ago. I'm very excited about it and I hope some of you will be too. Thanks everybody!
This entry was posted on Friday, March 10th, 2023 at 1:07 pm and is filed under
Blog Post (short for weblog)
. You can follow any responses to this entry through the
RSS 2.0
feed. You can skip to the end and leave a response. Pinging is currently not allowed.